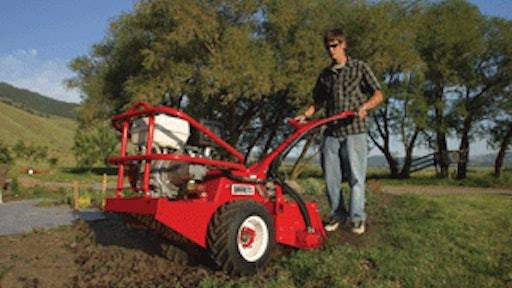 Whether your customer is a homeowner planting a flower bed or a contractor renovating a large lawn, there is a tiller to suit his or her needs.
Types of tillers
To start with, there are three main categories of tillers: cultivators, front- or mid-tine, and rear-tine.
Cultivators are lightweight and easy to manipulate for light-duty work. They're usually powered by a two-cycle engine to cultivate or till raised bed gardens or small flower beds, explains Anne Fisackerly, marketing executive with Maxim Manufacturing. The cultivator is not suitable for breaking new ground or for large-scale gardening. While they are definitely the little brother in the tiller family, cultivators are easy to use and versatile.
Sometimes confused with cultivators, but a different animal altogether, is the mini-tiller. According to Linda Beattie, commercial public relations and marketing & sales support at Schiller Grounds Care, the distinction is in the working depth. "A tiller is a tool that can exceed a digging depth of six or more inches," she says. "A cultivator is a digging tool that achieves a depth of up to six inches. Unit and tine design also play a role in the classification."
Beattie explains that Mantis introduced the first hand-held tiller nearly 30 years ago and met with a certain degree of skepticism in the market. "It was a lightweight, hand-held tiller/cultivator that could till up to 10 inches deep with tines that were reversible to also shallow cultivate and weed," she says. "It's the same design utilized today."
The patented S-shaped tines are able to slice through sod, penetrate hard clay and bring rocks to the surface for easy removal. "You can trench, plant trees, remove stumps, fence posts and more with a hand-held tiller. They are an extremely popular rental because they are easy to use, nearly effortless to transport and multi-capable, offering the rental dealer additional rental applications."
She continues, "Bigger does not always mean better for the customer. There's transport, trailers, training and customer apprehension when it comes to larger equipment."
Front- or mid-tine tillers are the most common in rental inventories. This type of tiller has the tines at the front of the machine and a set of wheels and a drag bar in the rear at the operator's position. The wheels are only used to transport the tiller to the work; once ready to till it is important to pivot the wheels up and lower the drag bar to a comfortable height. This allows the operator to control the forward motion of the tiller by applying more or less downward pressure on the drag bar.
Front-tine tillers have a wide range of uses, says Fisackerly. "They can be used to break ground, till, mix in soil amendments and dig holes. With accessories they can cultivate, plow, aerate, thatch, harvest and plow snow."
As useful as they are, Larry Seymour, national sales manager at BCS America, says they aren't the most user-friendly, as they depend on the operator and gravity to be productive. "The reality is they require some technique and effort," he says.
Rear-tine tillers are typically used for large-scale jobs. "The biggest and strongest of the walk-behind tillers, rear-tines are the tiller of choice when breaking sod for the first time or for tilling a very large garden," says Steve Matson, sales manager with MacKissic.
They have a set of powered wheels up front and tines in the rear, making it more stable and easier to operate because the wheels are powering the tiller along, rather than the tines pulling it forward. "It takes some of the work off the operator," Seymour says, adding that there's an old saying that goes like this, "You know you have the right tool when it's your job to keep it company."
That being said, Seymour notes that for rental businesses, rear-tine tillers are more expensive and harder to transport and load/unload. "It's a bigger investment," he says.
There are different types of rear-tine tillers. They include belt-driven, hydraulic and all-gear-driven. Each has its advantages. For example, belt-driven units are simple to operate, all-gear-driven machines are very durable and hydraulic tillers offer flexibility.
"Hydraulic tillers offer variable-speed drive that operates independently of the tines, allowing you to adjust for your conditions," says Greg Barreto, president of Barreto Mfg. He adds that hydraulic machines are durable as well. "Hydraulics absorb the constant impact that is common with the tilling process, whereas mechanical components tend to fatigue and fail, over time."
In addition, tillers can offer standard rotation, where the wheels rotate in the same direction as the tines, or they can operate with counter rotation, where the wheels go in the opposite direction of the tines. Counter rotation is designed to give maximum depth of till on the first pass, explains Seymour, noting that this is due to the uppercut motion of the tines.
Seymour notes that BCS tillers are actually two-wheeled tractors with heat-treated steel gears and shafts, supported by ball bearings and running in oil bath. These units specialize in the ability to use a wide variety of attachments.
Choosing a tiller for your inventory
When considering a tiller for your rental fleet, there are several things to keep in mind. At the top of the list is your customer base. Consider what the typical jobs will be, whether you have commercial users or homeowners, how large the spaces to be tilled are and whether you are in a rural, suburban or urban setting.
Durability is another important consideration. Look for a tiller with all-steel construction, a commercial engine with engine guard and a braced frame. A rental tiller must be easy to repair and maintain so you can have faster turnaround times. Look for replaceable tine blades, a repairable transmission, a simple design with few gadgets and quick turnaround on parts orders.
As mentioned previously, hydraulic tillers offer increased flexibility to their operation. Manufacturers such as Barreto and Maxim offer models with hydrostatic drives. While more expensive, these machines can offer advantages.
For example, Barreto's tiller is bi-directional. It's able to counter rotate on the first pass - to really break up the ground - and then switch to standard rotation on followup passes to grind up the soil. Hydraulic tillers have a relief valve built in to prevent breaking the equipment, especially in rocky ground or new construction sites.
Hydraulic tillers do tend to be bulkier, so a trailer might be necessary for transport. This can be an advantage for productivity, however, the heavier the machine, the more work it's going to do rather than working the operator. "The heavier the machine, the less likely it will be to skip across the ground during tough tilling conditions," says Barreto.
Maintaining for maximum productivity
Maintenance for tillers is fairly straightforward and begins with a good pre-season spring check up. Check the belt and pulleys for wear and proper alignment, replace the tine seals seasonally and check the tines to make sure the edges are not worn and the pin holes are not elongated. If the tine edge loses its corner, it will not dig effectively. Rear-tine tillers are slightly more complicated as you have a separate wheel drive.
In general, some primary service points to keep in mind include:

Check tiller for loose bolts and screws after each rental.

Check condition of belt (if belt-driven) after each rental. Replace as needed. Belt tension can be changed by adjusting the idler cable chain at the hand clutch and by moving the engine backward or forward.

Check transmission fluid weekly during the rental season by removing the check plug located just above the tine shaft. If no fluid eases out, add 00 Gear Lube into the fill plug located toward the top of the gear case until fluid eases out of the check plug. Make sure both plugs are secure when finished.

Service engine according to engine owner's manual.

Clean dirt, roots, string and other foreign objects from tines after each rental.


Ensuring safety

Safety begins and ends with customer training. Follow these guidelines for a safe tiller rental:

Make sure the customer knows how to stop and start the tiller before leaving the rental store.

All safety decals should be visible. Replace if necessary.


Instruct the customer to do the following:

Do not try to do the job in one pass; make several passes.

Check the area for debris before beginning to till.

If debris wraps around the tines during operation, shut off the engine and check tines for obstruction.

Keep pets and children away from the tilling area. Wear proper footwear and safety glasses.


Many tillers incorporate an operator presence system that shuts the machine off when the operator lets go of the handlebars. This is a helpful safety feature that can be particularly important to novice users.

Experienced or not, all renters should receive an orientation of the tiller they're renting before they leave the rental yard. Beattie concludes, "Proper safety when using any power tool will ensure the customer has a satisfying experience, and will get you more return on your investment."
Companies in this article