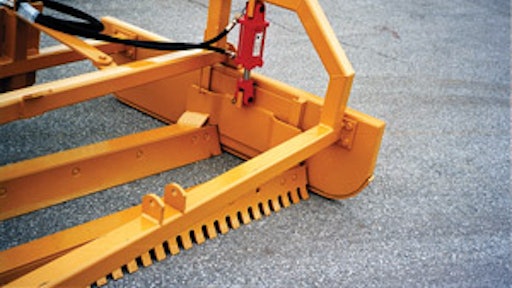 Roadrunner Grading Blade
The Grading Blade features a serrated cutting edge that will penetrate and crumble hardpacked materials. The rear blade remains a standard curved motor grader cutting edge. Unit maintains smooth leveling characteristics while operating on 5 1/2- or 6-ft. skid bars with heat-treated wear strips. Side panels eliminate windrows, and twin blades operate on a slight angle to eliminate washboarding. Available with twin screw jacks or optional hydraulic tilt.
Premier 170-DF from L.B. White
L.B. White introduces the Premier 170-DF, the latest addition to its line of portable construction heaters. Unique in its ability to operate using propane and natural gas, this new addition to the L.B. White dual fuel family is perfect for construction environments. As a project progresses and users need to switch from propane to natural gas, it's as simple as turning the fuel selector valve. The Premier 170-DF features direct spark ignition, remote thermostatic control, extendable wheel-barrow handle, easy rolling wheels and corrosion-resistant Tri-Shield finish. With 170,000 Btu/hs and the option of using ducting, the new Premier 170-DF is designed to deliver highly efficient and flexible heat distribution. Comes equipped with totally enclosed flame, built-in temperature management, airflow safety devices, fully enclosed electronics and virtually clean air output. All Premier heaters are CSA US and Canadian certified for construction use.
Primetest 100 from Seaward Group
The Seaward Group USA (formerly Clare Instruments) introduces a new entry-level workplace electrical equipment safety tester that combines the functionality of a tool and appliance tester with an extension cord tester and power receptacle checker in a single instrument. The new Primetest 100 is a battery-powered hand-held tester designed for the fast and effective safety checking of all types of tools and portable electrical equipment used in the workplace. Universal graphics on the case of the instrument guides the user through the three test models available and a single push button operation establishes the appropriate sequences for the selected tests. Supporting PDA-based software is also available to enable test results from the unit to be recorded fast and accurately, for subsequent transfer to a PC-stored database or other recordkeeping system.
Wacker Rammers with AIS
Wacker's two-cycle rammers with the advanced injection system (AIS) are powered by the exclusive WM 80 engine with AIS. This is the only engine on the market designed specifically for rammers and to withstand rough rammer applications. Features include 65 hours of run time on a tank of oil, 120:1 fuel/oil ratio, low engine oil shutoff, no spark plug fouling and carbon buildup, lower poisonous carbon monoxide and nitrogen oxide emissions, faster engine warmup, long shoe stroke, increased blows per minute, faster travel and more. Rammers with AIS are lightweight, offer a low center of gravity with no mechanical governor or used oil to dipose of. Three models of Wacker's two-cycle models are available with AIS. The 131-pound, BS 50-2i, the 145-pound BS 60-2i and the 164-pound BS 70-2i offer reduced hand-arm vibration, integrated fuel valve and throttle lever for simple operation and easy starting, and optimized weight balance which lowers the center of gravity for easy operation.
Tanaka Articulating Pole Hedge Trimmer
Tanaka introduces a new articulating pole hedge trimmer, the TPH-260PF. With a 130-degree articulating angle, this pole hedge trimmer is designed for trimming tall hedges as well as clearing tough ground cover. Powered by Tanaka's 25cc, 1.3-hp PureFire engine, key features include a 23-fl. oz. see-through fuel tank, padded "D" handle and a solid steel drive shaft. The TPH-260PF contains 22-in. double-sided, dual-reciprocating blades that can easily cut through branches 3/4 in. thick. In addition to power, the TPH-260PF weighs just 13.8 lbs. and is covered by a one-year commercial warranty.
Case Upgrades DV Series Rollers
Case announces the upgrade of its DV Series tandem-drum vibratory rollers to more powerful, Tier III engines that deliver from 31 to 48 hp, up from 27 to 38 hp. The line features high centrifugal forces, dual frequency and a hydrostatic drive that provides excellent traction and smooth performance even on steep slopes. The tandem-drum DV201, DV202 and DV204 models range from operating weights of 5,510 to 7,720 lbs., with drum widths from 39.4 to 51.2 in. Drum frequency on Case DV rollers ranges from 3,180 to 3,720 vpm with centrifugal forces from 4,580 to 8,877 lbs.
Blastrac Upgrades BMS 220BX Scraper
The Blastrac BMS 220BX battery scraper is an updgraded model with improved battery performance for higher productivity and longer run times between charges. This ride-on scraper is used to remove a wide range of materials from concrete surfaces: thick coatings likes epoxies and urethanes, adhesives, thinset mortar, roofing material and floor coverings such as VCT, carpet, marble or ceramic tile and more. The BMS 220BX is a compact unit, making it suitable for commercial, light industrial, retail and residential jobsites. It fits easily through doorways and into tight areas and is light enough for standard elevators.
CGW Fast Cut Series
CGW expands its line of Fast Cut products with 19 new cut-off wheels ranging between 4-1/2 to 14 in. diameters. CGW's Fast Cut wheels are made from quality aluminum oxide grain and are engineered for high performance and long life. The 1/8-in. thick depressed-center wheels are made with a Q-grade bond for quick cutting and notching, and are available in 3- to 9-in. diameters. The 1/8-in. thick pipeline wheels have a T-grade bond for fast cutting of ferrous metals and are available in 4-1/2- and 7-in. diameters. The 14-in. stationary saw cut-off wheel is 1/8 in. thick and cuts structural steel, bar stock, tubing and non-ferrous metals. The 14-in. chop saw wheel is double reinforced with fiberglass for easier cutting of metal and steel.
Electric Eel Model E with New Belt Guard
The new guard is constructed of heavy-duty thermo plastic and mounts securely to the motor with a thumb screw. The guard can be easily removed for changing belts or removing the cable drum.