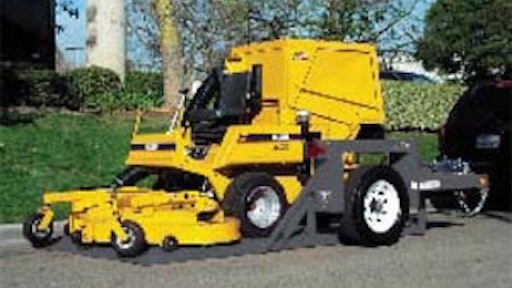 Selecting an equipment trailer might seem straightforward, but things aren't always what they seem. There are a lot of manufacturers today producing various types of trailers, so knowing what you need from a trailer is crucial when starting the selection process.
When choosing a trailer for hauling equipment, rental businesses need to take into account their customer base and size as well as the type and weight of their equipment. Gary Knudson with Towmaster describes a couple of scenarios that might face a rental business when choosing a trailer.
"A customer base of professional contractors that drive ¾- and 1-ton pickups that might rent a mini excavator with attachments would be best served with a tilt-bed trailer with a stationary deck," says Knudson. "This type of trailer would have a gross vehicle weight rating (GVWR) of around 16,000 pounds, hauling about 8,000 to 10,000 pounds of load with electric brakes. The stationary deck could carry the attachments and the main tilt deck would carry the mini excavator, as an example.
"A customer with a less heavy-duty towing vehicle renting a small skid-steer loader with a pallet fork attachment might be best served with a ramp-style trailer with pallet fork holders," continues Knudson. "This trailer would have a GVWR of 9,990 pounds, hauling about 5,000 to 7,000 pounds, and possibly equipped with hydraulic surge brakes or remote controlled electric brakes."
Obviously it's important to know what you want from a trailer. In order to get the most value from your investment, it's best to look beyond the rated payload capacity to other factors that can impact an equipment trailer's performance.
According to Christian Baillie, Eastern Regional sales manager with JLG Industries Inc., versatility, capacity, quality and brake configurations should be at the top of your list when selecting a trailer. "You have to rent units that will meet the requirements of a variety of customers," he explains. "You have to make sure that you have units that are wide enough and long enough to rent with other equipment."
So, where should you start?
Capacity concerns
There are many factors to consider when selecting a trailer. Options can include the type of ramp, type of flooring, type of tongue jack, siderails and tailgates, tie-downs, winches, spare tires and more. Even the type of coupler will need to be decided: a 2-inch coupler is the most common, but one might need a 2 5/16-inch coupler because of the trailer load capacity.
Speaking of capacity, what will be carried on the trailer needs to be the first item considered. Be careful not to underestimate the weight of what you will be carrying. Take into account full gas tanks, accessories and added attachments that might be carried.
Size is also important. Be careful the trailer is not too small — dimension-wise it should carry your load. Take into account the configuration of the equipment or load to be carried. Because of the weight distribution of the equipment, which can vary significantly when attachments are added, you'll need a trailer large enough so that equipment can be positioned to give proper tongue loads. Insufficient tongue weight will cause dangerous swaying and unsafe towing.
Quality questions
Beyond the basic features, suppliers suggest comparing construction quality and design factors. Structural integrity in design, such as one-piece frames to limit the number of butt or joint welds, is important.
Other quality factors include the maximum design width between the fenders, within the constraints of 102-inch overall legal limit width, which is important to allow a broad range of equipment to be hauled. Designs that allow the movement of the rear loading ramps to move in and out to accommodate varying wheel treads as well as spring-assisted lift devices on the ramps for the operator are helpful. Axle placement on the trailer is crucial to ensure proper and safe towing.
Because not all trailers are built alike, component specs should be checked to ensure the trailer is actually designed to handle the rigors of heavy hauling.
Component ratings can vary widely for models even within the same capacity class. For example, the axle wall thickness on a 25,000-pound axle might be .416, .625 or .750, depending on the manufacturer. Vertical travel on hydraulic removable goosenecks can range from 16 inches to as high as 45 inches. And flooring thickness can vary substantially. Nominal thicknesses can mean various things, so find out what the actual deck thickness of the flooring is and what kind of flooring is being used.
Cost-effective brakes
There are a variety of braking systems available on today's trailers: air, electric, electric/hydraulic, hydraulic/surge. The type of braking system available typically depends on the size (GVWR) of the trailer.
Air brakes are used on the larger trailers, usually those over 40,000-pound GVWR. This size has large brake shoes and various size air chambers to apply the brakes, giving the vehicle the stopping power needed.
Trailers between 26,000 and 40,000 pounds GVWR might have either electric or air brakes depending on the axles available. This is usually determined by the towing vehicle the customer is planning on using.
Electric brakes are the most common from 3,000- to 26,000-pound GVWR. They can be used with a variety of towing vehicles via the use of an electric brake controller that is independent of the tow vehicle brakes.
Electric/hydraulic brakes are starting to be used more. With electric/hydraulic brakes, you'll need an electric controller in the tow vehicle, which controls an electric pump on the trailer, which in turn applies hydraulic pressure to the brake shoes.
Hydraulic surge brakes become operative when the towing vehicle decelerates, causing the trailer to apply a pushing force against the hitch. The pushing force actuates the hydraulic cylinder in the hitch, transferring high-pressure brake fluid to the trailer wheel cylinders.
Hydraulic surge brakes have been the industry's standard braking system on trailers up to 12,000-pound GVWR for many years and are desired by many rental businesses because of their ease of hook-up (no wiring, no separate actuators, no delays). With electric brakes, a brake kit or electrical hook-up is necessary.
For several years, there was a cloud of confusion as to whether hydraulic surge brakes were considered "legal." In response to a petition for rulemaking from the Surge Brake Coalition, the Federal Motor Carrier Safety Administration proposed in October 2005 to amend the Federal Motor Carrier Safety Regulations (FMCSRs) to allow the use of automatic hydraulic inertia brake systems (surge brakes) on trailers operated in interstate commerce. This type of brake is again available provided the GVWR of the tow vehicle and the GVWR of the trailer meet certain criteria.
Maintenance factors
A trailer must be serviced like any other piece of equipment, therefore maintenance features need to be considered when
purchasing.
Maintenance-related features include items such as rubber-ride axles, which eliminate the need to maintain spring shackle bushings on a regular basis, and sealed modular wiring systems with internal ground wires and integral circuit breaker protection, which protect the trailer as well as the tow vehicle.
Additionally, a trailer design that lends itself to quick replacement of hitch couplers, jacks and "hydraulic brake controllers" — if allowed by individual state law — makes replacing these highly abused items a simple maintenance repair issue for rental businesses.
The supplier connection
A final consideration during the selection phase is the supplier itself. A knowledgeable trailer manufacturer that can match the trailer to your equipment and understands your industry is a must.
Purchasing from a manufacturer that provides experience along with knowledge of the industry, as well as consistency of parts and components goes a long way toward your benefit. More importantly, if you need an insurance liability policy, they'll be in the wings.
When buying trailers for your rental business, the first thing you should ask of a manufacturer is, "What is your liability coverage? Have you asked the DOT inspector into your plant? Does one of your management team attend the meetings provided by various truck and trailer organizations to stay abreast of changing laws?" Don't be afraid to ask some questions.
Suppliers should be your source of information for the trailer industry; after all, they are the experts. "The salesperson should educate as well as sell trailers," says Knudson with Towmaster. "Ideally, the salesperson can make the customer feel comfortable enough to ask the questions needed to allow a better understanding of his/her needs."
Don Huber with Trail-Eze agrees. "The best thing the customer can do is ask questions."
Maximizing the payload
To maximize hauling efficiency, you might want to move two or more machines in a single payload. There are, however, some added considerations involved.
When sizing a trailer to haul multiple machines, first determine the dimensions of the longest machine the trailer will carry. You need to have adequate deck length and dimensions to ensure proper weight distribution. If in doubt, ask your trailer supplier to perform a weight distribution analysis to determine if specific machines can be safely transported in a single load.
The legal maximum gross weight can also be a limiting factor. A permit is required if the truck, trailer and payload exceeds 80,000 pounds. Technology that is helping in this area is known as an air scale system. Air scales are becoming more popular because operators will know where they are weight wise before they leave the rental yard.
A final factor to consider when hauling multiple pieces is how they are positioned on the trailer so that the tongue weight remains proper.
Off loading one piece of equipment from a trailer without repositioning the others can put undo strain on either the trailer or the tow vehicle. Having too much tongue weight might bottom out the springs on the tow vehicle, making it ride and drive extremely rough. In extreme cases, too much tongue weight might make the tow vehicle hard to control, because the weight might be lifting the front end of the tow vehicle off the ground. In the reverse, too much weight remaining behind the axles might cause the trailer to sway while towing. The swaying might not start until after the driver reaches posted speed limits on the highway, pushing him into a situation he can't safely recover from.
The best way for rental businesses to avoid overloading their trailers is to know the weight of what is being loaded. Every trailer must have a vehicle identification tag that will show the carrying capacity of the trailer. Employees must know the weight of any item they are loading. This can be found in the equipment owners manual or direct from the manufacturer. Be sure to take into account the total weight with fuel and attachments. Be cautious of renting a trailer by itself. Customers must know the same information and load the equipment on the trailer within the safe limits.
Many times trailers are taken for granted and treated as a secondary item. This shouldn't be the case. Be sure to buy a quality trailer of the design that best suits your applications, and your trailers will serve you well over many miles of roads.