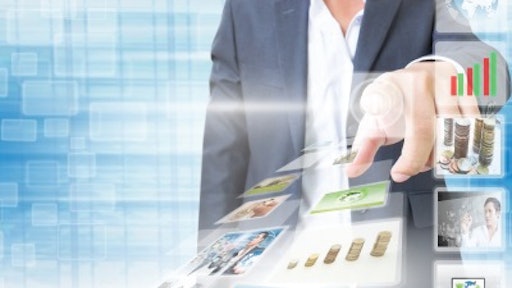 The rental industry is not usually on the "bleeding edge' of technology, but that's not necessarily a bad thing, since it gives innovators time find ways to make new software and hardware more applicable to rental applications. According to rental management software providers, that time has paid dividends and rental store owners and managers now have several cost-effective ways to add efficiency to their operations. As they point out, some of this technology might not be in wide use yet, but thanks to several trends, not the least of which is the consumer's growing appetite for instant information, it will likely become a necessary part of renting equipment in the not too distant future.
"The time frame for the practical application of new technologies in the rental business varies tremendously," says Alert Management Systems' President Rob Ross. "GPS-based telematics systems are a good example. They've been around for more than 10 years, but only recently have become more popular in the rental industry. These systems offer rental companies incredible control over fleet location, fleet maintenance, billing for excess usage, and other management issues."
Lending to its popularization is standardization via the Association of Equipment Management Professionals (AEMP) Telematics Standard, he explains. "By writing our integration according to the standard, we are now able to integrate with multiple telematics systems. This means our customers have a broad selection of vendor products and better protection from obsolescence. Still, telematics has been a long time coming and my guess is that many rental stores have yet to take advantage of its many features and applications."
More widely accepted are new mobile technologies. Alert Management Systems recently introduced Sign and Rent, a web-based paperless rental contract management and signing system. "One common problem that is completely solved by this technology is 'blind drops'," says Ross. "With Sign and Rent, rental stores never again have to leave equipment on a jobsite without having a signed contract. The system even incorporates walk-around photos, date and time-stamping, along with other forms of forensic evidence that are admissible in court."
Solutions by Computer also offers electronic signature capture with its Enfinity system. "Our e-Sign capability has helped users secure business when their customers are far away from the rental store or salesperson," says General Manager J.J. Shea. Not only is e-Signing faster and more convenient for the customer, it is less expensive for the rental operator than dealing in person, and it enhances inventory management."
He continues, "The e-Sign module can be used to capture legally binding signatures on any number of documents, including rental commitments. In the case of a contract, the end-user customers can review the contract on a mobile phone, laptop, tablet or on a desktop computer, sign it, and receive a copy of the signed document electronically. It's a totally 'green' process, which is important to a lot of customers."
RFID revisited
When asked about other technologies that may not be in wide usage but could change the way rental stores do business, Tommy Williams, ARM channel manager for BCS Prosoft, identified RFID (Radio Frequency Identification) as a prime candidate. He says, "RFID has been around awhile, but it still has fairly low adoption rates. I believe this has less to do about expense and more about resistance to change. However, as second and third generation owners start to take over, this adoption rate will likely increase."
More rental operations incorporating RFID may be the result of better technology, too, adds Tim Levron, vice president of sales for Corporate Services. "New readers make it more convenient to read RFIDs and the chip, or at least how it is fastened to equipment, has become more durable. Chips can be embedded into tags and then bolted to equipment or actually embedded into the equipment frame.
"Customers and the rental store can easily use readers to identify the equipment and then access information about maintenance schedules, operational notes, parts availability, and so forth. Down the road this same technology will have expanding capabilities, including the use of metadata, allowing chips to do more than identify equipment, but to actually store important data that the customer can easily access." As he points out, this technology has an important upside when it comes to managing rental inventory.
Shea agrees. "Most rental management systems are designed to handle barcodes. At the most basic level, RFID is similar to a barcode and can be used for tracking and identification. There's no reason why it can't be utilized for certain types of rental inventory, given the right physical environment. RFID has real potential beyond the basics, but it is still untapped."
Apps and more
The driving force behind much of this new technology are the customers who want 24/7 access to their data , notes Williams. "Embedded QR codes, for example, will allow for instant access to service records, safety sheets, and OSHA-required documents. The same QR codes will allow customers to extend rental leases, request service or schedule pickups. These are all things the 'Facebook Generation' is going to expect and demand not only from software publishers, but from their rental stores, as well."
It's amazing what one new product can accomplish. Consider the Apple iPad, says Ross. "Within 10 to 20 months since its introduction in April 2010, the iPad has become a proven and accepted facet of everyday life for both consumers and businesses." He notes that Alert Management Systems has written multiple apps that run on iPads, Androids, Windows 8 tablets, and other devices, including a mobile app for conducting a paperless physical inventory of rental and sales assets.
Corporate Services also offers its customers specialized apps. Among them are apps that provide maintenance updates and oil change alerts, as well as safe weight limits requirements for transporting heavy oil drilling equipment. Like Williams, Levron sees end-user customers driving the marketplace for new software. As he relates, people have smart phones and they want to use them. In other words, technological advances are making it easy for the average person in the field to take advantage of new rental management software, including apps.
Orion Software's Patrice Boivin looks for the "cloud" to open up opportunities to develop new mobile applications with complete functions. "Most mobile apps on the market are a smaller version of a full application," he emphasizes. "With the launch of Sirius e, everything that the software is doing in the office, you can do on a mobile device, as well. If you scan and process credit cards or sign contracts in the office, you can do it in the field, too. We are just scratching the surface of this technology."
Responsibility transfer
Electronic signature capture, RFID, and apps will enhance the management of rental inventories and make life easier for customers and rental store operators alike. According to Williams, these technologies will also impact the rental staff's responsibilities. "As more data finds its way onto the web, calls to dispatch and customer service request for deliveries and pickups will decrease. Employees who once handled these responsibilities will be able to spend less time providing customer support and more time generating revenue. Better metrics and financials will also free up time for the CFO to look for other ways to save money."
Responsibility transfer also extends to store management who, says Williams, must now stop reacting and become more proactive incorporating new technologies. "Over the last five years, consumers have become more adept at using new technologies. Now, rental companies will be charged to develop strategies that integrate these technologies into their processes."
The pace of change
"Moving forward, less-proven technology such as Google Glass will most likely change the dynamics of how rental stores operate," says Ross. "The overall trend is always in the same direction, however, which is to make ever greater computing power more mobile, more ubiquitous, and more accessible based on lower cost. If the past is any indicator, new technologies will become popular in the consumer and general business worlds well before their wide acceptance in equipment rental stores."
Another important driver for change is the younger generation, Orion's Boivin emphasizes. "Younger customers are using the Internet to do business every day and rental stores will need to adapt by offering web portal or shopping carts."
The same generation, what Williams calls the "Facebook Generation," will be driving change from the inside out. "Emotions come into play when you talk about changing the way a business has operated for the last 20 years or so," he relates. "The 'Facebook Generation' doesn't have the strong emotional ties to the old way of doing business. Hence, they are quicker to explore opportunities that leverage available technologies, including social media platforms."
Shea notes that RFID and electronic capture can already add a new dynamic to the way rental fleets are managed and help provide an optimal customer experience. "That's what's exciting about the concept of third-party integration. There is no limit to what can potentially be achieved to revolutionize the rental process. A capability like signature capture alone is also relatively easy and inexpensive to integrate."
As Shea and the others point out, what rental stores are seeing and even using today when it comes to employing new technologies is the just tip of the iceberg. If there we ever a time to play catch up, that time is now.
Companies in this article