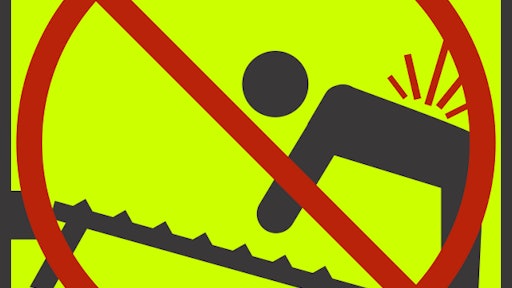 Everyone says it: use common sense. The problem is while we all know we should, not everyone pays attention to it, and some aren't aware of what common sense even means. Common sense is another term for common knowledge, but if you haven't been introduced to a particular situation, you may not know what is commonly known. Trailers are a fairly low-tech, low-maintenance piece of equipment. Because of this, people don't necessarily pay attention to the little things that could arise when it comes to safely working around them. Here are five things to consider to avoid injury when using a trailer.
Secure the hitch
Most people realize that in order to pull a trailer, you'll have it connected to a tow vehicle. Forgetting to lock the hitch only leads to bad things. A trailer disconnecting from the tow vehicle is one thing, but something else people don't often think about is that the trailer must be securely hitched to the tow vehicle while loading and unloading equipment. When equipment is moved behind the back axle, all of the weight ends up at the rear of the trailer. If the hitch isn't secure, the front of the trailer can pop up and damage the tow vehicle and trailer, not to mention the equipment you are trying to load or even the operator.
Lift ramps with your legs
Back injuries are common, but they can become less common simply by using proper lifting techniques. Do not attempt to bend over and lift up a ramp with your back muscles, even if the ramp is equipped with helper springs. Lifting with your legs is the proper method and provides much more strength. It's also easier.
Avoid slick surfaces
Common knowledge tells us that "Slippery When Wet" means we should be careful around wet surfaces, but sometimes surfaces can be slippery even when they are dry. Surfaces can get smooth over time, and steel surfaces could be slippery simply from the soles of your footwear. There could be oil or sand on the deck surface.
Slippery doesn't just relate to you, but also to your equipment. If your equipment tends to slip on steel or wood, you should look into traction materials, such as star-plate or rubber mats. Be cautious when walking or loading equipment on a trailer deck, even if it is not wet.
Stay clear of pinch points
You only have one chance to be safe when working around heavy equipment. Nine-Fingers Joe is now Eight-Fingers Joe because he wasn't paying attention to his hand position when someone was driving a skid-steer loader onto a tilt-bed trailer. It doesn't even need to be that blatant. Simply chaining equipment to tie-downs can be a finger-pinching experience. Hitches, toolbox lids, ramps, suspensions, and parking jacks are all pinch areas to be aware of. Take a little extra time to make sure your finger, feet, and face are out of the way when working around a trailer.
Don't lick the battery terminals
If anyone has ever asked you to stick your tongue on a nine-volt battery, you know the unpleasant sensation. I know you aren't going to stick your tongue on a 12-volt trailer battery, that's just common sense, but it illustrates that common sense should also tell you that whenever you're working around electricity you should disconnect the battery power before you repair a wire or clean out a terminal. That's mainly the point; think about safety when working around electricity.
Common sense is just wisdom
Wisdom is the result of knowledge plus experience. You can read about something, and be told about something, but to experience working with something adds up to wisdom. Using these five common-sense practices will give you the wisdom to safely work with a trailer and help you avoid injury.