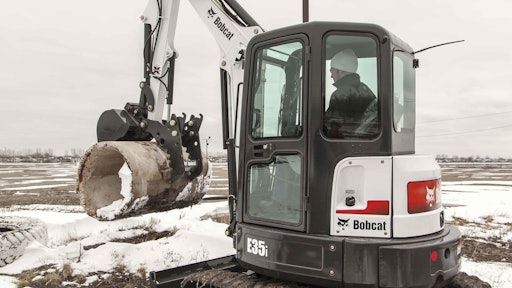 Compact excavators are a mainstay in the rental industry because of their compact size, performance and versatility. As residential homebuilding and infrastructure projects continue to fuel the economic recovery in the United States, the demand for excavators is expected to increase, especially in the rental market, to supplement existing contractors' fleets.
Tom Connor, a Bobcat compact excavator product specialist, answers questions related to excavator trends in rental, how the industry has changed, what he expects from the rental industry and excavator use in the coming years, and how excavators have been improved or further developed to make them even more attractive to rental companies.
Q: When you look at the rental market segment today, what compact excavator trends are you seeing? In other words, are rental companies purchasing more or fewer compact excavators for their rental fleets?
A: Rental companies are expanding their compact excavator offering in anticipation for expected demand. According to the American Rental Association (ARA), the overall expected growth of the equipment rental industry each year through 2018 will exceed the 7-percent growth rate as seen in 2014. This will help drive rental revenue growth in a variety of market segments, particularly in residential construction, light commercial construction and infrastructure projects. Because of this upward trajectory, many rental store owners are increasing their compact excavator fleets, such as adding 2- and 4-metric-ton excavators, to meet their customers' growing needs.
Q: What technological or design updates have been made to compact excavators in the last 15 years that make them more attractive to rental companies?
A: There have been significant technological and design updates made to compact excavators over the years, including:
Auto idle
Auto idle makes it easier for rental customers to pause their work — and save fuel — while on the jobsite. In addition, it also makes it easier for the operator to communicate with coworkers. When machine functions aren't used for approximately four seconds, the excavator automatically idles the engine until work is resumed.
Excavator arm configurations
In addition to standard arm configurations, rental stores can choose between long-arm and extendable-arm options (select models) for added reach, dump height and digging depth. Both configurations can be valuable timesavers for customers because they do not need to reposition the machine as often. The extendable-arm option — available on select manufacturer models — is especially useful in utility installation and preparation, because the arm has a long enough reach to remove spoil away from the trench. This arm option also works well in truck-loading applications.
Attachment mounting systems
Changing excavator attachments has gotten much easier with the addition of attachment mounting systems, rather than pin-on buckets, for example. Customers who rent excavators are more likely to use the proper-sized bucket to match the excavating or trenching task if it's easy to change them. As an added benefit, some excavators can be configured with a hydraulic powered mounting system for even faster and easier attachment changes. Excavator operators can release or secure an attachment by simply pressing a switch inside the cab, eliminating the need to get out of the machine to manually secure an attachment during hookup.
Auto shutdown
Automatic shutdown tracks engine coolant temperature, engine oil pressure and hydraulic oil temperature, as well as other functions. The system helps prevent catastrophic engine failure and shuts the machine down if necessary.
Cab comfort
Excavator cabs have come a long way, in terms of operator comfort, since the machines were introduced in North America. Compact excavators are being operated for longer periods as well as in challenging weather and jobsite conditions, so keeping the operator comfortable is crucial. Some advancements include heat and air conditioning, reduced cab vibration, improved visibility and ergonomic controls.
Composite panels
Manufacturers, like Bobcat Company, design the engine hood and side access covers with composite panels rather than sheet metal. Composite panels better withstand dings and do not rust.
Hydraulics
Increased horsepower in the hydraulic system has allowed excavators to sustain flow at higher pressure, amounting to faster cycle times under load. The hydraulic system matches the force to the demand, helping rental customers have more usable power and increase performance.
Retractable undercarriages
Some excavator manufacturers offer models with retractable undercarriages, which can easily pass through a gate or fence, then expand before work begins. This feature makes the models especially popular among rental customers who work in established residential neighborhoods, where there is often little room to get to a worksite.
Tail swing configurations
Today, rental stores can choose between conventional tail swing, or, minimal tail swing and zero tail swing (ZTS), giving rental customers more unrestricted rotation and flexibility when working close to objects or against a wall. The ZTS feature significantly reduces the chance that the excavator's tail will inadvertently contact surrounding objects and is designed for working next to buildings or structures. The rear of the excavator's house stays within the width of the tracks through full rotation and offers the greatest flexibility to slew and deposit soil.
Q: Has the preferred size (tonnage) of compact excavators for rental changed in the last 15 years? What is the most commonly sold compact excavator to rental companies?
A: Rental companies today offer a range of compact excavators, rather than one specific size class as they have done in the past. The most commonly sold compact excavator sizes are the 2- and 3-metric-ton machines.
Q: How have attachments for compact excavators been received in the rental market segment? Have rental companies been eager/quick to purchase attachments to rent with compact excavators? 
A: Attachments have been very well received in the rental industry. Rental companies understand that if they do not stock basic attachments to fit their customers' needs, then customers are more likely to rent elsewhere. In addition to buckets, rental companies are purchasing attachments such as augers, hydraulic clamps, hydraulic breakers and three-tine grapples.
Augers
Augers can be used in almost every application, paired with a wide range of bit sizes.
Clamps
Hydraulic clamps can move more material — such as concrete, logs and pipes — with ease. The attachment features a dual-tooth design, extending beyond the cutting edge of the bucket for a bigger bite.
Buckets
Rental customers' needs depend on the jobsite and what size of compact excavator the attachment is being paired with. For instance, grading buckets feature a smooth lip for backfilling, leveling and cleaning ditches; trenching buckets dig narrow, deep trenches; and tilt grading buckets shape holes and ditches.
Hydraulic breakers
These attachments work well with compact excavators, providing exceptional visibility to the work tool.
Three-tine grapples
Paired with the hydraulic clamp, the three-tine grapple can grip, handle and clear bulky material with ease. These attachments are used with compact excavators to help move brush, logs and landscaping stones.
Q: Why is it so important for rental companies to share the proper operating steps with equipment rental customers? What safety features of compact excavators should be discussed when a customer rents a machine?
A: It is in the rental company's best interest to educate its customers on how to properly use compact excavators and how to use the machines safely. Rental companies want their customers to have a positive experience, so it is crucial that customers are educated on how to properly use the excavator while at the rental yard. This can help reduce the risk of injury to customers and others on the jobsite.
Employees at rental companies should demonstrate how to use basic excavator control functions before their customers leave the store, including:
Auxiliary hydraulic flow settings
Travel control functions
Blade movement
Boom swing control
Clamp activation
Control pattern styles
Engine monitoring functions
Two-speed travel
Rental customers should understand universal safety guidelines, such as always using a seatbelt, using the grab handles and steps that are provided for a three-point contact when entering and exiting the machine, and wearing tight-fitting clothing that cannot get caught on working components or on the machine.
In addition, they should explain how to use basic machine controls such the console lock system as well as workgroup and travel functions. Some manufacturers, like Bobcat Company, have a control lock system that requires the customer to lower the left-hand console before using the workgroup or travel systems. This avoids unintentional activation of the machine's boom, arm, bucket, slew, blade and travel systems.
Other excavator safety features that customers should be aware of include:
Alternative exits
Guarding structures: Falling object guard structure (FOGS), rollover protective structure (ROPS) / tip over protective structure (TOPS)
Safety decals
Horn
Integrated slew lock brake
Work lights
Travel alarm
Customers should consult the Operation and Maintenance Manual, the operator handbook, operator training courses and excavator service training courses before operating a compact excavator. Incorporating safety on the jobsite gives equipment rental customers the ability to work faster and more efficiently, leading to better overall performance and profitability.
Q: What future developments for compact excavators will be attractive to rental companies?
A: Rental companies continually focus on what their customers are asking for when it comes to comfort, amenities and attachments.
Some continuing excavator developments that are appealing to rental companies include: 
Depth guidance system
Depth guidance systems can accurately track depth and grade, helping to reduce the need for manual labor or for operators to get on and off the machine to manually check the depth. Operators can set a desired dig depth and work against that benchmark using multiple on-board sensors that can detect the exact position of the bucket's teeth. An integrated panel continually references the current and desired depths, while audible and visual alerts indicate whether the operator is approaching the target, at the target or beyond the target. These guidance systems help prevent under-digging and over-digging, and help to minimize the cost and time associated with backfilling, compacting fill material and manual labor to finalize depth or grade.
Integrated slew brakes
Integrated slew brakes make life easier for rental companies and their customers because there is no need to manually engage the slew brakes during transport, allowing for flexible brake positioning. In addition, this feature helps hold the load steady on slopes for more accurate placement.
Adjustable Auxiliary Flow Rates
Many compact excavators provide the ability to adjust auxiliary hydraulic flow rates to match individual attachment needs, or to meet specific operator preferences. This may enhance the controllability of select attachments.