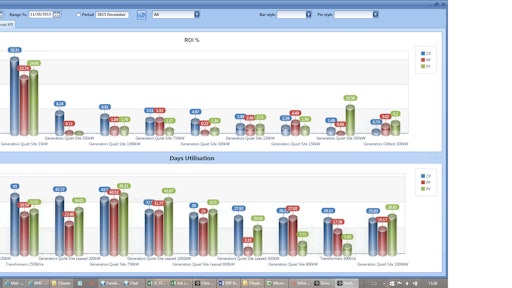 The expression "time is money" is almost as old as dirt. Well, maybe not that old. But most certainly it has roots in the mid 1800s when the second industrial revolution speeded up transportation with steam power and made  manufacturing more efficient with the advent of factories. 
Several decades later, Henry Ford likely uttered those words when his assembly line reduced the time it took to manufacture his Model T from 12 hours to less than three. Since then, the expression "time is money" has evolved from how long it takes to get something tangible done to how fast one can gather, analyze, and act on Key Performance Indicators (KPIs).
To borrow another old cliché, times are changing. One rental operator in the Midwest recently shared this story: "When I want to find out what the time utilization rate is for a piece of equipment, I simply divide the number of turns by the number of days it could be rented. The same holds true for dollar utilization; I just divide the equipment cost by how much rental revenue it generated for the year. However, my son is taking over the business and being a millennial, he wants information right now. His generation is not only used to getting information in a hurry, they demand it."
Matt Hopp, general manager for InTempo Software, says "Real-time KPI data provides actionable information that can make or break profitability and customer service. It's impossible to overstate the importance of that. Most rental business environments operate at the speed of light. If owners are unaware of an opportunity or an obstacle in real time, they've lost the chance to turn it to an advantage. KPIs are a springboard; they give businesses the momentum to react quickly."
How this information is presented makes a difference, too, adds Patrice Boivin, president of Orion Software. "Return of Investment (ROI) for different branch locations, equipment categories, and individual equipment is easily presented visually with colorful graphs. Our business management software also offers a quick view of other performance indicators such as dollars per customer, again with graphs so owners and managers can easily track monthly and yearly trends. 
"This information can be easily accessed via any number of ways from desktop computers in the office to mobile devices in the field, again saving time," he says.
Software companies offer dashboard access to real-time KPI data that not only delivers instant information, but can also then be used for further analysis, "This lets a rental operator zero in on the performance statistics that are the most meaningful for his or her particular operation," notes Hopp.
As Point-of-Rental Software CEO Wayne Harris points out, this data and the reports generated from it can be used to help establish benchmarks. "In addition to viewing defined KPIs in our Business Intelligence Dashboard, store owners and managers can run hundreds of customized reports from this data to help manage their businesses. Partnering with Rouse Analytics also gives us the ability to compare individual store KPIs with others from around the country." 
Identifying KPIs
Tim Levron, vice president of sales for Corporate Services, LLC describes KPIs as definitive points of business activity measurement that can be used to evaluate a company's success at achieving defined goals. "They can be companywide or specific to a department or division," he emphasizes. "Our Basis/TrakQuip solution offers companies the ability to define processes that can capture data to support these measurements. But we also provide business operations consulting to help clients identify the KPIs that can enhance the productivity and profitability of their business. We then can advise and support them on how to best capture and evaluate the data."
Identifying KPIs for individual stores is easier said than done. "Rental companies are so different from one another that it is difficult to define a one-size-fits-all benchmark for overall performance," adds Patrick Haley, director of marketing for Automated Rental Management (ARM). "That's one of the reasons we've seen such low adoption rates of an industry standard for calculating equipment utilization.
"Most prospective customers do not have defined KPIs," he says. "Before we begin implementing our ARM, our consultants help stakeholders identify and configure KPIs for their business. Sometimes we will adopt them from similar rental companies we've worked with."
What are some typical performance indicators? Harris gives these examples: "In addition to time utilization, some of the most important performance indicators our consultants compare include downtime, average hours in repair, fleet age, maintenance costs, equipment reliability, asset group utilization, percentage of overtime, response times, order counts, revenue ratio, repeat order times, cancellation, and asset rental trends."
With that said, however, identifying KPIs first and foremost plays a critical role in rental store management.
Adds Harris, "Knowing which equipment offers the highest ROI makes decisions to buy and sell equipment much easier. Knowing which type of customers turn into the most loyal customers for repeat business helps save time and money when analyzing where to spend marketing dollars. And knowing where you stack up against your competitors helps you to understand your market and identify areas where you can improve."
Being proactive
As Hopp points out, exception management reporting is another way KPIs can help store owners and managers be proactive. "The rental operator can define parameters and our system will automatically notify the operator when something falls outside those parameters. A parameter might be something like 'time utilization in excess of 70 percent on all inventory items in category X.' If utilization falls below that level, the rental manager will be notified and can take action – perhaps by adjusting rates on that item, or moving it to a different branch, or advertising it for rent. There's a lot of flexibility in the scheduling of exception management, both in terms of the frequency of notifications and the choice of Excel, xml, csv, or text delivery formats."
ARM software comes with Business Insights Explorer (BIE) that allows users to create and manage KPIs and custom reports. Haley explains. "One tool is called Alerts & Workflow. It monitors business data and delivers reports 24/7/365 in a format of the rental owner or sales manager's choice to whomever they want it delivered."
He gives these examples:
The company owner or sales manager receives a text message that a salesperson is preparing to give a discount that makes the sale no longer profitable.
The controller at another company receives an email every Monday at 7 a.m. containing all outstanding invoices.
Another company has an employee whose job it is to extract data from its legacy accounting system to create financial reports for the CEO and CFO. BIE creates these reports and automatically mails them every morning.
"It's one thing to collect and gather data; it's another to actually be able to use the information that will help managers make proactive business decisions based on fact versus gut feel," Haley says. "For an ambitious business owner looking to grow, it's no longer enough to simply know that revenues are higher this year than last. Having the ability to dissect the data can help them decide what they should stock more of, what markets they should expand into, where they need to add staff, and which customers should be fired, and so forth." 
Adapting to customer needs
Rental companies are not only operating at the speed of light, they're also evolving very quickly, adding new customers, new equipment lines and, in some cases, developing new branch locations. With so much going on, as Orion's Boivin points out, business management software does more than track KPIs. Orion's Sirius rental software, for example, features modules to manage customer interaction, preventive maintenance, pickups and deliveries, accounts payables and receivables, multiple location deliveries, and so forth.
Haley notes that ARM software also manages every aspect a rentals company's operation from rentals and inventory to accounting and finance. Yet one of the company's biggest strengths, he emphasizes, is working with rental companies to help owners and managers identify and configure key performance data.
That's a role with which other software companies can identify. "We create the information delivery according to the needs of our clients," reiterates Corporate Services' Levron. "This can be through ad-hoc reporting, dashboards, internal website reports, as well as scheduled or on-demand mobile device delivery."
"Formats are also dictated by the end users' needs," he emphasizes. "Some operational users may need detailed spreadsheets showing the job activity status and what actions are needed, whereas management may require broad graphs or aggregated numbers to show trends or comparisons."
"At InTempo, we're working with our customer community to identify KPIs that have the greatest, most widespread value across the rental industry," notes Hopp. "We encourage our customers to talk to each other and learn from each other. New KPIs are defined through this dialogue and driven by our customers. We don't tell customers what's important to them. They tell us."
Information Age
The technology associated with transmitting and communicating data has already been termed by some as the information revolution, and like its predecessors - the first and second industrial revolutions - it will only get better with time. As Levron indicates, "improvements in reporting and information tools for dashboards, mobile applications, and business intelligence data structures will allow for even more detailed analysis and faster delivery in the future."
Time is money. There's that expression again. Rental operations that embrace the information age will continue to see a direct relationship between the two words. But as the above software companies indicate, their business management software is robust, but it won't do all the work without some input from rental store owners and managers. When it comes to KPIs, you have to determine which performance indicators will have the biggest impact on your operation and how they should be presented to be the most beneficial for you.