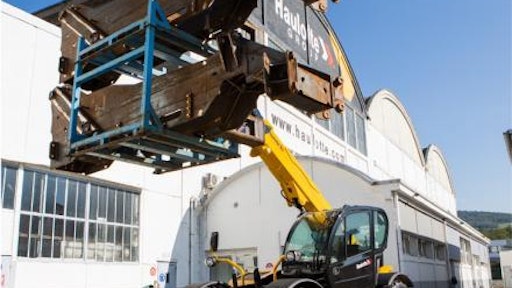 Haulotte Group will display its expanded offering of telehandlers in stand FS 903/5 at the bauma 2016 exposition, April 11-17, in Munich, Germany. The HTL line now includes Compact, High Lift and Heavy Load Capacity ranges.
The HTL 3210, HTL 3510 and HTL 4010 Compact telehandlers have a capacity to lift 3.2 to 4 tonnes and are designed to lift any type of load to heights up to 10m. This range addresses needs in the construction and industrial sectors where performance and compactness are required.
The HTL 3614, HTL 3617, HTL 4014 and HTL 4017 High Lift models are able to lift 3.6 to 4 tonnes up to 17m, a significant advantage for operating at work sites in all environments. Regardless of the configuration on the ground and obstacles, as a four-wheel-drive and steer vehicle, it offers both power and maneuverability.
The latest addition to Haulotte's offering is the Heavy Load Capacity range, featuring the HTL 5210, HTL 6508 and HTL 7210. This new line is specifically adapted to handle heavy loads from 5.2 to 7.2 tonnes.
The HTL 5210 four-wheel drive and steer all-terrain telehandler is the latest addition to the range, offering a lift capacity of 5.2 tonnes up to a height of 10m and a maximum forward reach at 3.5 tonnes to 5.8 m with the standard stabilizer. Features include a rear axle locking system for greater lateral stability and a high load rating performance for the upper section.
Easy to operate on non-stabilized surfaces, the HTL 5210 is equipped with a hydrostatic transmission and an inching pedal system for a smooth and easy approach. It is powered by a 113-hp (83 kW) Perkins Tier 4 Interim / Stage IIIB-compliant engine for Europe, and a 95-hp (70 kW) Perkins Tier 3-compliant engine for Latin America, North America, the Asia-Pacific region, Russia and the Middle East.
Haulotte Group will also market two models of DIECI telehandlers as the HTL 6508 and HTL 7210. These "heavy load capacity" telehandlers offer lift capacities without stabilizers of 6.5 tonnes up to 7.7 m and 7.2 tonnes up to 9.5 m, respectively. They are particularly adapted for extraction industries and civil engineering works, as well as pick and carry operations. Features include include pothole guards with a cutoff system to prevent dangerous movements, a limited-slip differential on the front axle and the cabin and an inching pedal for smooth and precise forward movements even with the engine at full throttle.
This Heavy Load Capacity range is equipped with 130-hp (96 kW) FPT Tier 4 Interim-compliant engines for Europe and North America, and 127-hp (93 kW) FPT Tier 3-compliant engines for Latin America, the Asia-Pacific region, Russia and the Middle East.
All HTL telehandler ranges can be quickly fitted with multiple accessories (quick-fits), including forks, simple or toothless buckets, work tools holder, hooked brackets and side-mounted work tool containers.