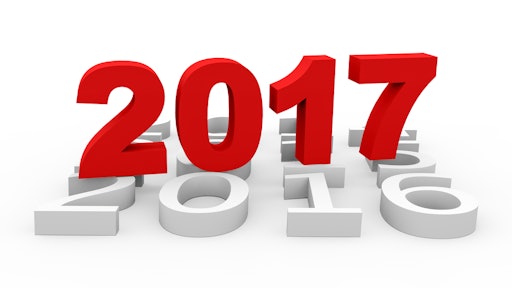 In our latest installment of Market Watch, we asked rental companies around the country what they see in their crystal ball for the coming year. Following is what we heard from your peers.
Missouri - Looking forward to 2017
"I am very optimistic regarding equipment rental sales for 2017," said Kenneth Harris, owner Oak Grove Rental Inc. in Oak Grove, MO. "Having said that, I realize things could change quickly. As usual, the economy will play a large part in the outcome, but I feel strongly we will enjoy more solid growth."
A big challenge, he noted, will be reconciling rental rates with new equipment costs. "For many years, rental rates have not kept pace with the cost of new equipment. Another challenge is employee compensation. Our employees probably deserve more pay than they are getting... but they are getting what the business can afford to pay. 
"I believe there are future opportunities in business expansion. This may include opening other locations, or just expanding the scope of the current operation. Obviously, this depends on available cash reserves, future funding (with the ability to repay), finding long-term employees, and the timing of all involved.  
"The 2016 rental market far exceeded my expectations. We're in a small market, so we are very thankful for the increased business," Harris said.
Oak Grove Rental is a general tool and party rental store serving west-central Missouri. Its staff has more than 62 years of experience renting equipment. The store is also a full-service Hustler Mower dealer.
Georgia - 'Cautiously optimistic'
Josh Nickell, owner of Nickell Equipment Rental in Newman, GA, is cautiously optimistic for the rental industry in 2017. "I expect growth to be slower than the last few years, but think some growth is likely," Nickell related. "We are statistically overdue for another recession or pullback, but the effect on construction and rental, in particular, is more difficult to gauge. The incoming president made campaign promises to do substantial infrastructure spending. If this holds true, it should benefit the industry." 
He noted that younger renters will likely have more of an impact on the industry in 2017 and beyond. "Additionally, the millennial generation that is coming into their 30s are starting to take decision-making roles. They are more comfortable with a shared economy compared with a preference for ownership by the previous generation. Millennials are comfortable with sharing and renting, which can be seen in the success of SaaS software models like Office 365 and Evernote, as well as shared business models like Uber and Airbnb.
"This transition should drive continued improvement in rental penetration despite other macro-economic factors and could even be reinforced by a pullback. Global unrest and concerns also play a factor, but the US appears poised to remain a safe place for global investment, which will mitigate some of the negative global impact," Nickell said. "We had a great 2016 driven by strength in our local economies and expansion to new geographic markets. Based on feedback from my peers, it appears that most privately owned rental companies had relatively strong years with a lot of variation based on target markets, and their local economies."
Nickell Equipment Rental was founded in 1998. Today, it serves both the equipment and tool needs for contractors and do-it-yourselfers in the south-of-Atlanta metro market.
Kansas - Smaller market requires diversity, creativity
"Our business model is a bit different than most rental stores in larger markets. While they may be able to specialize to accommodate a specific niche, we offer a wide array of products," said Reger Rental Owner Perry Reger.
He ought to know what makes the business tick. His father Perry K day-rented Maytag ringer washing machines to homeowners during the depression. In 1938, he officially hung his shingle in Hutchinson, KS, after three funeral homes signed an agreement among themselves not to loan out tables, chairs, wheel chairs and other items to non-funeral customers. 
"They didn't want to continue to loan out items, but were afraid to stop knowing that one of the homes would continue to do it and gain additional goodwill and a competitive advantage," said Reger. "Dad purchased their wheel chairs, extras tables, and so forth and was in business."
Still located in Hutchinson, Reger Rental is a general rental store with sales divided almost equally between equipment and small tools for homeowners and smaller contractors and party goods.
"We've had a stable year and are optimistic about next year," added Reger. "The economy in Hutchinson is primarily driven by agriculture, yet we also have a few promising industries in the city including a farm equipment manufacturer and a company that builds components for wind generators.
"Over the years, we haven't been subjected to the wild economic swings that some, more urban markets have seen. Instead, I would say our market is like an ocean wave that ebbs and flows."
His company rides the waves by diversifying and meeting customer demand. "Our party business has been especially good, thanks in large part to Hutchinson being the home of the Kansas State Fair," he related. "Renovation of the older buildings and an effort to turn it into a year-round site has brought in weddings, celebrations, and industry gatherings, all of which create demand for party goods."
Reger noted the equipment, tool side is more seasonal and unpredictable, and because the market is relatively small (Hutchinson has a population of 35,000), inventory doesn't get the turns that stores in larger markets get. Again, he's optimistic about both sides of his business for 2017. The big challenge, said Reger, is one that all rental stores large and small face: Profit being eroded by rising fixed costs such as property taxes, health insurance, and workman's compensation.
As this owner pointed out, businesses need to be "nimble footed" to stay profitable, something his son Perry C is learning as the store transitions to a third generation.
Iowa - 'I'm really encouraged'
Bloomfield Rentall Inc. in Bloomfield, IA, serves the primarily rural market in the southern part of the state. The store rents mostly to contractors, many of whom are involved in the construction of single-family homes and pole barns. Rental sales this year were divided among 60 percent construction equipment, 38 percent general tools, and two percent party.
"This year, sales were about 10 percent over last year and we're pretty happy with that," said owner Randy Hauder. "I'm really encouraged about next year, too, despite the current low cattle and commodity prices. We had a fantastic fall, weather wise, and although our business isn't directly impacted by weather, other than week-to-week rentals, a good harvest season certainly helps the local economy and helps to offset low prices."
Hauder has been in business 10 years, and previously worked in the concrete construction industry. He noted the singly-family housing market is strong and likely will maintain growth. As far rental categories, he looks for more of the same in 2017. "Most of our inventory is hit or miss, except for scissor lifts. There was a steady demand for them this past year and we will add a couple more to our equipment inventory this year."
Texas - 2017 looking good for 40th anniversary
Tomball Rental Center in Tomball, TX, will celebrate its 40th year in business this year. "Initially we were concerned about 2016, but business was steady and we expect 2017 to be another good year," said company Vice President Keith Kitchens, CERP.
His concern emanated from not knowing what the energy market would do. Tomball is a suburb of Houston and dependent on that market for much of its economy. But, as he related, business was steady and even Mother Nature cooperated except for handing out a wetter-than-normal spring.
Kitchens was only 11 years old when his father Bill and an older brother started the business. Forty years later, the business has evolved into a general tool and party rental store, with sales divided between 70 percent equipment and tools and 30 percent party goods.
"There's plenty of home construction in the area, which is good for both divisions," added Kitchens. "We're very excited about our party division. More people moving in means more parties. New construction is good news, as well, for our equipment and tool division that targets smaller contractors and homeowners. Mini excavators and track loaders have been a hot item for us, as they are used primarily for grading home sites and other construction projects."
Kitchens mentioned Tomball Rental Center doesn't participate in the larger equipment, earthmoving market. His company employs 20 people, many of whom are family members. Family members, non-family members, and customers alike will start celebrating the milestone anniversary this spring. 
Colorado - 'Next year looks promising'
Arapahoe Rental has four locations in Colorado, in Loveland, Windsor, Johnstown and Littleton. Jed Jaster is operations manager for the Loveland store. "This year was a good year, up a bit from last year, and next year looks promising," he remarked.
Part of his optimistic appraisal comes from the stores' 2016 track record when managers like himself had a relatively vigorous sub rental program in place, either borrowing equipment from other stores or sub renting equipment from competitors to satisfy demand.
"Our goal is never to say no to customers," said Jaster, who has been at the Loveland location for 10 years. "We will review 2016 rental sales and add to our inventory as needed to minimize sub rentals in 2017."
Being able to expand inventory is a healthy indicator for next year, he added, but so too, is having a good crew in place and having good equipment that minimizes downtime. 
As he pointed out, a healthy economy is only part of a successful formula for a good year.  Having what customers want, good equipment in good operating shape, will allow stores to make the most of sales opportunities. 
Arapahoe Rentals has been serving the equipment and party rental needs of Northern Colorado and the Denver metro market for over 20 years.