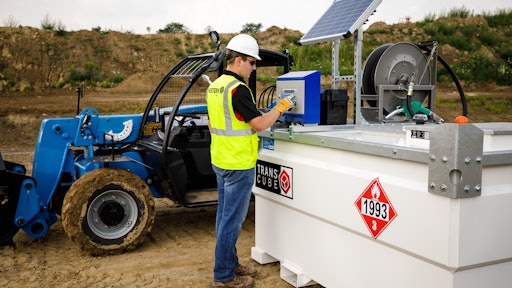 In the construction sector, 98 percent of energy consumed at a jobsite comes from diesel fuel. Whether a contractor rents earthmoving equipment, generators or skid steers for an extended period of time, all will eventually require refueling. For rental dealers committed to anticipating the needs of their customers, fuel tanks provide an added service to customers as well as additional rental revenue.
Designed for rental
Rental dealers know the benefits of equipment that's built to last, inexpensive to maintain and easy to transport. Fuel tanks designed specifically for the rental industry deliver in all three areas. While round tanks have been common since the adoption of internal combustion engines, cube-shaped tanks open up new rental avenues and profit streams. Due to the shape, these square tanks can be easily loaded and secured on a truck or trailer. Many feature four-way forklift pockets for ease of loading and moving, and can be stacked and connected to better match the fuel requirements of a particular site. Cube tanks also take up far less space at a jobsite than round tanks of the same capacity. With cube-shaped tanks ranging from about 100 to 1,200 gallons, it's easy to provide rental customers with an option sized perfectly for their operation.
Additionally, cube tanks are more rental ready than round ones thanks to new, innovative features that simplify cleaning and maintenance, and thus help to reduce turnaround times.
Upsell with two-by-two rule
Rental companies that already offer fuel cubes have been quick to realize their potential, as most customers renting large machinery for extended periods can benefit from having an onsite fuel supply. Onsite tanks make it easier for contractors to purchase fuel in bulk and track consumption while also helping to prevent downtime that can occur if fuel needs are not properly anticipated.
To help determine whether there's value in it for a customer, consider this simple rule: If they rent two or more pieces of equipment for two or more weeks, a fuel tank should be suggested as part of their rental quote. Another simple way to get customers thinking about the benefits of onsite rental tanks is to add fuel tank rental reminder decals near the fueling points on diesel equipment.
Driving revenue
Rental companies offering the right tanks for their fleet report, on average, a 70-percent utilization rate. So, for example, if a company purchases 26 tanks at $5,000 each, its investment is $130,000. With a 70-percent utilization rate and $500 per month rental price, the tanks will be paid off, and generating revenue, by month 15. And, given the low maintenance and long operating life of a quality tank, rental companies can enjoy years of profitability - as much as $955,500 in just 10 years with the above scenario.
For rental dealers that have yet to take a serious look at renting fuel tanks, cube tanks might be just enough to convince them it's time. Because, after all, generating steady revenue while providing a convenient service for customers is indeed, a no-brainer.