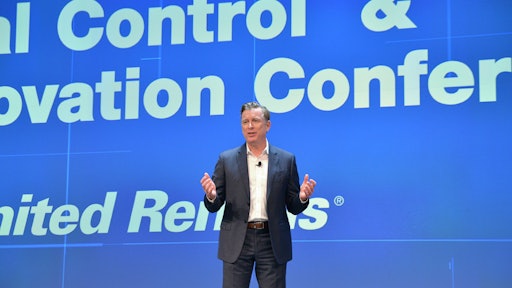 At its Total Control & Innovation Conference held in November, United Rentals announced further expansion of its "digital ecosystem" with the broadening of its Total Control system platform, a new mobile app platform, as well as new rental products and the launch of additional services for its customers. Part of a progressive expansion, the new offerings join an already broad spectrum of services extending well beyond the traditional rental business model.
Oftentimes, when industry "giants" expand into new service or product areas, others work to follow suit, albeit at a slower pace and on a more limited scope. Consider companies like Apple, Amazon or, in the construction segment, Caterpillar, and those who have tried to emulate them — some with more success than others.
Organizations with the scale of a United Rentals and those noted above have a significant advantage over those who strive to come after them - namely the size and scale of their operations. With tremendous resources behind them, the sky is virtually the limit. Yet, as those in the technology and other market sectors have discovered, even if you don't or can't follow in their footsteps, there are lessons to be learned from the steps these multi-billion dollar entities are taking and the reasons behind them.
Ongoing Investment in Digital Solutions
During the conference, Paul McDonnell, United Rentals' executive vice president and chief commercial officer, discussed the changing environments the organization's construction and industrial customers are facing. He noted that projects are getting larger and more complex and have grown increasingly difficult to manage.
"Managing complexity of the modern work site is a major challenge, with huge opportunity for improved performance to be found for customers," he stated. "Our digital solutions and innovation help customers — in the field and in the back office — capture untapped opportunity and drive greater work site performance."
United Rentals is investing in its digital ecosystem — telematics, online self-service tools, benchmarking services, etc. — to provide solutions that can put actionable data into customers' hands.
McDonnell acknowledged that this investment is pacing ahead of the adoption curve among many potential users. However, he added, "Regardless of whether the industry is adapting to change as quickly as we would like it to, we feel it is our responsibility to lead the industry to make the investment so that if and when that next generation of consumers steps up to digitize their business, we're ready."
Taking Equipment Management Mobile
Part of United Rentals' digital investment has been in the ongoing evolution of Total Control, its cloud-based work site performance solution that enables users to manage both rented and owned equipment. Now in its 20th year, Total Control continues to be enhanced as customer needs change.
"Today's work site has equipment connected everywhere through telematics, making data a new currency of the work site," Norty Turner, senior vice president, services and advanced solutions, told conference attendees. He noted that telematics is "bringing visibility across not just equipment but also people. And it's the intersection of those two which is so important to so many aspects of the work site."
"Total Control has, at its heart, always been about... providing data back to people so that they could have insights to find productivity," Chris Hummel, senior vice president and chief marketing officer, elaborated. "Everybody wants to take data and use it to make better decisions. So, the first part of that... is really about connecting equipment. How do we get the sensors and trackers to unlock so much of that data that's in the field and use that to drive productivity and better utilization.
"What we then need to do... is to take that data and now present it back in a way that you can use it — put it in an actionable way so that you can get it through one digital platform," he continued. This is achieved in part via Total Control's enhanced user interface featuring faster, easier navigation.
The next stage is delivering that actionable data in a way that customers can easily access it. To that end, United Rentals announced the launch of a new mobile app that connects with Total Control to provide users with 24/7 access to equipment management from the field.
"The United Rentals Mobile App places the power of our digital tools directly with workers on the work site," Hummel stated. "The app improves business efficiency by helping the field get a handle on what equipment they have, where it is located, how much they are paying for it, how often it is being used and when they need to return it."
The app can provide visibility into users' equipment fleet across multiple projects and allows users to browse and order anytime from the United Rentals equipment inventory. They can also track orders and deliveries, monitor its use, identify location, as well as off-rent and extend equipment rentals as needed.
McDonnell sees this as a major step forward for both the company and its customers. "Something as simple as just off renting a piece of equipment might sound very rudimentary or transactional," he noted during an executive panel discussion with trade journalists attending the conference. "But getting the industry to shift — to start using digital to off rent equipment using the mobile app — [can lead] them to other things.
"[Digital] is not a one-size-fits-all approach," he continued. "We serve customers large and small... The digital needs for a smaller account might be very different than that for a large national account whose spend is much larger and complexity in projects is much greater..."
But familiar technology like a mobile app offers a digital gateway to customers of all types and sizes. "Total Control is geared more toward the larger equipment enterprises and our key accounts," Hummel acknowledged. "But the [mobile app is] not just for large enterprises. That's for everybody."
Benchmarking and Beyond
United Rentals also plans to leverage its own experience, and data, that has been attained through managing what it describes as the world's largest equipment fleet.
"We have a [global] fleet size worth greater than $14 billion (original equipment cost)," McDonnell pointed out, adding that a large percentage of those assets are equipped with GPS-based telematics. "The insight — it's just an incredible amount of data. [We are] leveraging that data to help the customer and give the customer insight to drive productivity and efficiency in their business."
One example is the benchmarking tool that the company launched two years ago. United Rentals is able to utilize the data from its own fleet as well as customer data to deliver insights on not only how equipment is being utilized, but how that utilization compares to comparable equipment under like conditions.
This benchmarking enables United Rentals to offer, and help implement, recommendations. "[Customers] want to find a way to bring the data from all their different connected work sites together so they can manage their whole equipment fleet. And we play a part in that," Hummel said. "And they're asking us to play a bigger part... Our customers are coming in saying, 'There's a lot of things going on here. I need somebody to help me bring these things together.'"
"It's a very fragmented space," he added. "But the more we can start to pull strands together for them, we think it's a big win for the customer."
According to Turner, 45% of the time, customers in the U.S. are bringing their owned equipment to the work site. "That's billions and billions worth of fleet," he said. "If you're owning equipment, you have to ensure that you're maintaining compliance, that you're repairing it, that you're getting parts for it. Then you're selling it off at the right time and replacing it with the right equipment... This is a burden they have.
"Our customers are really great at building things," he continued. But United Rentals wants to take on those other aspects of the business. "We have so much experience and we've learned so many things from managing the world's largest construction equipment fleet..."
Areas he cited as of particular importance include:
Staying ahead of the maintenance and inspections so that the preventive maintenance program is extending the equipment value
Knowing when to sell fleet and knowing how to replace it in the best way
Having access to parts at the right time and at the right price
Knowing how to transition the fleet from one job to the next
Understanding what to rent and what to own
"It's something that we do thousands and thousands of times every single day," Turner commented. "What it gets into is true life-cycle management."
United Rentals intends to put that expertise to work through its Customer Equipment Solutions division. The division has been building out a network of servicing locations throughout the U.S. and Canada, with 170 locations currently and 270 service technicians. "By the end of next year, we'll have 280 locations and 480 technicians," said Turner.
"For some customers, right now, we're taking that next step into fleet management," he continued. "On selected industrial sites, we're not only maintaining, servicing, providing parts, repairing equipment, we're also managing the equipment for them."
As its network continues to expand, the Customer Equipment Solutions division plans to expand into other industries. "We see the opportunity to not just focus on industrial sites, but also commercial contractors who are operating equipment on multiple work sites," Turner stated. "In the end, it's about applying our learnings and our expertise to help [customers] get more performance from their fleets."
More Tech to Come
At the conference, United Rentals unveiled the next generation of the United Academy safety training and operator certification, as well as showcased virtual reality simulators, which offer opportunities for training, performance assessments, recertifications and more.
But United Rentals is clearly not done yet. It continues to push the boundaries through its Advanced Solutions division. The division is exploring such advancements as wearables, 3D imaging service and  remote monitoring of equipment such as pumps or generators and more.
"Another example of innovation that we're testing right now is autonomous vehicles," said Turner. "We have autonomous tracked skid-steer loaders in solar farms right now.
"These are all really cool innovations and are starting to get at that productivity challenge," he added.
Should You Follow the Trend?
The giants of any industry are often the trendsetters. They have the resources and cash flow to take the leaps, and risks, required to set the pace.
It's clear that where United Rentals is heading, few rental businesses can realistically follow. That said, the steps it's taking can be a window into the opportunities that are out there, as well as the influences behind them.
Consider if any of the services United Rentals provides, its approach to meeting customer needs and/or the factors behind its digital investments have relevance to your own operation and customer base. If they do, let them spark ideas for steps you can realistically take to evolve your business model and adjust to the increasingly data-driven market in the years ahead.