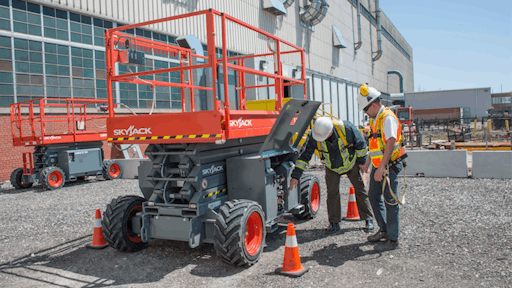 We all now know that a pandemic is not just an event in movies, but a real threat that can spread across the world rapidly and indiscriminately. Every day, it's impossible to escape news about coronavirus, or COVID-19. Even young children know something about this disease that has impacted people and economies worldwide. Getting a snow day off from school was once a special occurrence for kids; the coronavirus pandemic is one long summer school break that began in March with no end in sight.  
We also see the daily counts of deaths and confirmed cases of COVID-19. With over 3 million confirmed cases in the U.S. and over 130,000 deaths, a peak unemployment rate of 14.7% (amounting to 23 million people), unprecedented falls in the stock market, and the economy and thousands of business closures, even those who have not been pushed to or beyond the brink of closure have been affected in some way. 
Unlike the flu season, we are entering our seventh straight month of the pandemic, and there's no likelihood that the virus will disappear any time soon. We now know new terms, like COVID-19-secure, social distancing, and flattening the curve. We heard about important distinctions, such as epidemic vs pandemic, quarantine vs isolation, and respirator vs ventilators. We have changed the way we live, work, and think about our closest relationships. But what have we really learned? 
IPAF reached out to some members to hear their thoughts, and the discussion opened for some thoughtful and insightful comments. To give commentators the maximum freedom to share their views and potentially sensitive business information with confidence, we have decided to publish their comments anonymously: 
The magnitude of the whole thing, and how it overnight changed the landscape for an entire industry, was shocking to most, and how unprepared the world is to a real pandemic is frightening. This event has highlighted how 'close to the wind' some companies have been sailing. Warren Buffet made a real wise comment some years ago, which absolutely applies today... "It's only when the tide goes out you realize who's been swimming naked!"  
There are challenges to our businesses that few of us adequately addressed in our planning, and a very surprising result is that we have been able to continue to provide service to our customers while taking precautions. There are a few operations that we do not yet have a workaround for, but as everyone gains experience in handling the impact of the viral pandemic on their individual business, more and more tasks will be feasible. 

Working from home is an option that has gained both popularity and success… How much work you can get done in a 'home office' environment has been a great success. As lonely an existence it may be, it's a productive one! No-one walking into your office to chat, no impromptu meetings in the corridor, no commute to/from the workplace. Focus on the tasks has increased significantly. A project that prior took months was completed in weeks.   

The allowance for remote work has also identified the ability to complete task without the added cost of facilities, travel, and other costs that could be eliminated, and an improvement for workers who could eliminate travel time and cost getting to and from the office. This will likely have a long-term use in many companies. It should be added that email pile-up and interruptions has greatly disappeared at the same time. Like texting vs. a phone call, the message can be concise, and it eliminates side issues being added to the focus of the intended message. Communications are concise, focused, and relatively effective.  

It has been a great surprise to experience how alternative ways of communication have both been quickly adopted and utilized to substitute personal contact wherever possible. The effectiveness of Teams, Zoom, WebEx, and similar tools will clearly change the way the industry operates today, [as] we all have been forced to adapt new technology. It has provided a unique situation for testing these new technologies on a scale nobody could have imagined.  
This new era of communication – and in particular, because it is widely accepted across the board; it is not just the young generation or computer geeks that have accepted these tools — has been widespread throughout the industry. This opens up for new ways to conduct sales and marketing; it is easier to quickly establish a meeting online and discuss details rather than emails or personal meetings. 
Eight months ago, it was unthinkable that you would conduct an important meeting about fleet placement, product program presentation, and other strategic items any other way but a personal meeting. Today – and going forward – there is little doubt that online meetings will replace many previous face-to-face meetings.  

As we move back to our new normal, I think it is a safe bet that travel will be reduced to at least half, if not more.  

We try to NOT change too many things, but obviously we have had to make changes to our service support as travel has been so heavily restricted.  
As we await the better therapies and vaccines that will allow the world to get back to normal, the regimens of social distancing, facial covering, and enhanced surface cleaning will have to serve as our best defenses. Yes, this is all tiresome and expensive, but it is a challenge that has to be faced head-on.  

Ensuring our crew has the proper PPE and the training to keep themselves and our customers healthy is a new reality. Thorough cleaning of equipment before and after rental periods is required. Planning for the least impact and exposure of our delivery and sales teams and clients requires new procedures.  

The slow-down of business activity has provided real time to reassessing the business, a luxury that hitherto didn't exist, the time to sit back and really, really examine all aspects of business operations. One manager has approved every invoice for a month and has learned a great deal about his business. 'Following the money' can identify what you are doing, and you can then determine if it is something you should still be doing.  

The fragility of some parts of the market, e.g. small-medium hotel and condo construction took a hit and may be really slow to recover. High continuation of major infrastructure and complex, high-value engineering construction projects. These are tough times in the small to medium construction markets.   

Like anyone else, we have learned how vulnerable even a solid business can be, but also how well the industry has been able to both adjust as essential operations and use alternative ways to conduct their business. 
As things have changed for businesses providing powered access equipment, their customers are also facing change. The following are some observations of what is being seen in the market:  
The difference between how the big national rental companies have reacted versus the smaller and independent operations appears to be very different. National companies went virtually into an instant "lock-down" position, while independent operators seem to have had a more pragmatic approach. Many independents have actually taken the opportunity to get better deals as suppliers have inventory from cancelled orders and when cash is king, deals can be made.  

There are opportunities for 'opportunistic purchases' as there seems to be little or no strategic purchasing at this time. Some are sitting on their hands to 'see what happens' in what many feels is an unpredictable time. Things are also particularly polarized in various parts of the country regarding response to COVID-19. The fight is real.  

On the safe operation side of things, we see an increased need to put emphasis on familiarization – raising user focus on safely performing the work in an attempt to eliminate downtime and damage caused by operational errors.  
Training has seen online courses significantly jump in numbers. The need for training remains, and the challenges of maintaining social distances, transmission in facilities, and on equipment hard surfaces are new SOPs.  

Virtual live instructor led training does work with limitations, primarily the lack of technical sophistication of our customers. Some cannot turn on webcam/video or are not able to navigate getting online.  

IPAF's eLearning courses and virtual training are viable means to deliver needed training at lower cost to all and lower the risk form COVID-19 to all involved. The new opportunity is assisting customers with the technical needs to effectively participate in virtual classes and online training.  

Alternative methods and tools to maintain social distancing are being used. For example, in-the-basket training, it is impossible to maintain 6 ft. distance. We have used technology like WhatsApp to be able to conduct the training with the trainer on the ground and the operator in the basket.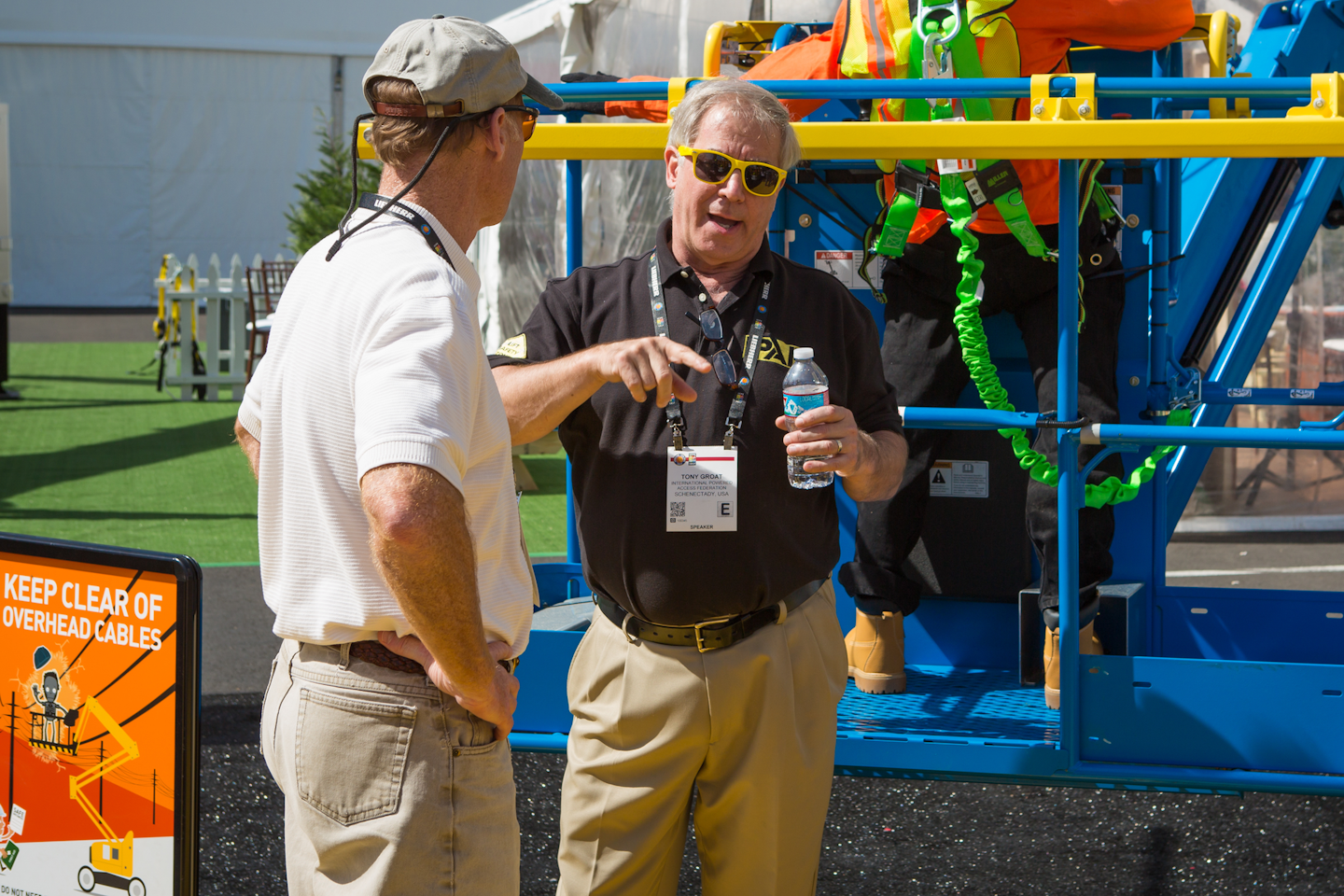 Author Tony Groat talks to a visitor at ConExpo-Con 2020.It is clear from the comments received that "business as unusual" will now become the "new normal." Most see 2020 as a survival year, with hope and expectation that overall improvement will start to hit the market in the fall as everyone agrees that we cannot halt the world much longer and work will have to be done. What the return to 'business as unusual' will look like is still under development, but most agree that it will be forever different. Social distancing, hand sanitizing, and Zoom meetings will be permanent fixtures in the office and working from home will be a long-term option. General sentiment is that many companies will use the remainder of 2020 to strategize for 2021 and plan for a lot of catch-up work to further grow the business in the year to come. 
A concern that is being proven by the resurgence of COVID-19 cases across the U.S. is a message that we all need to learn—safety is an ongoing responsibility and people/workers must be protected from known hazards. OSHA requires employers to report all workplace fatalities and catastrophic events. Approximately 5,000 deaths occur annually from all industries, from all types of workplace hazards. How much attention and prevention do we place on those 5,000 annual fatalities? How many companies and workers take short cuts or simply ignore the potential hazards believing, "It will never happen to me?" As of early July, over 135,000 U.S. citizens have died from COVID-19. How much prevention should this hazard have in your business or personal life?  
In past years, workers would routinely go to work while sick. Many coworkers wished they'd stay home and not bring their illness to work so others could catch it. COVID-19 raises the bar for how much more we need to do to prevent the spread and employ safe work practices. Shaking hands, using shared devices, and working close to each other are examples of activities that went unchecked. COVID-19 is a pandemic, but we should all consider how it is unacceptable to spread any disease in the workplace. 
Closing businesses has been a difficult action as part of the 'stop the spread' decisions during this time. Reopening businesses is going to be complicated. If done improperly, reclosing can, and is, occurring. We cannot go back to business as usual by simply turning the switch back on.  
IPAF has been active in planning for an effective return of the safe and effective use of powered access equipment operations. Like most organizations, IPAF has had to adjust quickly during the ongoing global coronavirus pandemic. The Federation has come up with a robust business continuity plan that protects its teams around the world, allowing key functions of the organization to continue, and maintaining support for our members and the wider industry globally. During this period, IPAF continued to work with national governments, health and safety bodies, and international standards organizations to ensure safety and best practice continue to be maintained and shared.  
Peter Douglas IPAF's CEO and MD, comments: "We have acted quickly to mitigate the worst impacts of the global effort to halt the spread of coronavirus. We continue to support our members and IPAF training candidates worldwide. That being said, the challenges presented by this unprecedented public health crisis will mean we probably have to do things a bit differently as an industry in the future. As lockdowns are lifted worldwide, it will not just be business as usual, but there is a great sense of optimism from our members around the world that the powered access industry can and will bounce back strongly from this unprecedented public health crisis." 
Douglas continues, "We have been pushing our eLearning platform during the lockdown, and I am pleased to report our eLearning courses (MEWPs for Managers and MEWP Operator theory) have grown three-fold in the past six weeks. We believe that this will continue to grow during the coming weeks and months to minimize social contact. Once they have completed the MEWP eLearning theory training online, operators only need to come to a training center to conduct the hands-on practical test element of the training." 
IPAF has issued a COVID-19 Operating guidance for use with MEWPs, Mast Climbers, and Hoists. IPAF additionally delivered a presentation on this that was recorded for ongoing reference. These and other related documents can be found at www.ipaf.org/en-us/search?keyword=covid-19.  
IPAF has also developed guidance for IPAF approved training centers who are resuming IPAF-approved training form MEWPs, MCWP, and Hoist. The suggested use on online eLearning is one way to deliver theory training and eliminating person-to-person contact. This toll can allow trainees to complete theory training at their convenience and pace wherever there is internet access.  
When hands-on practical training is required, the document provides practical guidance for IPAF-approved Training Centers to minimize the risk of exposure to COVID-19. Do these five things – wash hands frequently; practice respiratory hygiene; avoid touching eyes, nose, mouth; maintain social distancing; and feel unwell, stay home!  
IPAF is also encouraging the use of video conferencing for instructor theory training sessions. Wherever remote learning can be delivered, it must be considered. Where face-to-face training is required, personal behaviors, sanitizing, social distancing, facility and equipment preparation, and communication of the plan are required as well. 
All remain confident that our industry will learn and improve from the challenges of COVID-19. We WILL make necessary changes to ensure the well-being of our employees, customers, and the general public. We will learn from the experience how we CAN work differently – both remotely and more efficiently. We will eliminate excesses that are not needed to complete task. We will be safer and stronger.