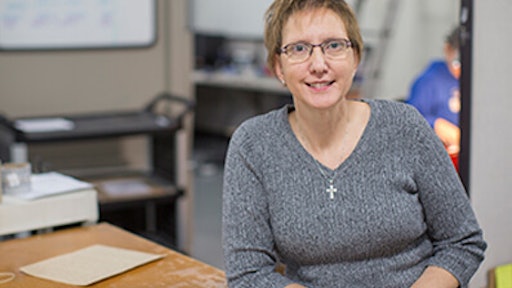 Vizinex RFID was started in 2012 to provide radio frequency identification solutions to businesses and governments and overcoming problems associated with tracking, security, and authentication. The company is staffed with experienced and proven leaders in manufacturing, quality, and product development.
One such leader is Sandra Garby, who is the co-founder, president, and vice president of operations for Vizinex RFID. She's responsible for the manufacturing operations, materials management, and quality, and under her direction, the company has implemented process improvements and automation, which doubled manufacturing capacity in the last year.
For the past 18 years, she's been involved in the development and production of RFID tags. But despite her successes and overall prowess, Garby is still part of an underutilized and underrepresented demographic in the manufacturing workforce: women.
According to Fortune, however, this year marked a record number of women CEOs on the Fortune 500 list with 38. That number though underscores the slow pace of change at the highest levels of business. In fact, women have only been on the Fortune 500 CEO list for 48 years.
To learn more about her experience as a female president in a male-dominated industry, Rental sat down with Garby, while also asking her advice for young people that want to follow in her footsteps.
Rental: You are the president and VP of operations for Vizinex RFID. How did you get to where you are today?
I gave a talk recently to engineering students at my alma mater, Alfred University. I titled it, "The Accidental Entrepreneur," as that pretty much describes my journey. After graduating with a degree in Ceramic Engineering, I started my career as a technical service engineer at Heraeus Inc., developing thick film materials for the hybrid microelectronics industry and working with customers to approve new products and troubleshoot problems. My plans of moving up through the engineering ranks took a detour as I became very interested in the business management of the company – why decisions were made about projects and customers to pursue (or not), which investments to make, etc. So, I enrolled in an MBA course and eventually took a job with Engelhard Corporation to run their Electronic Materials Systems business unit. After nine years there, I was laid off as part of the company's downsizing. As I considered what to do next, I was approached by Bob Oberle (one of my current business partners and CTO at Vizinex) to help bring a flexible circuit technology he developed at Engelhard to market.  We started RCD Technology, and I became an entrepreneur. RCD obtained venture capital investment, captured a couple big contracts, but struggled to bring the flexible circuit technology to market and gain market share. Ultimately, we had to shut down operations in 2012.
The management team believed that the hard asset tag line, which was a small portion of RCD's business, held promise and the management team purchased the assets associated with that product line and started Vizinex RFID. The platform on which the products are based provides the ability to optimize products for a customer's application. We do our best to understand the specific application of our customers and optimizing the product to get the most out of their RFID implementation. In so doing, we have been able to achieve significant growth over the last eight years.
What is it like being a woman in a more male-dominated field? 
I always get this question, and to be honest, I don't really give it much thought. Running the day-to-day operations of the company, the only thing that matters is that we stay on track to deliver to the expectations of our customers. Whether I am speaking with vendors about raw material specifications or deliveries, or to customers about their orders, I find that if you're responsive, communicative, and confident in what you are doing, there isn't an issue.
Have you encountered any challenges in that regard?
There are only two that I recall – both early in my professional career when I was with Heraeus. We had a sales office in Japan, and they requested technical service support, specifically for the product line I handled. My boss was advised not to send me as it was unlikely that customers would accept a female as a technical expert. While I was somewhat disappointed, I also realized that this was a cultural thing and didn't let it affect how I viewed my abilities. I ended up getting the West Coast as my primary territory after that so in the end, I thought I got the better end of that deal!
The other incident occurred at a trade show – you have to remember that this was in the late '80s. I was in my early 20s and microelectronics was a very male dominated industry. There was a bit of a confrontation at our hospitality suite in which I had to set an individual straight about my role with the company.
What about positives?
Sometimes men open up a little more to women. Maybe they let their guard down or something. This helped me establish good relationships and build trust – both helpful when trying to gain business. It could also be useful when it came to obtaining information about competitive products!
What is your advice for other young people who would like to consider a career path in these fields? 
My advice to young men or women starting their careers is mostly the same:
Find a mentor. My first boss was great – he challenged and supported me in my growth, even when I moved on from the company. Not all bosses are going to be like that, so if your first one is a jerk, find a mentor somewhere else. 
Set goals, but be open to new opportunities. I had no intention of starting my own company, but when the opportunity arose, I evaluated the risks and benefits and took the chance. Which leads to…
Don't be afraid to fail. If you go through your life without ever failing at anything, then you're likely not reaching your potential.
Companies in this article