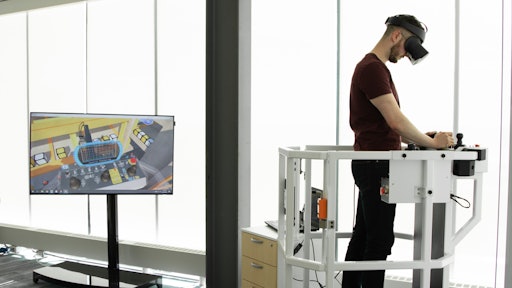 At the top of their "About Us" page, Serious Labs has six words prominently featured in a big, bold font: Safety through training, training through technology.   
In an era consumed with adapting and finding the new normal, that statement is even more important today. COVID has changed the face of jobs in all aspects: from people working from home and being challenged to find new ways to connect like Zoom calls, to discovering new avenues of training for new and existing employees and customers.
Luckily, Serious Labs has been ahead of the curve. The Canadian technology company develops virtual reality (VR) training solutions for the equipment industries. In 2016, for example, they created a MEWP VR simulator that uses motion base integration, allowing operators to feel the same physics present on actual equipment.
Serious Labs' mission of revolutionizing the way people learn (another big, bold statement proudly displayed on their website) is right in line with COVID's ever-present consequence of change. To learn more, I spoke with Jim Colvin, president and CEO of Serious Labs, about the importance of VR embracement throughout the post-COVID world and its role in immersive learning.  
Rental: Jim, why don't you start off by introducing yourself to our readers? Tell me a bit about you and your background.  
Jim: Sure, I'm the CEO of Serious Labs and I'm also a tech/IP lawyer, specializing in start-up and growth-stage companies. I came on board Serious Labs' predecessor, 3D Interactive, to help transition the company to grow from a project-based development shop to being a world leader in the field of virtual reality-based heavy equipment training simulators.  
I had a blue-collar upbringing on Vancouver Island, and watching my dad's career of operating equipment without professional training made me realize the fundamental flaw in the system. Globally, there is a lack of operator training for construction equipment across the board—the very cause of most construction-related injuries and accidents.
Operator training is one of the most important ongoing issues facing the global construction equipment industry. According to OSHA, about 20% of worker fatalities in private industry were in construction—with falls being one of the top reasons. But corporations, contractors, and rental stores are driven by the bottom line, and operator training can easily fall to the wayside. I'm personally driven to disrupt the training model in this industry.  
R: That's a great mentality, Jim. Can you tell me a bit more about Serious Labs and its mission?  
J: The company started in March 2005 under the name 3D Interactive (3Di) with a simple vision of leveraging video game technology for business. This started in the form of using video game engines to rapidly generate and render 3D environments.
In 2007, 3Di was asked to do a realistic visualization of heavy equipment – a jobsite with a boom lift in the same form as a house. A series of prototypes resulted in the first version of an articulated boom lift simulator. This simulator was demonstrated at the ConExpo tradeshow in Las Vegas in the Terex booth. The simulator sparked discussion with Caterpillar, resulting in two new simulators, one of which was commissioned for both Caterpillar and the U.S. Army. The concept of elevating the technology from a game engine to a world class simulator with high utility for training was born.
By using gaming software, we could rapidly achieve visually stunning, physics-based, complex simulations. It wasn't long before we developed two dirt-moving simulators and garnered attention from the energy industry. In 2009, we developed our first well servicing simulator for snubbing operators, and in 2017, we joined the access world with our full-motion VR mobile elevating work platform (MEWP) operator training simulator.
Fifteen years since our beginning, we have won many awards and are known around the world as one of the top simulation development studios for construction equipment. We offer companies a significant competitive advantage in the form of safe and accessible training, quick and convenient setup, and objective operator assessment. This is especially advantageous during the current pandemic. We have delivered VR solutions for multiple industry leaders around the globe, including United Rentals, Bechtel, DOW, Syncrude, the U.S. Department of Energy, Shell, Singapore International Airlines, British Airways, Rapid Access, Loxam, Riwal, and Nationwide Platforms.  
We are guided by one main mission: Serious Labs is focused on helping to change the world's safety culture. We believe that everyone, from every walk of life, should have access to quality training so they can go home safely. Everyone is entitled to this basic human right. 
R: You recently held a webinar where you addressed the importance of virtual reality embracement throughout the post-COVID world. Can you tell us more?  
J: COVID has changed the way we live, work, and act. It has changed our behavior and has actually given rise to a new phenomenon where across the globe, people are going to become more reliant on tools like AR, VR, and mixed reality to work, communicate, and shop.
This isn't science fiction. These technologies are fully developed and are as reliable as laptops and smartphones. COVID-19 brought the trigger to begin to accept these technologies with greater ease. Even after the lockdowns end, the changes they impacted will bring a new way of living. And better internet connectivity and our new behaviors will become part of the new normal in 2021, and this will help drive major technological and business innovations.
Access equipment is inherently dangerous. The moment you're off the ground, the danger increases. Our team at Serious Labs never forgets that. We see these types of tools and the adoption of them, along with what's happening right now in this COVID world, and we see the future of training. It comes down to better safety, lower costs, and achievable results.
Training in the access industry has always been completed in-person: the theoretical portion is done in a classroom. E-learning exists, but training is still primarily done in person, in a classroom environment, with an instructor. We believe this new COVID reality will drive more virtual training in a controlled environment. Because of this, there will be a trend towards not only training, but renewals of training in virtual environments as they become more readily available.
In the UK and Europe, we recently announced PAL+ VR training modules in conjunction with IPAF. PAL+ training, which can be completed for the first time on a VR simulator, tests existing Powered Access Licensed-Registration (PAL) Card holders at a more advanced level than required for the PAL Card operator license. Completion of the course will also renew a PAL Card holder's license for another five years. This training is well underway in the UK and Europe.  
R: In the webinar, you talked about immersive learning and how VR plays a role in that. What is immersive learning, and how can it benefit the construction and rental industries?  
J: Confucius understood this concept when he said: "I hear and I forget. I see and I remember. I do and I understand." People learn and remember more by doing. That's immersive learning.
In 1946, Ohio State University professor Edgar Dale felt comprehension is based on how people encounter information. According to his findings, people on average remember 10% of what they read, 20% of what they hear, yet up to 90% of what they do.  
Creating simulated training environments is nothing new and is commonly accepted to produce positive training results. Since the late 1950s, the federal government has trained pilots, astronauts, and all manner of military personnel this way.  
In the construction and rental industries, students may be present during a classroom training, or a familiarization walk around, but is their mind elsewhere? The great thing about VR training is that you are on the machine. You are driving the machine. You are making the same choices virtually that you would be if you were in a high-risk situation in person. Our actuators on the simulator let you feel the bumps, you feel the sensation of being at height. Because of all these sensory inputs, your brain remembers the experience, and the operator has better comprehension than passively sitting in a classroom daydreaming.  
Moreover, trainee actions and behaviors are more effectively measured and monitored in a simulated VR environment as opposed to watching someone operate actual equipment, particularly at height. Operational metrics give instructors a sense of how trainees will operate the equipment, highlighting potential problem areas prior to hands-on evaluation. This results in a safer worker who is easier on the actual equipment he/she will be operating.
For the construction and the rental industries, not only is simulator training engaging, cost-effective, and safe, it provides trainees with better capabilities, while decreasing the potential for accidents and fatalities — something which is better for everyone.
R: Have you seen any reluctance to using virtual reality, or has there been a slower adoption of the technology than you thought? Is there something that can squash fears for those business owners out there that might be scared of implementing VR?  
J: It's been a challenge, especially in the United States, and for a number of reasons. Some businesses are slow to adopt new technologies due to a lack of awareness. Some leaders in the construction and rental industries just don't understand what a technology like VR is, or how it can benefit their business, or how to market and distribute it to their customers.
Business leaders typically prioritize lowering operational costs, increasing revenue, and productivity. However, many businesses struggle to see how digital tools can power commercial performance and achieve key business objectives. I think the companies who prioritize innovation are more open to using digital tools. The others tend to follow rather than to lead, or maybe they don't have confidence in their own team's capabilities to be cutting edge... or they simply can't see the future as clearly as others can. The current pandemic isn't helping the situation because, when problematic financial climates hit, they also hit many companies' technology strategies.
There are many benefits to VR training. It's mobile, and it's always on. It doesn't need a master trainer. It's objective, so it's always the same. It delivers a report. It doesn't care what you think, or what the urgency is of getting a guy on the jobsite, so you deliver just enough and just in time. The cost structure is much lower because you don't need to have big equipment and space, and all that. We have developed different pricing models depending on jurisdictions and how the customer likes to pay.  
Some customers, like the larger rental companies, prefer to pay a lump sum up front, so we can bundle a term subscription into a single payment. Smaller training centers prefer to "pay as you go," so we have a subscription model that enables these small businesses to build a business around a monthly payment, similar to a lease. For the latter, it's really opened up opportunity. Because you can actually do the training and the testing right on the simulator, you can literally have a storefront on a strip mall with two or three booths running simulators, providing verifications of competency or training and certifying guys.
That said, we have noticed an increased demand for our product in many countries around the globe during these times as compared to before COVID, which is great to see. People recognize the potential and ease of learning, and they know they can operate our product safely for training while still following social distancing protocols. Canada, the UK, Germany, the Netherlands, Singapore, France, Dubai— these are all examples where we are seeing our product doing well.
R: With things being quite unknown for 2021, what do you foresee being the next step in VR and COVID-19?  
J: I believe we will begin to see a faster changeover from classroom training to virtual training due to the pandemic. Prior to the pandemic, industrial and engineering training applications in the VR market were expected to reach $3.8 billion by 2023. I believe the impact of COVID-19 on traditional classroom training and group instruction will accelerate this adoption, including in the access industry.
Eventually, some form of a VR headset will be as common as a standard issued laptop and cellphone when an employee is being onboarded regardless of the industry. You'll just download whatever course you're supposed to be taking into the headset, and then you'll take it. It's much more efficient and effective.  
Large global corporations with dispersed workforces may not be able to, or may not want to, bring everyone back to their main training facilities. It's expensive and time consuming. But if an employee can log into the headset and take that training virtually from wherever they are, it's registered in the learning record store, so you know they took it. You can watch him actually taking it from inside the program, and you can see how he scored and where he may need to improve. Why would we ever go back to a system of classroom training?
R: I guess we'll see what's to come! But about the future... What's on the horizon for Serious Labs? 
J: We see Serious Labs products and our type of training and assessment — the "just in time" instruction that augmented reality can bring and that value proposition—all being absolutely magnified now. Not only in the construction, access, and rental worlds, but in other industries as well.
Let's look at history. The internal combustion engine pushed us into the industrial revolution. And that changed our agrarian society because machines now were doing what humans and horses used to do. I think that we're on a continuous path to that, but it always has to achieve the right result and it's always one step at a time. My philosophy is, and certainly with Serious Labs is, we're always reaching into the future. But we always have to have a foot anchored on the ground.
Right now, there are millions of pieces of legacy equipment that need operators. At the same time, there are companies out there that are creating robotic operation of that legacy equipment—like earthmoving, in particular—to automate very simple activity. Then there's fulfillment centers, like Amazon, that are working towards automating everything. Same thing with distribution centers like FedEx, UPS, etc.
But that's full automation and the application of Artificial Intelligence (AI). It's accelerating, but the world won't change overnight. It takes time. Picture the 1900s. Think of Broadway in New York: it's just a sea of horses and buggies and wagons. Then right in the corner, you see one car. Then a decade or two later, there are no horses. There are no buggies.
Time marches on. How it gets applied will just be whether it economically replaces human labor. That doesn't mean that all we're ever going to end up doing is polishing our robot overlords. What it does mean is that our jobs will change.
As the 5G network rolls out, it will support other emerging technologies. And 5G, along with these new technologies, is going to help boost post-COVID recovery by creating new business models and increasing productivity. The adoption of emerging technologies may still be slow, but it will increase as 5G becomes more commonplace. Businesses that can start adjusting and evolving early are going to experience the benefits and create a place for themselves in the post-COVID world.
As for Serious Labs, we are adopting as well. As the pointy end of the spear, we are developing new technologies, working with new partners in new industries. It's a very exciting time. The genie is out of the bottle, and you'll be amazed at what he has in store for us.