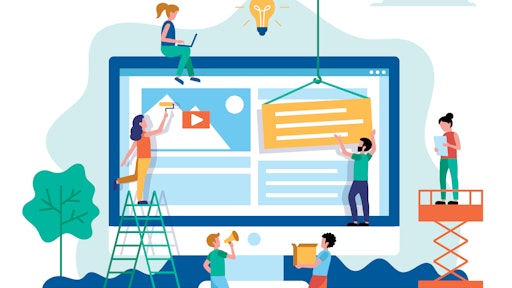 biscotto87 @ adobe.stock.com
You have a website. Great! But now what?
It's not only important to have a website, but it needs be optimized in order to drive sales and grow your business. If your website isn't finely tuned to accomplish your specific goals, it's not going to get the job done.
Below are five questions to ask yourself to see if your website is optimized for your business. 
Is your website mobile responsive?
Consumers are on the go and use their phones more than ever to search for information, communicate, and shop. According to research by Perficient, using data from Google Analytics' Benchmarking, mobile devices drove 61 percent of visits to U.S. websites in 2020, up from 57 percent in 2019. Desktop devices were responsible for 35.7 percent of all visits in 2020, and tablets drove the remaining 3.3 percent of visitors. Desktop devices continue to remain important, however, as they drove 53.3 percent of total time on site in the U.S.
What this means is that your web solution needs to be flexible to meet customers where they are, regardless of the device. Having a responsive design allows a website to function properly across multiple types of devices, with the content viewable for any screen size. Nothing is more frustrating for a consumer than having to pinch and zoom to view content on a phone because a website is not mobile optimized.
Is your website experience integrated with your retail experience?
Because consumers continue to engage more online, they expect to receive the same experience online as they do in-store. Pricing and inventory availability should be the same across all channels. If you can sign up for email or a loyalty program in-store, you should be able to do the same online. The lines between channels have blurred, requiring companies to provide a true omni-channel experience.
This type of integration requires flexible front-end and back-end systems that "talk with one another" and are scalable. This is where businesses who don't have the IT knowledge and expertise in-house, should consider talking with experienced consultants who can assess your needs, recommend and implement the best solution for you.
Do you have an integrated social media strategy?
Social media isn't just for sharing our kids' pictures from the last day of school or dinner with our significant other! Your business needs a social media strategy that supports your overall brand goals and objectives.
Much like your website, it's not just enough to have a social media page if you don't use it to your advantage and maximize the results. There are several benefits to establishing a social media plan:
Building brand awareness
Reinforcing your brand story
Staying top of mind with customers
Driving web traffic and sales
Delivering relevant content and information
Getting started on social media is easy. You can quickly set up a business account on a variety of channels - Facebook, Twitter, YouTube, or LinkedIn. The key, however, is knowing where your customers are so you reach them on the best platform, creating relevant content that stands out in all the noise, and ensuring a consistent brand voice and story across channels. 
Does your website have the proper content and SEO?
We've all heard about the importance of SEO (search engine optimization) and showing up in the top of Google search results. But it can feel a little like sorcery in understanding how it all works.
At its core, SEO is about understanding your customer, what they want from businesses like yours, and delivering content that matches those needs. That begins with doing research on the keywords or phrases your customers are searching for and incorporating those into your website and social media for search engines to index and search.
One thing to keep in mind is that SEO is not a quick fix. It takes time and consistency delivering the right content, and for search engines to index your pages that translate to improved search results.
Do you know how your website is performing?
Businesses today track everything. From transactions and sales to revenue and overhead. We have the pulse of our business' health at our fingertips. The same applies to our website and social media activity.
If you are going to invest resources into your digital channels, take the time to measure the results they are driving for your business. There are a variety of free and paid tools that allow you to track visitors, clicks, conversions, and more.
While most businesses understand the importance of their website and digital experience, not all of them have the expertise or resources in-house to maximize the results. Meeting with a reputable consultant or agency with experience, like LCMS, can be a good place to start. They can help you evaluate your current business needs and recommend the best solution for your business.