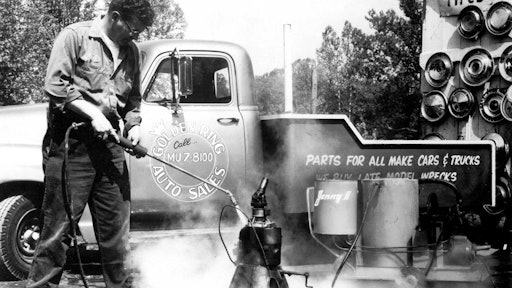 Jenny Products Inc. is celebrating its 90th anniversary this year. The origins of Jenny began in 1927 when Frank W. Ofeldt II introduced the Hypressure Jenny – the first steam cleaner ever made. The product later became known as the "Steam Jenny," which soon became the company's namesake.
Today, Jenny Products continues to produce both oil-fired and gas-fired electric steam cleaners, as well as cold, hot and combination pressure washers. The company offers more than 200 models of power cleaning equipment to meet the needs of commercial, industrial and agricultural markets.
Additionally, with the purchase of the Davey Compressor Company in 1998, the acquisition of the Emglo line of industrial stationary air compressors in 2003 and the purchase of the entire air compressor pump manufacturing facility from Black & Decker/Dewalt, also in 2003, Jenny Products quickly became a major force in the air compressor market.
Though the company had been supplying and manufacturing a large number of parts, components and assemblies for the Emglo brand for 30 years prior to the acquisition, the move allowed Jenny to take these technologies to the next level, leading to a line that today surpasses 180 models. This includes hand-carry, single-stage wheeled portable, two-stage wheeled portable, service vehicle, base-plate mounted and industrial stationary compressors, as well as specialty models for climate control and fire sprinkler systems. 
"We're proud of our history, not only because we have such deep roots to the origins of many types of equipment, but more so because we've built so much into them to increase performance, efficiency and reliability," said Dan Leiss, president of Jenny Products. "Due to our efforts, these products, some still using core technologies from decades ago, aren't just viable today – they're leading the industry."