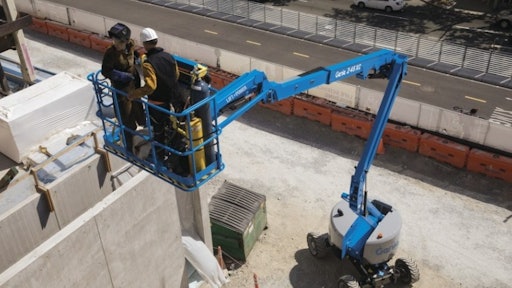 Genie
If you are new to renting mobile elevating work platforms (MEWPs), it is important to look for an equipment vendor you can use as a trusted advisor. A good equipment vendor provides added value that enhances your jobsite productivity. Consistently providing the best product match for your needs positively contributes to your bottom line in saved labor and the duration your equipment is out on rent.
A credible rental provider will ask open-ended questions to ensure the machine recommended is the best possible solution. They should want to learn the specifics about the work to be done and the jobsite characteristics or constraints.
Here's a list of some of the project information that you can provide to your equipment vendor to make sure you get the right MEWP for the job:
What type of work will the equipment be doing?
The style of work indicates common machine features. Special options and accessories are also available to customize a machine for certain applications, such as material handling or secondary guarding. The amount of people that need to be on the platform at once is also important. Different MEWPs have different basket sizes, entry points, as well as operator and weight capacity ratings. Finally, knowing the experience and training level of the operators themselves is key for a credible rental provider. This helps determine whether operator or familiarization training will be needed before work begins.
What are you lifting, and how much does it weigh?
MEWP basket capacities can range from 300 lbs. to 1,000 lbs. and above. Due to the ANSI A92 design standard, increasing basket overload will prevent machine operation. Calculating your total machine load is essential to avoid exceeding the rated capacity of the machine. Applications requiring a combination of heavy tools, material lifting, and multiple operators are now so common that many standard basket capacities often start at 1,000 lb. maximum capacity.
What are the obstacles on the worksite?
Fixed obstacles, such as water, ditches, or permanent structures, indicate the vertical and horizontal reach needed to access the work at height. Some MEWPs also provide special up-and-over capability to position the operator's basket around overhead obstacles in constricted work environments. In this situation, the machine's chassis size and maneuverability, such as its turning radius, proportional controls, and other steering options, may also become crucial for jobsite access.
Are there any unusual conditions on the jobsite?
Carefully explain aspects of the environment the machine will be operating in to your rental provider. They should be familiar with all the different capabilities and restrictions outlined in their machines' operator handbooks. These could indicate anything from noise and emission considerations for populated jobsites, to extreme temperate performance or corrosion protection to name only a few.
Do you have power source preference?
Consider where you will use the lift (indoors or out), if fuel or electricity is readily available, and whether you will need to travel significant distances or make frequent trips. These factors will guide you to the best balance of drive performance, cost, energy efficiency, and availability.
How high do you need to reach or work?
Required work height is an obvious and important selection criterion for MEWPs. In the U.S., actual working height should incorporate 6 ft. (representing the reach of an average worker standing on the platform with arms stretched overhead), so the working height of a 60-ft. boom lift for example is actually 66 ft.
Whether you need to reach out horizontally is also a deciding factor and could indicate the need for a boom lift. Other MEWPs, such as scissor lifts, self-propelled vertical lifts, and push-around personnel lifts, have little to no horizontal reach capability outside any extension deck offering.
The work area that each boom lift can access is determined by the combination of its vertical height and horizontal outreach capabilities — commonly referred to as its range of motion or working envelope. Range of Motion charts feature a picture of the arc-like area in which each boom is able to perform, laid over a graph that makes it easy to determine the unit's access capabilities.
Where will the equipment be used?
Whether you are working on a single site or multiple sites could indicate how flexible the model needs to be. Some equipment offers the versatility to perform different kinds of work in several different environments, like AC-drive hybrid machines. Others, such as the Genie AWP Super Straddle personnel lift or Quick Stock vertical mast lift, are designed to optimize work in very specific applications.
Whether the work is indoors, outdoors, or a combination could impact selection of power source (e.g. AC electric, DC electric, bi-energy, or internal combustion), accessibility (e.g. any weight restrictions for floor loading or minimum stowed dimensions for doorway access), terrainability (e.g. the necessity to drive at different phases of construction and on turf or sand), and gradeability (e.g. the necessity to drive up or down a ramp or mound).
When will the equipment be needed?
How long the equipment is required on the jobsite could make serviceability (such as reliability and maintenance needs) or onsite refuel or recharge capabilities influential factors. For extended needs, it may also be worth comparing rental versus purchase cost options with your equipment provider for the most cost-effective approach.
Companies in this article