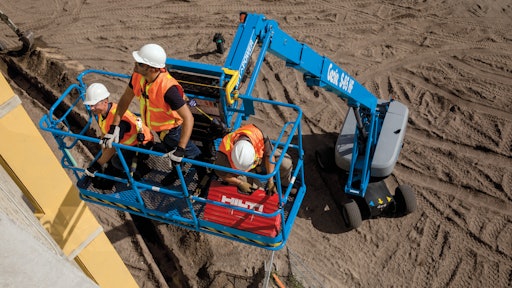 Genie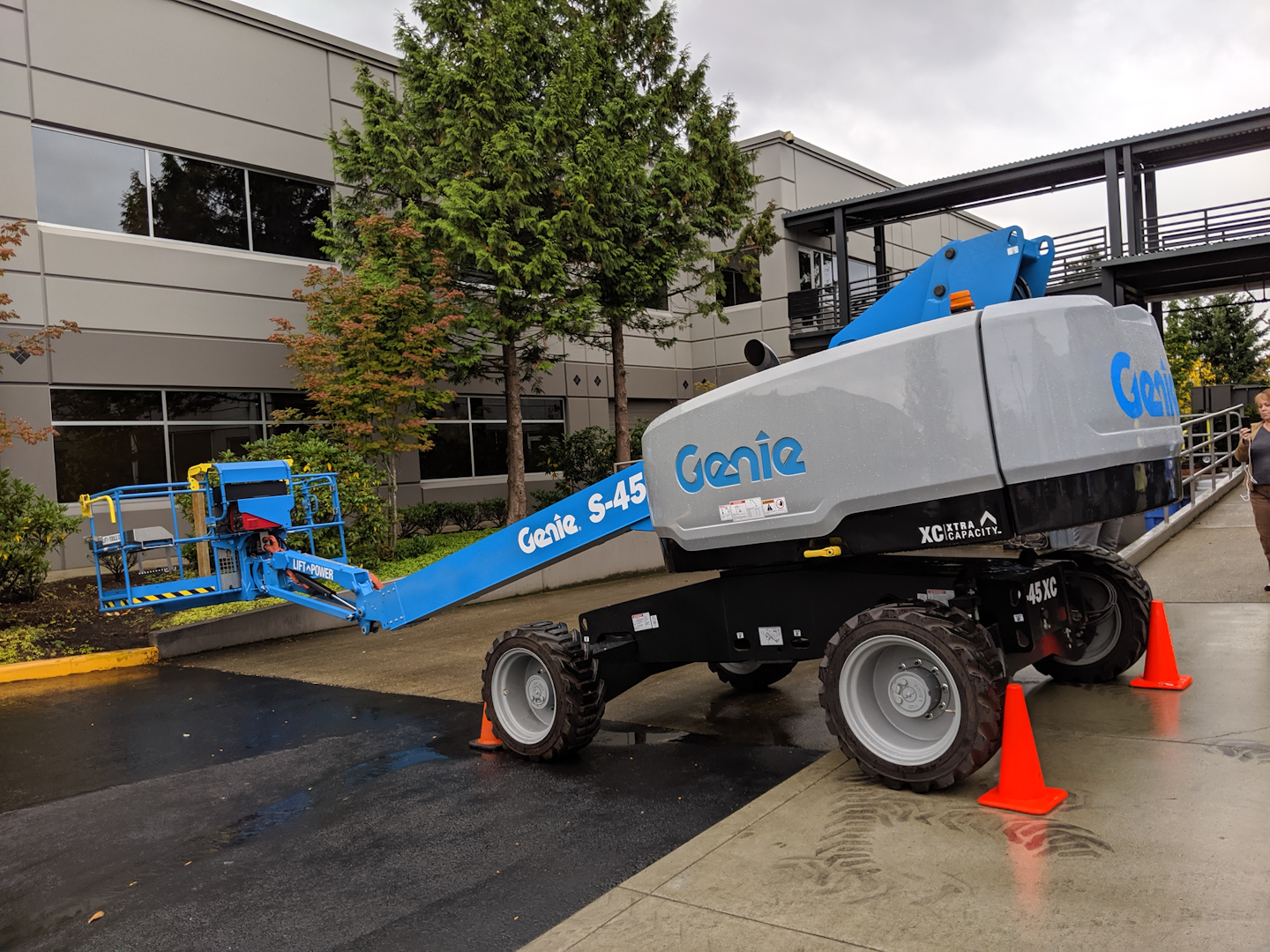 Genie S-45 boom lift at 7-degree tiltChris WoodUpcoming changes to ANSI standards for mobile elevating work platforms (MEWPs) have been in the works for several years, and finally go into effect this December. During their development, OEMs and equipment rental companies have been painfully aware of the effects the changes would bring to the  equipment and how it's used. However, a large number of their customers remain ignorant. 
OSHA is Law – Why Should I Care About ANSI Standards?
According to product managers at Genie, a Terex company, customers are just starting to ask about how the new standards will impact the operation of access equipment. Fortunately, Genie has been working on specific solutions tailored to the new rules.
Perhaps the best example in the new designs is the navigation of machine tilt and ground slope. In the past, an alarm sounded when tilt reached 4.5 degrees. However, new design innovations extend the safe operation to a 7-degree tilt.
New Genie products comply with the ANSI standards
Popular GS scissor lifts are compliant with global standards and feature new models equipped with load sense, swing gates (as opposed to chain gates popular in the U.S.) and standard folding guardrails. Known for being compact and streamlined, the GS slab scissor lift family welcomes a new micro-sized machine, the GS 1330m, while the GS-4655 scissor lift offers great height with a small footprint, as well as a longer runtime, thanks to electric motors. 
Dual zone control, available in new scissor lifts, enables indoor and outdoor use with the same model, saving time and increasing productivity. The new models are designed to accommodate high capacity and tilt, while also guarding against wind speed in outdoor environments. 
Genie used the changes to ANSI standards as an opportunity to "harmonize" the company's global product offerings. Chad Hislop, director of product management, said regional differences between markets have diminished in recent years, but pointed out the key differentiator from country to country has been related to diesel exhaust emissions, which aren't even covered by safety-focused ANSI standards. He noted Stage V emissions regulations for non-road mobile equipment take effect next year in the European Union but there are currently no plans for those to be imposed in North America. 
The move to harmonize aerial lift design reflects the global growth Genie aims to continue, as well as common appetites from North America to Europe and Brazil to China. 
"We thought China wanted a really basic machine," Hislop said, referring to the articulated booms the company had developed for that market. "It turns out that the Z-45 is known and loved around the world and – surprise, surprise – it took off and 'destroyed' all the China-specific models we made for them."
New accessories and operation on sensitive surfaces
The Genie production team readily admits they'd love for rental companies to buy all new equipment. However, to accommodate loyal Genie users - and to safely increase the productivity of workers using existing models - Genie released several all-new accessories. 
For example, workers can use the new easy-to-install Genie Lift Tools Work Tray to eliminate clutter by fastening it to the platform of most GS slab scissor lifts. The Genie Lift Tools Pipe Cradle securely carries pipes and other jobsite materials and can be installed in under 10 minutes, while the Genie Lift Tools Panel Carrier enables lift panels, windows and dry panels to be carried on the outside surface of the platform.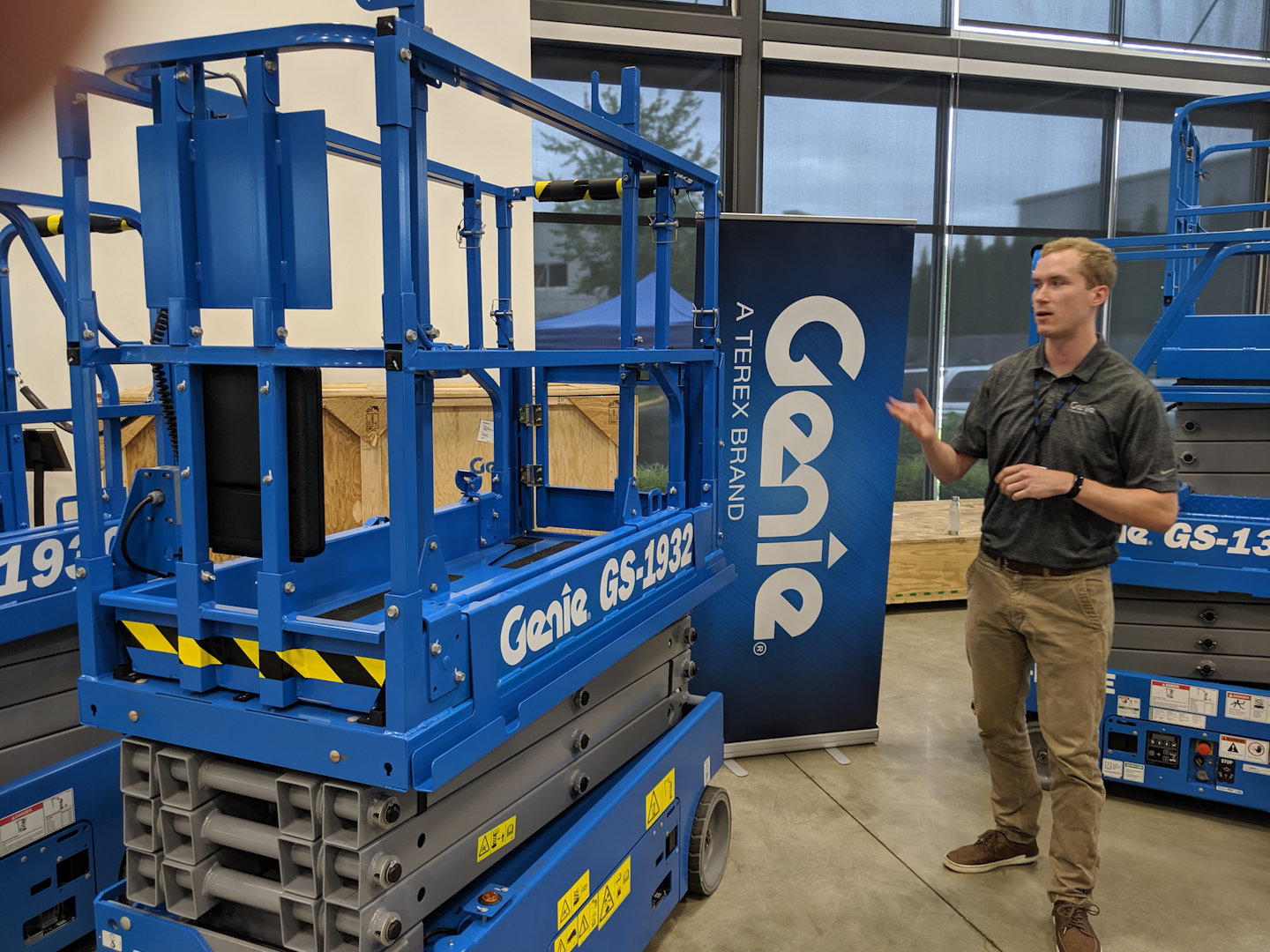 Genie Product Manager Mike Flanagan shows GS-1932 and compact GS-1330m slab scissor liftsChris Wood
Genie also announced that updated ANSI-compliant scissor and boom lift models will be easily spotted at a glance with ANSI decals and yellow tape on the platforms. 
On soft and delicate ground conditions, new High Float (HF) and TraX boom lifts comply with load-sensing and terrain-sensing ANSI guidelines. The load sense cell in these lifts continuously checks and limits the operating envelope for safe lifting. 
Genie's XC models help users get it done 
Hislop stated Genie's XC (Xtra Capacity) boom family has been "disruptive" to the access industry since it was introduced in 2017. 
"Is 500 lbs. enough for two people?" he asked, echoing what his customers wonder about restrictions on other aerial equipment. "Do we expect the operators to change what they're doing - or expect the machines to change?" 
He added, "In reality, people were frustrated with the 500-lb. limit, so we built prototype boom lifts labeled with a 500-lb. maximum capacity, and put load sensors on them to track what operators loaded on them." 
What was found is that users often overloaded machines and got away with it, sometimes to levels that were inherently unsafe. Genie was first to introduce higher-capacity machines that can handle twice the platform load at carefully designated heights and distances. 
Genie's New XC Booms All Have 660-lb. Unrestricted Capacity
When load sense technology is employed, machines will simply shut down when the rated load is exceeded instead of just alerting operators with an alarm that can be disabled or ignored. This can be frustrating to users who aren't aware of the changes. 
Hislop explained that load sense technology has become easier for everyone with the introduction of XC boom lifts, enabling zero-load calibration. These machines can be set for use without having to find 500 lbs.  of calibrated weight on a jobsite to calibrate the load sensors, saving precious time and effort. 
Using the CAN bus-based control system with Genie Smart Link technology, lift operators can easily choose between indoor and outdoor environments on a ground-based console. Outdoors, the height of the lift is limited according to OSHA's 28 miles-per-hour wind speed threshold. 
Genie has demonstrated its proactive stance regarding the new ANSI standards, using them as a way to develop design solutions that incorporate safety with new innovative capabilities.
Could These 3 New Technologies Take Off in the Aerial Industry?