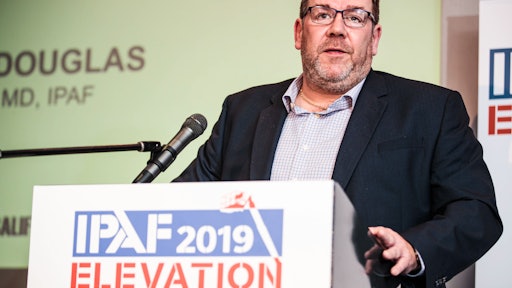 IPAF
It is my privilege as CEO and managing director of IPAF to introduce Elevating Safety 2020, one of IPAF's widely read house publications.  
When I took up post at the end of 2019, I was positively surprised by the levels of engagement by the whole team. Everyone is passionate about improving safety in our industry, and I was overwhelmed by the welcome and the support I received. 
IPAF saw many changes in 2019, including my taking over from interim CEO Andy Studdert, and Norty Turner of United Rentals stepping up to become the IPAF president after Brad Boehler left his position as president of Skyjack.  
Of course, 2020 has also seen major impacts on our industry and the wider global economy from the COVID-19 pandemic. Added to which, the long-awaited update to the ANSI MEWP safety standards in the U.S. also came into effect in June — meaning there has been no shortage of challenges and opportunities for powered access companies to get to grips with this year.  
Thankfully, ours is an industry born out of innovation with a drive for safe and efficient operations. Our members continue to rise to the challenges they are faced with, identify new opportunities, and continue to find ways to improve the safe and effective use of powered access equipment – the mission of IPAF!  
IPAF continues to play its part in exploring and developing ways to enhance our operator and manager/supervisor training through adopting new technology such as eLearning and virtual reality simulators, with very positive results. This will help those planning and executing powered access operations to continue working safely and will help aid compliance with the important new safety standards. 
Nothing will distract from our safety mission, which is underpinned by quality training, technical, and safety guidance, and helping our members deliver great customer service. I look forward to helping steer the organization forward and continuing the collaborative work to make our industry safer for everyone. 
As always, IPAF values your expertise, your experience, and your ideas. I hope that the articles contained within this magazine help inspire you and give you interesting perspectives on safety at height, as we face challenges and explore new opportunities. 
Yours,  
Peter Douglas
CEO & MD of IPAF