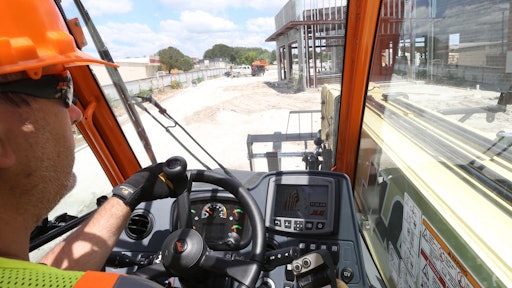 Telehandlers have been moving, lifting and placing materials for several decades. The evolution of engine designs and drivetrains, not to mention lift capacities and heights, have broadened the appeal of these versatile machines.
Their popularity has grown to the extent it's unusual to drive by a construction site and not see a telehandler at work performing any number of tasks. John Boehme, JLG senior product manager, telehandlers, is not alone when he says, "They've become so essential they are the first to arrive and last machines to leave a jobsite."
The control centers for telehandlers have evolved, as well. Cabs have become more comfortable and provide a better, easier operator environment. Over the years, some important functions have been automated and those that haven't are brought within fingertip control, often with a single joystick. Visibility has also improved, with better sight lines and new technologies being introduced to give operators virtually a 360° vantage of the work site.
All the above and more have allowed operators to become more proficient. That doesn't imply that all cabs are created equal or have adapted the same levels of technology. "The range of what is available for telehandler cabs, both within manufacturer product lines and across the industry, is very wide," says Josh Taylor, Genie product manager, Terex AWP. "In part, this is because preferences for cabs can vary dramatically by geographical region and customer type."
Creature Comforts
Years of evolution have assured one constant in cab design. Today's operators enjoy a host of creature comforts their predecessors could never have imagined.
"Because telehandlers can perform so many tasks at a jobsite, operators are spending more time than they previously did behind the controls. Hence, a focus on cabs is to keep the operator comfortable and controls easier to operate," says Rebecca Yates, material handling product manager for JCB. This year, the company will celebrate 40 years since its first telescopic handler came off the assembly line in 1977.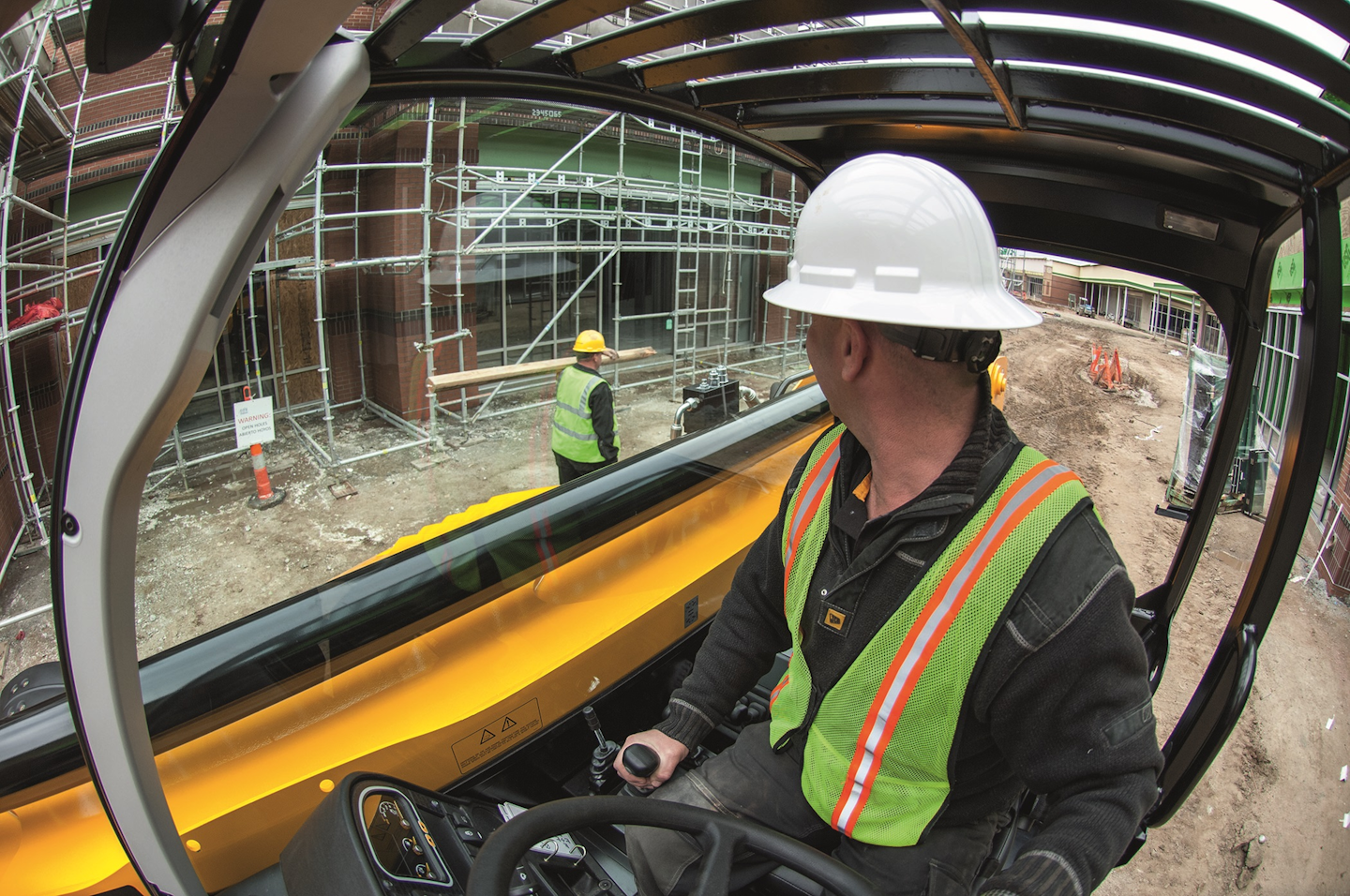 With JCB's low-profile boom, operators sit higher, giving them improved visibility of the work site.Yates notes that JCB cabs are roomy to the extent that any size individual can fit comfortably. Because of the low-profile boom, operators sit high, giving them improved visibility of the work site. There's a host of options that range from tilt steering columns and adjustable seats, to camera systems and climate-controlled cabs with heat and AC.
JLG includes a retractable sun screen among cab options and it's not unusual to find cup holders, cell phone holders and phone ports contributing to a working environment not too far removed from the family vehicle.
"We've focused on cab design because operator confidence and comfort can be directly linked to productivity," reports Boehme. "The new JLG cab design provides a better field of vision, helping operators navigate terrain more confidently and move materials more efficiently. Cabs can now be equipped with optional reversing cameras and reverse sensing systems that help operators be more aware of what's behind them."
Genie's GTH-5519 cab has defrost, ventilation, armrest padding and storage improvements, plus an integrated display showing engine control messages. The larger GTH-844 features a comfort-tilt steering wheel, single-lever joystick and easy to read gauges. There is also an optional rear object detection system.
"Object detection is becoming a larger part of jobsite safety plans," says Taylor. "As the costs of these types of systems decrease, cameras will become more popular. This trend is already occurring in earthmoving and production mining."
Who the customer is determines just how much new technology a manufacturer includes in the cab. "Machines sold to end users may include more optional features such as air conditioning and more sophisticated controls, compared to a rental fleet machine that will have a more generic feature set," Taylor points out.
Barry Greenaway, senior product manager at Skyjack, agrees, noting, "When it comes to cab design we've taken a different approach. Our primary market is rental and our focus is to get it right for the customer and keep recurring costs in terms of repairs and downtime to a minimum. Yes, cabs need to be comfortable, but our customers cannot pass along higher rates to accommodate features like wraparound glass and new electronic controls."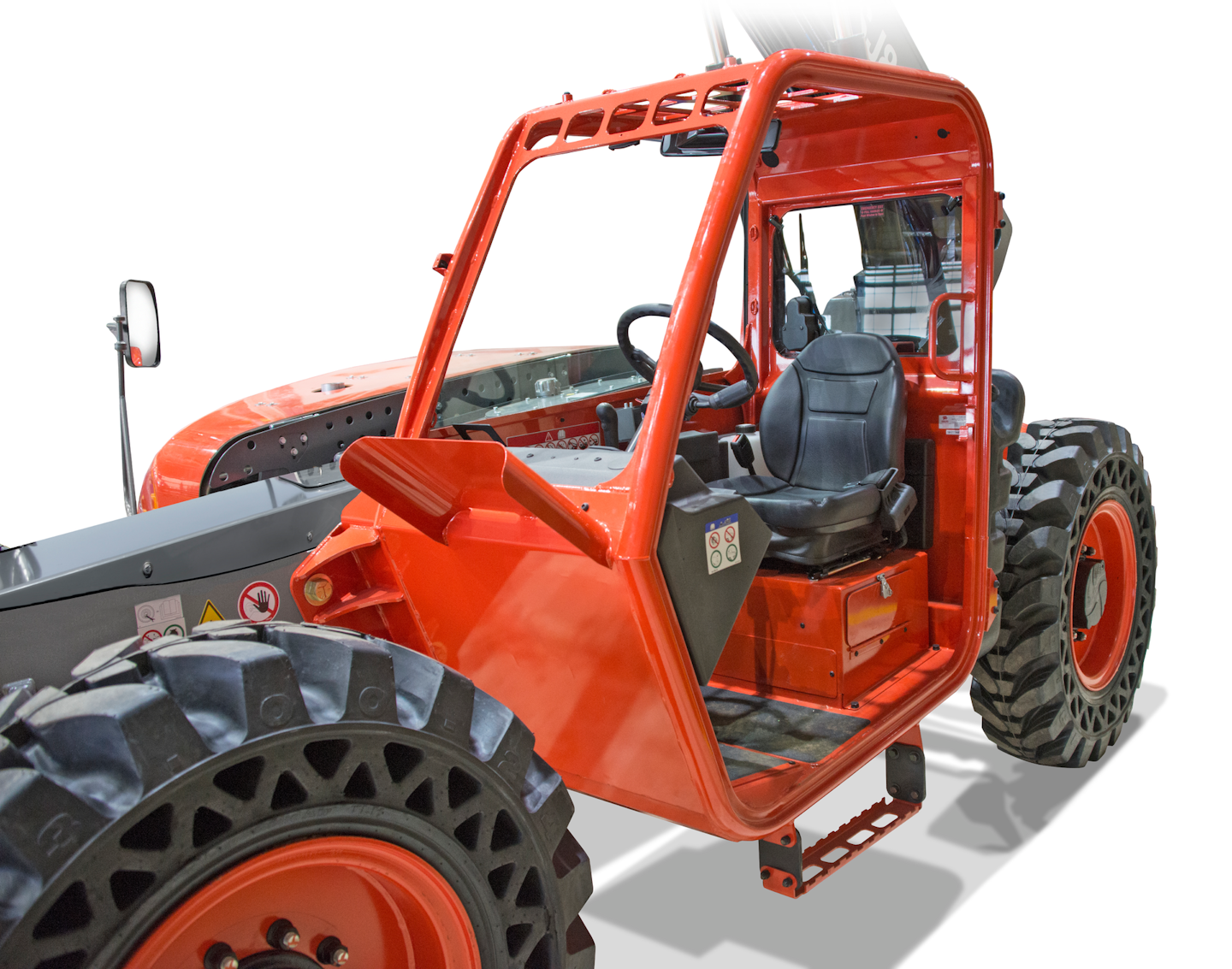 Windows in Skyjack's FLEXCAB can be easily removed, giving operators the ability to convert between open and closed cabs.The windows in Skyjack's new FLEXCAB are flat, relatively inexpensive to replace, and can be sourced from a wider range of glass suppliers. They are also easily removed with standard hand tools, giving operators the ability to convert between open and closed cabs, and fleet managers the added flexibility to readily move equipment regardless of the weather conditions.
"In the rental market, machines take a beating," Greenaway states. "Parts need to be accessible and easy to replace. Skyjack's controls are based on automotive relays, and unlike computer chips, they can be easily sourced and replaced. In fact, the only computer on our machines interacts with the engine and displays diagnostic data on the cab's multi-function display."
Enhanced Control
Developing features and options to help automate functions is more challenging on telehandlers than other machines. "It is tempting to compare a telehandler to something like a wheel loader, which shares functions like lift and tilt/dump," Taylor comments. "But these machines often repeat the same functions over and over again.
"Effective automation requires process repetition. The predictability of knowing bucket height and dump angle, and the sequence in which these functions happen, allows for the automation of these functions. On a telehandler, you add the variables of outreach, load centers and where material needs to be placed on the jobsite. The equation becomes much more complex and can diminish the value of automation."
When not able to totally automate certain functions, manufacturers have included features that assist operators in other ways. Hydraulic couplers that allow operators to change attachments without getting out of the cab are becoming popular. As Yates points out, the feature is especially helpful when a telehandler is routinely changing back and forth from a couple of attachments like a fork or bucket.
"A single joystick now controls the operation of the boom, both up and down and in and out, something that two previously did," she explains. "Some of JCB's joysticks also feature a forward and reverse trigger which, in combination with the gear shift control on the steering wheel, allows operators to keep hands on the steering wheel at all times. A bucket rattle feature on some models lets the operator release dirt or other material without having to rock a machine back and forth."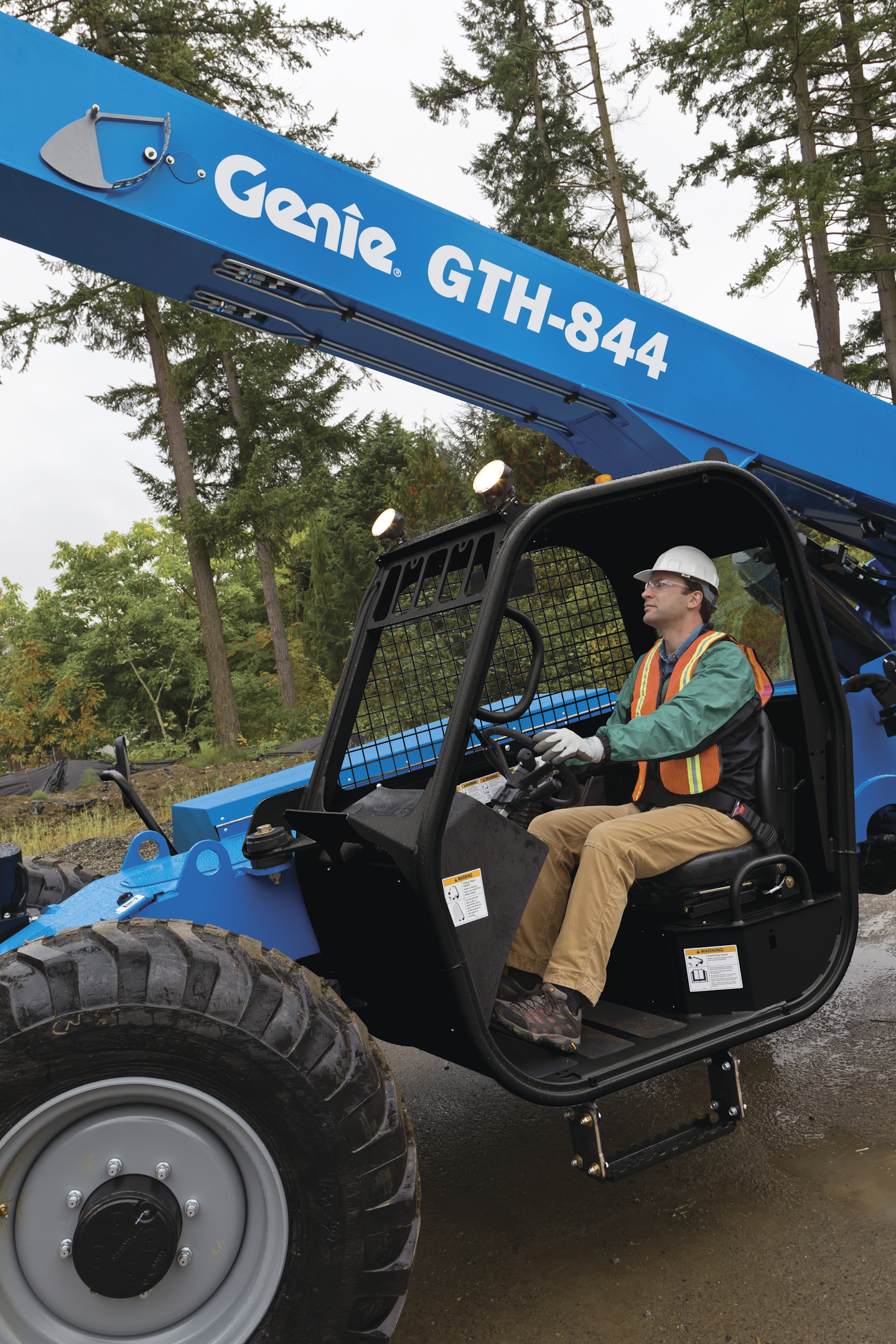 Who the customer is determines just how much new technology a manufacturer includes in the cab. For example, those targeted for rental applications, such as the unit shown, tend to have a more generic feature set.One trend in automation is to give more information to operators. JLG's high-capacity telehandlers, for example, can be equipped with SmartLoad Technology. "This is a comprehensive system that combines attachment recognition with real-time load data, letting operators work with more confidence," says Boehme. "The system provides operators with an indication of load chart compliance and prevents them from violating the boundaries of the chart. It was rolled out in March and gives fleet owners as well as operators peace of mind that a machine isn't being overloaded."
Value Assessment
As Greenaway indicates, not every customer wants or can afford some of the options available on the market. But ROI is measured in other ways for rental stores and their customers that go beyond the initial purchase price, acceptable rental rates and the costs associated with diagnosing issues or replacing broken windows and other parts. He notes that simplicity — especially in terms of controls and operation — is important for individuals who may not spend as much time in a single telehandler make or model as operators in other markets.
While rental stores and their customers may resist paying more for a cab with HVAC, reverse cameras, pulse radar and load management systems, companies and private owners who use their equipment daily can benefit from an increase in productivity thanks to these features.
Yet, as the manufacturers emphasize, added features don't minimize the importance of training. "The controls will always be secondary to understanding how to read a load chart and how the functions of the machine affect its stability and safe operation," Taylor emphasizes. "Improved controls can help a trained operator be more productive, but there is no replacement for a trained operator."