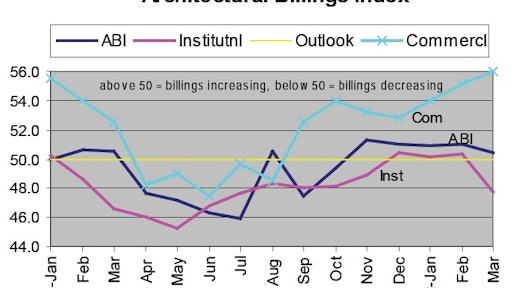 The construction market has bounced agonizingly along the bottom of the economic cycle for months, but Gilbane Building Co.'s recent economic analysis (Construction Economics – Market Conditions in Construction) suggests market growth for general contractors beginning now and sustaining into the next couple of years.
Some of the positive factors in Gilbane's report are:
The Architectural Billing Indicator (ABI) - a leading indicator of construction spending 9 to 12 months out - accurately predicted a drop in spending from Q4 2011 through Q2 2012 which may be ending. The ABI has been predicting growth starting in May 2012
The spending rate is 9 percent above one year ago and 4 percent above last summer. And, construction spending should increase over 5 percent in 2012
Contractors' margins improved by 1 percent in 2011 and seem to be signalling a movement toward normalized margins
However, the report still shows some negative factors affecting the industry:
The construction industry gained only 5,000 jobs in three months since December 2011
The nine states with the most construction jobs lost 137,000 jobs over the last four months
Construction starts have been declining, hitting a 15-month low in February 2012
Construction volume has decreased five years in a row
Construction spending on public jobs is below what is was a year ago
Architectural Billings Index
According to the Gilbane report, Architectural Billings Index (ABI) index readings above 50  indicate more firms reporting increasing billings than firms reporting decreasing billings. The report says the ABI is above 50 for the third month in a row, and since July 2011, all indices have been climbing. The report states, "The commercial index has been above 50 since September, the overall non-residential ABI since October and the Institutional index is above 50 since December. Typically, institutional facilities are usually the last non-residential building sector to recover from a downturn. This bodes very well for newly anticipated work growth in Q2-Q3 2012."
In addition, the report says the FMI first quarter Non-residential Construction Index Report (NRCI) is 58.1, up almost 8 points from the previous quarter. FMI's index of the overall economy provided the strongest improvement in the overall index.
Read the full report or executive summary of Gilbane's Construction Economics – Market Conditions in Construction.