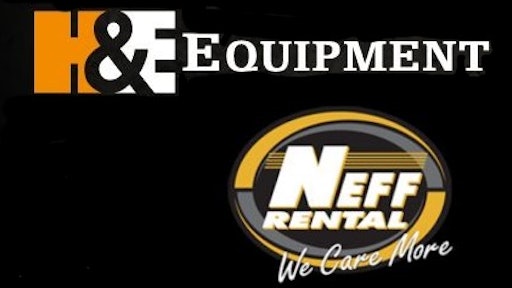 H&E Equipment Services and Neff Corp. have entered into a definitive merger agreement under which H&E will acquire Neff. Under terms of the agreement, unanimously approved by the boards of directors of both companies, H&E will pay $21.07 in cash per share of Neff common stock, for a total enterprise value of approximately $1.2 billion, including approximately $690 million of net debt.
Simply adding the two companies' 2016 rental revenues produces a total just less than $795 million, which would move the combined company from No. 9 on the 2017 RER 100 list to No. 5.
The per-share merger consideration payable to Neff stockholders is subject to certain downward adjustments, not to exceed $0.44 per share, in the event that H&E incurs increased financing costs in the event the transaction is not consummated on or before January 14, 2018. The transaction is expected to close in the late third quarter or early fourth quarter of 2017, and is subject to customary closing conditions including Hart-Scott-Rodino Act clearance.
John Engquist, H&E's CEO, said, "This transaction will bring together what we believe to be two highly complementary businesses that share a commitment to addressing the increasingly complex equipment needs of our customers. Our broader geographic footprint and enhanced capabilities in strategic markets, coupled with complementary expertise across equipment categories, are expected to help us to achieve our growth goals."
Graham Hood, Neff CEO, said, "We are looking forward to joining an industry leader who shares our core values. Neff offers H&E a talented, experienced and knowledgeable employee base that we expect will continue to maintain and develop relationships with key customers and contribute to the combined company's growth."
Strategic Rationale
Scale – The acquisition will nearly double the number of H&E branches, from 78 to 147, within H&E's existing footprint in the strategically important Gulf Coast, Mid-Atlantic, Southeast and West Coast regions.
Fleet – As of March, the companies' combined fleet value totaled $2.2 billion based on original equipment cost (OEC) and consisted of 43,749 units. Neff's fleet is expected to be complementary to H&E's concentration in aerial work platform equipment, and the combined company will possess one of the largest earthmoving rental fleets in the industry. Combining the OECs of H&E's and Neff's earthmoving fleets totals $727 million, including 8,736 units. The geographic expansion and fleet density is expected to allow H&E to better position fleet in regional pockets of higher demand and improve overall utilization.
Non-Residential Construction Penetration and End-User Market Diversification – The transaction is expected to increase H&E's penetration in non-residential construction. The significantly larger earthmoving fleet is believed to position H&E to gain from any future governmental infrastructure spending and improve the company's exposure to new regional and local construction customers. H&E says the earthmoving segment is under-penetrated and may afford growth opportunities.
Employees and Culture – Neff employees will bring significant industry expertise to H&E, where they will have the opportunity for further career development in the significantly larger combined company.
Transaction Highlights
H&E estimates the acquisition will create $25 to $30 million of annual synergies related to corporate overhead, systems and operational efficiencies, as well as scale benefits for equipment purchases.
The Neff acquisition is expected to generate more than $800 million of gross tax assets for H&E arising from a step-up in the basis of certain of Neff's assets.
Wells Fargo Bank and affiliated entities have agreed to provide committed financing for the transaction, subject to customary conditions. The transaction is not subject to a financing condition.
Private investment funds managed by Wayzata Investment Partners holding approximately 62.7% of the outstanding common shares of Neff have executed a written consent to approve the transaction, thereby providing the required stockholder approval for the transaction.
The merger agreement includes a "go-shop" period which runs through August 20, 2017 during which the special committee of Neff's board of directors, with the assistance of its financial and legal advisors, may solicit alternative proposals to acquire Neff. There can be no assurance that this process will result in receipt of a superior offer or that any other transactions will be approved or consummated.
H&E's management held a conference call to discuss the Neff acquisition on July 18, 2017. The archive of the conference call can be heard at the H&E investor page.