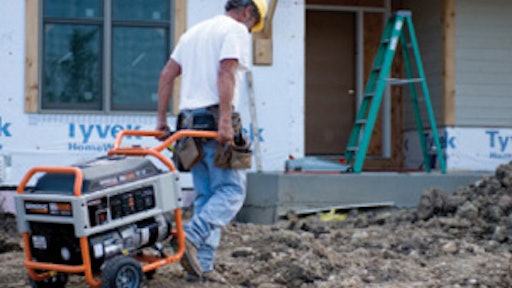 Generators and compressors can be indispensable for providing remote power and compressed air to operate tools, lights, etc. on construction sites. And overall, they are a relatively safe means to that end. Yet, like any equipment, they can present safety concerns if used improperly.
Safe operation of any power source begins by reading the operator's manual. According to John Garcia, Doosan Infracore Portable Power employs a host of personnel to evaluate codes, standards and best practices for its generator models. "These machines are built with safety as the first consideration," he points out. "In and of themselves, there are no dangerous situations if directions for safe operation are read and followed."
Like generators, compressors aren't inherently dangerous, but you need to read the manual to ensure safety during use. "Portable air compressors are a common power source on most construction sites," says Chance Chartters, Mobilair, Kaeser Compressors. "So common, that people may not be vigilant against the hazards of compressed air."
Avoid electrocution and other hazards.
Generators produce electricity, so be as careful with them as you would with any piece of electrical equipment.
Don't operate the generator in wet conditions, such as when it's raining or snowing, and don't set it in water. Always start or stop the generator only when no electrical loads are connected. Avoid overloading the generator by trying to operate more equipment than its output rating allows. "Prioritize your needs," advises Clement Feng, Generac.
Visually inspect cords. Make sure wires aren't damaged or crossed and check to make sure they're adequately insulated. Since overloaded cords can cause fires or equipment damage, check the cord ratings and don't overload them by trying to draw more power than they're rated to handle. 
You can run the risk of electrocution if a generator isn't properly grounded. Grounding can be accomplished by driving a copper rod with a wire from the rod to the generator. The wire is then attached to a ground point on the machine. Some generators, such as Doosan's IR models, are internally grounded neutral to the frame to ensure performance and personal protection.
"Rely on a qualified, licensed electrical contractor with knowledge of local codes when making connections," stresses Garcia. Also follow the National Electrical Code Article 250 and other codes that address grounding concerns.
When selecting a generator, consider the available safety features. Many provide GFCI protection and covered outlets to minimize electrocution hazards. Some also feature additional guards, 110% fluid containment and emergency shutdown buttons and systems.
Here are some other recommendations for safe generator use:
Ensure adequate ventilation. Never operate a generator in an enclosed space, or near open windows or doors. "The drafts can draw the [engine] exhaust into the building," says Feng. "Carbon monoxide is odorless, so you won't even know you're at risk."
Be cautious during refueling. Fuel is flammable and explosive. Generator parts will be hot during operation, which can create a hazardous situation if fuel comes in contact with them. Don't overfill the tank or spill fuel. And never add fuel while the generator is running or hot; shut it off and allow it to cool before refueling.
Handle with care. While some generators are meant to be portable, they may still weigh several hundred pounds, so care should be taken during transport. Towable models should not be towed in excess of 65 mph; use chock blocks when they're not connected to the tow vehicle.
Be aware of moving parts. Don't put anything, including appendages, near the moving parts of a generator or a compressor. "We have a voltage selector switch on the inside of the machine," notes Chuck Westhofen, Atlas Copco. "That way, contractors can't change it while the unit is running."
Respect high pressure
Compressors generate high air pressures, which can cause injury or death if improperly handled. As such, avoid all direct physical contact with pressurized air.
"Don't point compressed air lines at people for any reason," warns Chartters. "Don't 'dust' or 'clean' yourself off."
Make sure all hose connections are secure, and discharge the compressor before removing covers, fill plugs or accessories. "Also ensure that the air hose is rated for the maximum compressor pressure and flow," says Chartters.
Don't adjust safety, blow-off or control valves without referring to the operator's manual. "Despite safety features such as fan and belt guards, only trained technicians should adjust compressor components," Chartters states. "Improper adjustments can cause 'air explosions' from the safety valve, which can startle, and perhaps injure, even experienced operators."
Air hoses connected to the discharge valve of an operating air compressor can "fishtail" if a hose breaks loose, or if it isn't connected to a tool. Use a whip hose for tethering, and an OSHA-approved safety flow choke valve at each hose connection to help prevent hose lashing. Also make sure the hose and compressor discharge fittings match.
When selecting a compressor, look for units with warning alarms and automatic shutoffs that prevent damage to internal components. For example, some are designed to shut down if temperatures are too high, or sound audible alarms to alert workers in the area when a unit is turned on. Many units also have pressure regulators that automatically vent when the pressure exceeds a preset level.
Following are some additional safety precautions for generator use:
Ensure adequate ventilation. Discharged air can contain carbon monoxide, vaporized oil and other pollutants, so avoid breathing it in. Never run a compressor inside a building without proper ventilation.
Conduct a visual inspection. The battery cables should be disconnected prior to inspection or service. Then check the machine and its accessories for any obvious signs of wear or damage.
Take special care to ensure hoses won't be run over by vehicles, or are being stored improperly. "Cracks or weak spots are not only wasteful, but dangerous to the operator," says Chartters.
If any decals are lost or worn, replace them. "We offer free safety decals for all of our IR compressor products, air compressors, generators, light towers and compaction equipment," notes Russ Warner, Doosan Infracore Portable Power.
Wear proper safety gear. Air compressors operate at high noise levels, especially with the doors open. Wear proper hearing protection if the doors are open, or if the air discharge valve is operating. Also wear safety goggles, gloves, safety shoes, face masks, etc., as required by OSHA standards.