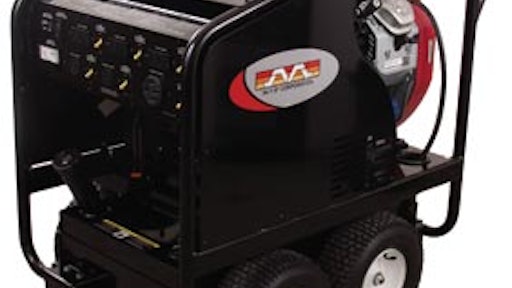 The latest concept in portable generators manufactured by Mi-T-M packs up to 13,000 watts in a compact, portable unit suitable for any construction and rental application.
The GEN-12000-0MHE and GEN-13000-0MSE, delivering 12,000 watts and 13,000 watts respectively, are unmatched in the industry in that such a large amount of power capacity is derived from a component design that only occupies a dimensional footprint that is 42.6 inches long by 29.2 inches wide by 39.4 inches high. This allows the generator to assist customers with a wide variety of jobsite applications.
In addition, these units are built with a protective tube frame for maximum durability under extreme conditions along with top- quality components such as a six-outlet control panel with magnetic circuit breakers and GFCI-protected receptacles for additional safety and reliability.
Unique to this line of portable generators are the four, 13-inch wheels and center gravity lifting hook which allows for proper balance and excellent maneuverability on any surface. This is a huge plus when portable power is required on rough terrain, especially in emergency situations. The end result allows the customer flexibility to safely use the machine at a variety of different jobsite settings with relative ease.
According to a rental company located in Ohio, the design and setup of these generator models alone are major selling points due to the relation of the engine to the fuel tank, as well as the convenient wheel locations.
The power and portability of Mi-T-M's newest generator models are capable of safely and effectively supporting massive restoration efforts in disaster zones. Since the 11.5-gallon fuel tank capacity allows for 7.5 hours runtime under full load, these generators are especially suitable for use during and after natural disasters, including ice storms and hurricanes. Fortunately for those along the Gulf coast, these generators were available in time to provide assistance with cleanup efforts in the aftermath of the 2005 hurricane season.