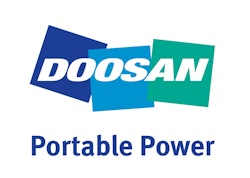 Doosan Portable Power and Webasto Thermo & Comfort North America, a leader in idle reduction technologies, announce an integration of technologies that provides unmatched mobile generator performance and reliability in cold weather and extreme arctic conditions.
The Webasto engine pre-heat system will now be offered as a factory fit option available on the full line of Doosan generators.
The system design includes a Webasto Thermo 90 ST fuel operated coolant heater, 7-day programmable timer, and Arctic Fox fuel warmer. The timer controls the engine pre-heat system, allowing users to schedule remote start-up of the machine up to seven days out. Users will no longer lose jobsite productivity waiting for engine heat-up. The programmable system pre-heats the engine so the generator is ready to provide power at the precise moment it's needed, providing increased jobsite productivity, fuel savings, and reduced engine wear. The technology also helps lower emissions during machine start up, helping construction sites comply with anti-idling regulations. These system benefits are matched with the Arctic Fox fuel warmer, which prevents diesel fuel from gelling in cold temperatures.
This system will enhance the proven reliability and productivity of Doosan generators, which pair a durable design and advanced engineering to meet the demands of rugged jobsite conditions and low temperature climates.
Test Results Show Pre-heated Engines Reduce Emissions, Improve Perofrmance of DPFs
Companies in this article