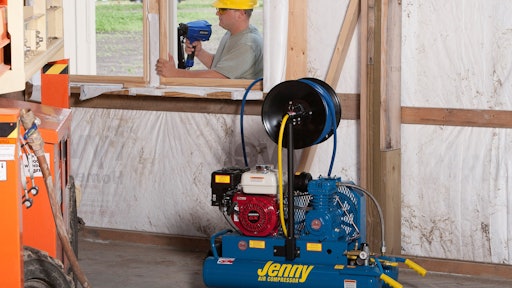 The C-series compressors deliver 9.8 cfm at 125 psi, and are available with 8-, 15-, 17- and 30-gal. air tanks, which are powder coated and ASME certified. For maximum durability, the newly engineered "C" pumps are constructed of cast iron and are splash lubricated with Jenny "Ultimate Blue" synthetic compressor-pump oil. 
"We developed the 'C' pump to take full advantage of the Honda 6.5-horsepower engine," says Daniel Leiss, president of Jenny Products. "Durability is always a key issue for air compressors in the rental industry. Piston compressors are relatively simple machines with few moving parts, and the simpler you can keep a piece of equipment, generally the more reliable it will be. Additionally, components that are more ruggedly built will last longer and deliver a return on investment that usually outweighs a higher original price tag."
The cast iron, splash-lubricated pumps are belt driven with large flywheels for easy start-ups and extra cooling. Directional air shrouds help further reduce pump temperatures while special unloading valves included to assist in engine starting.
"Most rental centers are going to stick to standard products, although there are always some users who will want to customize with additional filtration, after-cooling features or other enhancements. One reason you wouldn't want to add too many bells and whistles to an air compressor is that it can inhibit portability around the jobsite, which is an important selling point for most rental customers," Leiss says.

Standard features include a totally enclosed heavy-duty belt guard, anti-vibration feet for smoother operation, a large canister intake filter with replaceable elements, manual tank drains, a stainless-steel braided discharge hose, a pressure-release safety valve and tank, regulator and outlet pressure gauges. For mobility, the compressors have pneumatic tires and convenient lifting handles. 

"For the most part, compressor units are going to be offered in their standard electric or gas-powered configurations. For certain remote applications, like mining or oil drilling, it might make sense to equip a compressor with a diesel engine instead, since that might be the only fuel supply available for all the equipment on the site."