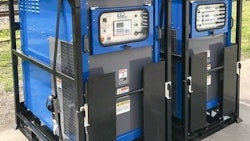 Load Banks Direct
Trystar has purchased Load Banks Direct (LBD) of Covington, Kentucky, a manufacturer of high-capacity load banks used for full power load testing of emergency power systems. The acquisition will complement Trystar's market position as a major supplier of portable and permanent power solutions for a broad range of customers including rental, utilities, mission critical facilities, events, disaster recovery operations, and many others. 
"Trystar and Load Banks Direct are very similar organizations with a similar approach," explained Trystar CEO Andrew J. Smith. "We both make industry-leading products and provide high levels of customer support.
"We both have customers in the rental industry and in critical applications like data centers, hospitals, hotels, schools, and others. We also both excel at providing custom designs to meet specific customer needs — something that distinguishes us both from our competitors."
The new relationship between Trystar and Load Banks Direct will highlight the extensive technical knowledge that both companies possess, while creating new products and solutions for customers. The beneficial relationship aims to supply what neither company could supply in the power industry on its own. 
Smith emphasized that the acquisition will create exciting new opportunities for LBD and Trystar customers with minimal disruption to existing relationships.
LBD president Martin Glover said, "Our teams will remain focused on the execution of our businesses to ensure we continue to provide the industry-leading support customers have come to expect. In addition, both LBD and Trystar customers will have greater access to the technical resources of both companies and benefit from working with a combined organization on critical projects."
Companies in this article