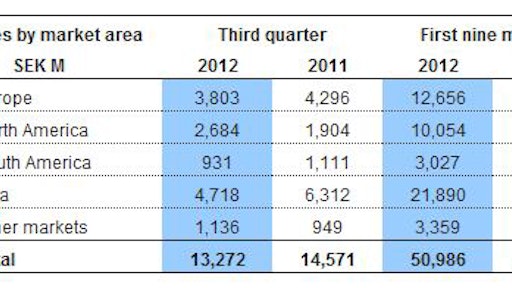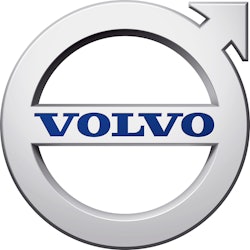 Volvo Construction Equipment reacted quickly to a slowing global market – which was down 11 percent in the year to August – and uncertainties about the strength of demand in 2013 by slowing the rate of production in its factories and reducing the number of machines held in stock at its dealerships. This 'under absorption' of costs in the factories put pressure on earnings in the third quarter of 2012, as did increased price competition and a less favorable geographical and product mix, which saw fewer larger machines sold, particularly to the weakened mining sector.

Net sales in the three months July to September decreased 9 percent to $1.988 billion (SEK 13.272 billion). Adjusted for currency movements, net sales were down by 8 percent during the period. Order intake was also affected, with the value of the order book at September 30 being 24 percent lower than on the same date in 2011.
This slowdown of global demand in the third quarter of 2012 also weighed on profitability, with operating income at $97.355 million (SEK 650 million) down from the $215.379 million (SEK 1.438 billion) reported in the same period the year before. This also dented Volvo CE's operating margin, which at 4.9 percent was below the 9.9 percent achieved in Q3 2011.

"The lower economic activity and the uncertainty about the future are impacting customers' willingness to invest in new equipment," said Pat Olney, president of Volvo CE. "As a consequence we have reduced production in our facilities and managed to reduce both our own inventories and those at our dealers."

Uncertain outlook
Market conditions for the full year 2012 show few signs of change in the short term. The European market is expected to be down as much as 10 percent (previous estimate: flat), while North America is expected to increase by 15 to 25 percent (unchanged forecast). South America meanwhile is still on course to rise by up to 10 percent and Asia (excluding China) is expected to rise by up to 10 percent. Demand in China itself is projected to fall in 2012 by 25 to 35 percent, down more than the previously forecast 15 to 25 percent drop.