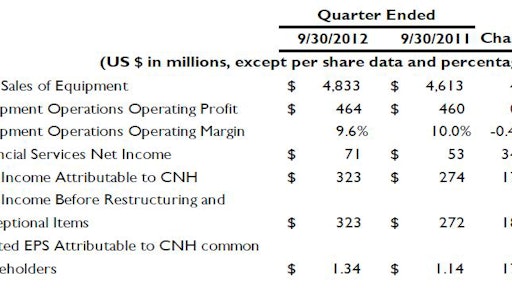 CNH Global N.V.'s financial results for the quarter ended September 30, 2012, showed net sales for climbing 5% (11% on a constant-currency basis) to $4.8 billion.
Strong agricultural equipment sales more than offset the reduction in sales of construction equipment due to challenging market conditions in most geographies and the negative effects of foreign currency translation. Equipment Operations posted a gross profit of $988 million, or 20.4% of net sales for the third quarter, and an operating profit of $464 million, as higher agricultural equipment revenues and positive net pricing in both segments compensated for increased SG&A expenditures and R&D expense (+22%) as a result of significant investments in new products and Tier 4 engine emissions compliance programs and the negative impact from foreign exchange.
Equipment net sales during the quarter were 83% agricultural equipment and 17% construction equipment. The geographical distribution of net sales in the quarter was 46% North America, 27% EAME & CIS (Europe, Africa, the Middle East, and the Confederation of Independent States), 15% Latin America, and 12% APAC (Asia Pacific) markets.
CNH confirmed its guidance for 2012, expecting revenues to be up 5% and an operating margin in excess of 8.6%.
Construction Group
CNH's construction equipment third quarter 2012 net sales decreased 14% on a constant currency basis (-21% on a reported basis) as industry recovery slowed considerably in every region with Latin America decreasing 12% year-over-year in the quarter and the APAC market continuing to be down for the third consecutive quarter. Reduced commercial volumes and industrial capacity absorption and adverse currency impact resulted in a $15 million operating loss for the quarter.
CNH's worldwide construction equipment market share was in line with the market in the third quarter, with gains in Latin America as a result of new product launches and good equipment availability.
CNH's worldwide production of construction equipment was moderately below retail sales during the quarter, as a result of the action taken to balance inventory levels, especially in Latin America and Europe. The group expects to continue producing below retail sales levels during the fourth quarter of the year.
Agricultural Group
CNH's third quarter net sales of agricultural equipment increased 18% on a constant currency basis (12% on a reported basis) driven by increased volume, positive net pricing, and favorable product mix. All of the Group's geographic regions reported increased revenue on a constant currency basis. Operating profit increased by $68 million to $479 million at an operating margin of 12.0%, up 50 basis points from the comparable 2011 period.
Third quarter worldwide agricultural equipment market share performance was positive for both tractors and combines, with gains in the high horsepower tractor segment in North America. Combine market share was up in every region except for North America, where the Group performed in line with the market.
CNH worldwide production of agricultural equipment exceeded retail sales in the quarter ahead of scheduled production downtime in the fourth quarter.
Companies in this article