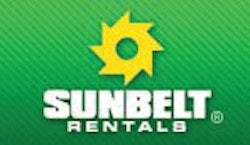 Sunbelt Rentals, the second largest equipment rental company in North America, is expanding into Canada with the acquisition of GWG Rentals. 
Based in western Canada, GWG has six branches located in Burnaby, Surrey, Abbostford and Richmond British Columbia, as well as Calgary and Edmonton, Alberta. The company offers equipment including aerial platforms, compaction machinery, material handling equipment, earthmoving equipment, generators and heaters, and lawn and garden rentals.
Sunbelt's parent company, UK-based Ashtead Group plc, announced the acquisition during its quarterly presentation to investors last week.
Ashtead is reported to have spent £107 million (€135 million) on bolt-on acquisitions during the first half of the year. It said it was continuing to expand its footprint and diversify into specialty markets.