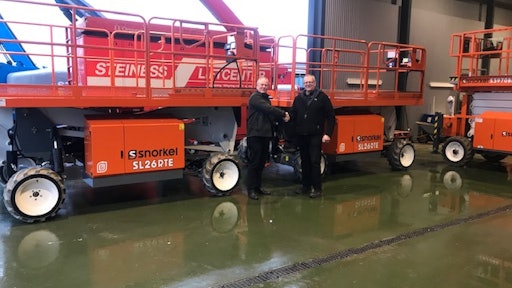 Danish re-rent specialist, Steiness Liftcenter ApS, has taken delivery of their first two lithium-electric Snorkel SL26RTE Speed Levels in Denmark. 
Steiness Liftcenter placed the order for the two Speed Levels with the official Snorkel distributor in Denmark, KH Lift ApS, on the day that Snorkel announced full UK production of the electric Speed Level models, and the units were delivered in early January.
Based in Taastrup, near Copenhagen, Steiness Liftcenter ApS is a leading re-rent provider for aerial work platforms in Denmark. Having been in business for almost 20 years, the company is well-established and takes pride in stocking the latest models for their customers. Steiness moved into a brand new, custom-built facility in 2019 and currently operates a fleet of more than 450 units. With a team of ten employees, they provide re-rent services in Denmark and southern Sweden.
Steiness' owner, Poul Steiness, said, "Zero emission models are in high demand in the Danish market, and it was important for us to be the first in Denmark to stock the lithium-powered Speed Level. We have a longstanding relationship with Karsten Haahr at KH Lift, and appreciate their help in making us the first to the Danish market with these innovative lifts, and one of the first in Scandinavia."
The lithium battery powered Snorkel SL26RTE delivers a maximum platform height of 8.0m (25 ft. 6 in.), a lift capacity of 680kg (1,500 lbs.) and has a spacious 1.72m (5 ft. 8 in.) x 4.6m (15 ft.) platform with the 0.91m (3 ft.) roll-out deck extension deployed. Weighing 3,500kg (7,826 lbs.) the SL26RTE is available with non-marking tires, making it ideal for all types of indoor and outdoor applications.
The zero emission SL26RTE delivers a long duty cycle, emits up to 60% less noise than the diesel equivalent and can be recharged in less than 6 hours. Maintenance-free lithium-ion battery packs reduce running costs up to 95% when compared to an engine and are shown to last up to twenty-times longer than lead acid batteries. The low voltage system is easily serviced, without the need for specialist high voltage training, and has been tested in climatic chambers between -25°C and +60°C.
Henrik Skibsted, Territory Manager for Scandinavia and the Baltics for Snorkel, said, "The Speed Level is an innovative design that has stood the test of time, so to now be able to offer its unique capabilities and impressive performance with the added benefit of zero emissions is a fantastic offering for our customer base in this territory."
"We are delighted that Steiness Liftcenter were the first to bring these fantastic lifts into the Danish market, and we look forward to seeing this technology at work on jobsites all around Denmark in the near future."