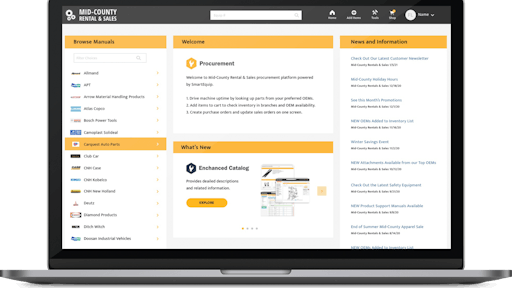 SmartEquip Inc., has released two newly configured custom e-Commerce 2.0 technology solutions. Both are designed to save sellers of single or multiple brands of equipment time and money while also presenting new revenue opportunities with drop shipping and B2C part sales.
"What we're hearing from our industry partners is the need for an all-encompassing online selling and support website," says Mike Kendall, VP of sales, North America. "SmartEquip's e-Commerce solutions solve both of those business needs quickly and efficiently as a complete digital support and selling solution."
SmartEquip e-Commerce Store is specially designed for equipment owners of multiple brands, while the SmartEquip e-Commerce Support for original equipment manufacturers (OEMs) is tailored to address OEMs unique needs for selling their parts and whole goods to both their dealer network and direct customers.
SmartEquip e-Commerce Store features:
A Parts Catalog Library where fleets, dealers, and all other equipment owners of multiple brands can now extend their supplier connections and provide direct access of available parts pricing and support materials to their customers.
Smart Cart Technology that provides real-time availability and pricing along with supersession management, all within the cart.
SmartEquip e-Commerce Support features:
OEMs on the SmartEquip Network leveraging their existing catalog integrations to boost sales.
Not on the Network? No problem – the catalog implementations make getting started fast and frictionless.
A fully branded environment with multi- or single-branded content, mobile commerce readiness, and payment processing options.
Request More Information
Fill out the form below to request more information about
SmartEquip e-Commerce Store and Support 2.0