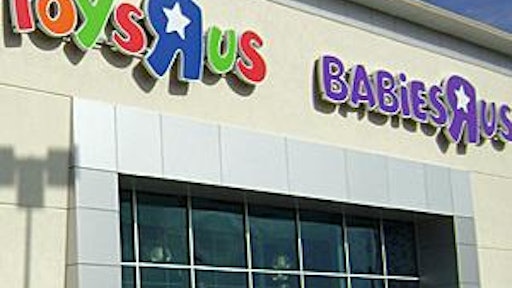 Toys R Us outlined an ambitious agenda today to open 21 new stores and renovate 23 others by the end of the year.
Central to the announcement are the company's plans to place Toys R Us and Babies R Us under one roof at the large sites. Eleven will be "R" superstores, each about 60,000 square feet, and the other 33 will be side-by-side stores that span 35,000 to 45,000 square feet.
At first take, the sheer size and number of the consolidated stores seem to be the story. But each site also includes a number of green building elements, part of a broader sustainability initiative that the company had been relatively quiet about.
According to Toys R Us, the new and renovated stores all have sophisticated energy management systems; outdoor signs with LED bulbs that last as least 2 1/2 times as long as the fluorescent bulbs they replace; low-flow plumbing and water fixtures that are expected to save about 34,000 gallons a year at each superstore; high-efficiency automatic hand dryers that use 80 percent less energy than standard devices and a cardboard baler that supports the company's recycling program.
In addition, some of the sites also are expected to have a daylight harvesting system; use low volatile organic compound paint and floor adhesives; or feature an entryway that keeps cool air inside during the summer, retains warm air during the winter and reduces the amount of air contaminants entering the property.
The elements are part of a longer list of green building efforts the company has made in recent years to reduce energy consumption, water use and the amount of waste sent to landfill, said corporate spokeswoman Katelyn DeRogatis. The firm also is working to improve indoor air quality and upgrade lighting inside stores.
Replacing outdated fixtures with energy efficient T8 lighting has reduced store electricity loads by as much as 25 percent and saved an average of 110,000 kilowatts of electricity at each store where lights are retrofitted. Since 2010, 324 stores -- about 37 percent of the stores in the U.S. -- have had the lighting upgrades.
Progress also has been made in recycling. More than 120,000 tons of cardboard and paper were recycled between 2008 and 2010, and 98 percent of the "R Us" stores and distribution centers now have cardboard balers.
The company also is increasing its use of renewable energy. It has three roof-mounted solar power systems in New Jersey that were installed in power purchase agreements: a 253-kilowatt array built in January 2010 at a Babies R Us in North Brunswick; a 296-kilowatt array that went up this year at a superstore in Secaucus, NJ; and the most recent, a huge 5.38 megawatt installation atop a distribution center in Flanders, NJ.
The company had announced its solar power projects but hadn't talked much about its other green building efforts. I asked DeRogatis what prompted Toys R Us to emerge from its quiet mode on green building.
GreenBiz Executive Editor Joel Makower noted in a post this week that there a number of reasons companies walk the green walk before talking about it. Some want to be able to point to progress before unveiling their efforts. Others may be working toward a smaller environmental footprint and transparency and don't want to get beat up with their own numbers by going public with initiatives too soon.
We'll see what Toys R Us has to say.