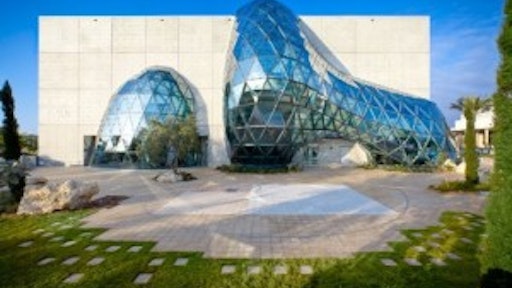 Visitors have always traveled to St. Petersburg, Florida to experience the Dali Museum since it opened in 1980. In January of this year, 2011, the New Dali Museum opened and is receiving an exceptional response.
The doors opened 1-11-11 at 11:11am for people to enjoy an incredible art collection within a building that is its own masterpiece.
The museum was designed by Yann Weymouth of Hellmuth, Obata, and Kassabaum (HOK) Architects. They used Building Integrated Modeling (BIM) to design the elaborate and organic-shaped structure.
The permanent collection that is housed in the New Dali Museum is called "Viva la Revelacion!" and is a collection that is represented in chronological sequence showcasing Salvador Dali's works. There are over 2000 pieces of art and 96 of Dali's most influential oil paintings on display.
The building was specially designed with salons around the perimeter of the gallery allowing artists to paint in natural light while being inspired by the exhibit of Salvador Dali.
The museum itself gives a distinct "Dali-esque" experience to visitors with a glass atrium entitled "Enigma" that was named after a painting series of Dali's. It is 3 stories tall and encompasses the gallery, salons and a beautiful spiral staircase.
It was also designed to withstand the elements.
The glass of the atrium is 1.5" thick, insulated and laminated and can withstand 135 mph winds in a Category 3 hurricane. The walls are 18" thick, cast-in-place concrete that can withstand 165 mph winds in a Category 5 hurricane. The roof is 12" thick concrete. The gallery is on the third floor and is protected by shutters that are built for hurricane resistance and the skylights offer not only natural light, but are tested to be hurricane resistant.