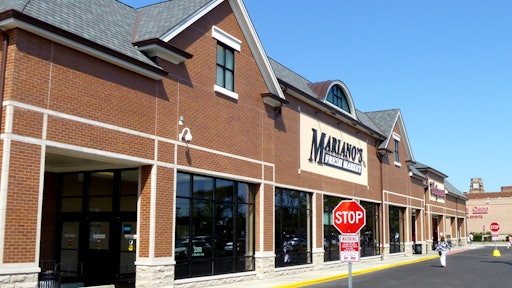 Regency Centers (NYSE:REG), a national owner, operator and developer of grocery-anchored and community shopping centers, announced that buildings at two of its shopping centers in North Carolina and Illinois have received LEED Silver established by the U.S. Green Building Council (USGBC). The certified projects are Market at Colonnade, a 57,637-square-foot ground-up infill center anchored by Whole Foods Market in Raleigh, N.C., and the 51,298-square-foot Mariano's Fresh Market at Roscoe Square, the company's first LEED-certified redevelopment, a 140,461-square-foot neighborhood center in Chicago, Illinois.
"The effort to reduce the environmental impact and achieve LEED certification for both of these projects exemplifies our commitment and belief in the value of our sustainability initiative greengenuity®," says Mark Peternell, Regency's vice president of sustainability. "We believe greengenuity leads to better risk management and cost savings, improves our communities, encourages innovation and is in the best interest of our shareholders."
The USGBC's LEED green building certification system is the foremost program for the design, construction and operation of green buildings. Since 2009, 80 percent of Regency's development and redevelopment projects have sought LEED certification. The company currently has 17 LEED-registered projects, including five that have received final certification, three more under construction, and nine in predevelopment.
Sustainability highlights at Market at Colonnade include:
Innovative Low Impact Design (LID) captures and reuses up to 300,000 gallons of stormwater runoff for site irrigation and plumbing. Regency collaborated with North Carolina State University on the design, monitoring the project's effectiveness and harnessing key learnings for improvement of stormwater management practices within the industry.
The development was honored with the 2011 Greater Triangle Stewardship Development Award, the 2011 City of Raleigh Environmental Award for Natural Resource Conservation and the Triangle Commercial Real Estate Women's 2012 Best Land Use Award.
The center's anchor, Whole Foods Market, earned LEED Gold for commercial interiors and partnered with the U.S. Department of Energy and its Net-Zero Energy Program Commercial Building Initiative to create an energy-efficient grocery space.
The project also includes two electric car charging stations for customer use.
"Market at Colonnade has set a new benchmark for environmentally responsible development of retail shopping centers in North Carolina. We would not have achieved this level of design without extensive public-private collaboration on Regency's stormwater management system. By leveraging this collaboration, Regency is able to reduce its impact on the environment and improve water quality which will benefit our community for decades," said Regency's Vice President of Investments Chris Widmayer.
At Roscoe Square, sustainability highlights include:
The 31-year-old center was retrofitted with a green roof and underground detention cistern to better manage stormwater runoff.
Building insulation, high-performance glazing and energy-efficient lighting strategies combine to reduce overall expected energy use by more than 20 percent compared to pre-redevelopment levels.
70 percent of the expected core and shell electricity usage for two years has been offset with renewable energy certificates.
223 tons, or 96 percent, of the construction and demolition debris generated during construction of the site and building shell was recycled. New materials used in construction were selected to maximize recycled content and regionally sourced materials.
"By collaborating with our anchor Mariano's Fresh Market, we were able to improve the customers' experience at the center while reducing our environmental impact," said Nick Wibbenmeyer, vice president and regional officer for Regency Centers. "Plus, together we achieved the first LEED certification for Mariano's Fresh Market."
Regency's ongoing commitment to greengenuity can be seen through steady improvement in its sustainability performance in five key areas: Green Building Certification, Energy Efficiency, Water Conservation, Waste Reduction and Renewable Energy. For more information, visit RegencyCenters.com/greengenuity.
About Regency Centers
Regency is the leading national owner, operator and developer of grocery-anchored and community shopping centers. As of March 31, 2012, the Company owned 365 retail properties, including those held in co-investment partnerships. Including tenant-owned square footage, the portfolio encompassed 49.8 million square feet located in top markets throughout the United States. Since 2000, Regency has developed 207 shopping centers, including those currently in-process, representing an investment at completion of $3.0 billion. Operating as a fully integrated real estate company, Regency is a qualified real estate investment trust that is self-administered and self-managed. For more information, visit RegencyCenters.com.