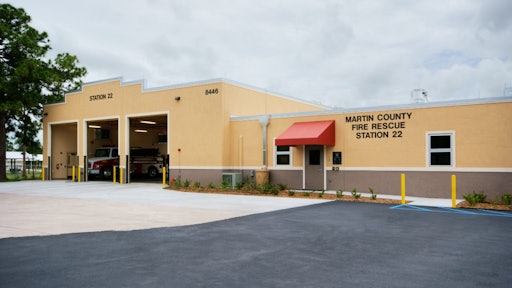 It only took five months from start to finish for Royal Concrete Concepts to construct Martin County Fire Rescue's new, green-certified fire station in Stuart, Florida. The 6,543-square-foot Tropical Farms Fire Station #22 was ready for occupancy less then six months after the construction permit was issued. The project was also completed at an industry-leading price point.

Speed of construction is just one highlight of this project that is the first to be certified through the v.2 Commercial Standard, by the Florida Green Building Coalition (FGBC), achieving 136 points within the certification program for its many sustainable features. The project is also one of the first commercial buildings in the state to be certified under the Florida Water Star Program, which is administered by the South Florida Water Management District (SFWMD), and it is certified under the Florida-Friendly Landscape Program.

Royal Concrete Concepts was the General Contractor for the project with Tercilla Courtemanche Architects, Inc. of West Palm Beach as the design firm. Martin County, which is itself certified at the Gold Level through the FGBC, continues its commitment to green initiatives with the completion of this project.

Royal Concrete Concepts' total precast solution added thermal and structural values to this sustainable fire station project. Those products included pre-engineered precast wall systems, roof systems, and modular components manufactured in its Okeechobee plant; which were transported and placed at the fire station site by Royal Concrete Concepts. All of these components were integrated with tilt-up wall panels cast on site to provide the optimum building solution for Martin County.

Tercilla Courtemanche ensured that the remainder of the project included sustainable features, such as a remotely controlled energy-efficient heating and cooling system and water conservation measures. Those features include instant hot water heaters, reflective roofing materials, EnergyStar equipment, water conserving fixtures and rainwater harvesting for irrigation.

The Royal Concrete Concepts team manufacturers and manages projects that include the placement of precast wall, floor/roof systems and modular concrete building systems that are safe, energy efficient and environmentally sustainable structures, with the ability to resist winds from a Category 5 hurricane. Royal Concrete Concepts is a qualified, Florida-certified general contractor and licensed for General Contracting Work throughout the entire state. Tercilla Courtemanche, a State Certified M/WBE firm, designs environmentally efficient facilities throughout Florida.