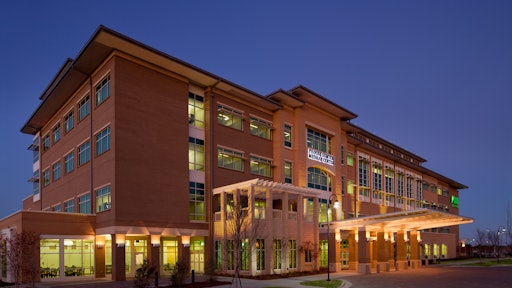 Phoebe Sumter Medical Center has received LEED Silver certification from U.S. Green Building Council on the fourth and final building, making it the first LEED-Silver certified medical center campus in Georgia. With every building now being certified LEED Silver, the campus includes a 190,000-square-foot, 76-bed hospital as well as three outpatient facilities: a women's and family health center, oncology and surgery center and a wellness and education center. Brasfield & Gorrie, Gresham, Smith and Partners, KLMK Group, and TLC Engineering for Architecture worked in conjunction with Phoebe Putney Health System to design and build the healthcare campus after an EF3 tornado swept through Americus, Georgia in 2007, demolishing the community's previous facility. December 2012 will mark the first anniversary of the new, environmentally-friendly medical center.
"Phoebe Putney Health System was excited to rebuild the post-tornado PSMC campus. Our focus was driven by not replacing the past, but rather designing and building for the future. The quest for LEED certification was very much a consideration throughout the design and construction process. We are proud that all four buildings are now officially certified," commented Joel Wernick, CEO, Phoebe Putney Health System.
Each of the facilities are designed to serve the community with patient focus, compassion and state-of-the-art services with an aesthetic that complements the town's historic core. To achieve Silver certification, numerous sustainable strategies were employed. Highlighted attributes include:
Sustainable site features which include stormwater management quantity and quality control measures and accommodations to support alternative transportation.
An installed irrigation system that utilizes captured rainwater and reduces potable water consumption for landscaping by 100% and total water consumption is reduced by 50%.
Energy efficiency measures were designed in each of the facilities and include an improved thermal envelope, high efficiency glazing, reduced interior lighting power density and high efficiency HVAC systems.
An extensive construction waste management program was employed diverting more than 1,400 tons of on-site generated construction waste from landfills.
A 26,000-square-foot green roof top to improve the hospital's thermal performance as well as provides positive patient distractions. It has the distinction of being one of the largest green roofs in the Southeastern United States.
"Meeting LEED standards has been a goal from the beginning," said Keith Petersen, Phoebe Sumter CEO. "We are proud for our community to have earned this prestigious distinction. It speaks to our commitment to quality for our patients and for the environment."
Brasfield & Gorrie provided preconstruction and construction services for each of the facilities. Gresham, Smith and Partners provided planning, architecture, and interior design. KLMK Group provided strategic counsel in various areas including launch gap analysis, project management and transition planning and move management. TLC Engineering for Architecture provided mechanical, electrical, plumbing, fire protection, and data/communication design services.
Brasfield & Gorrie is one of the nation's largest privately held construction firms, providing general contracting, design-build, and construction management services for a wide variety of markets, including healthcare, commercial, institutional, federal, municipal, industrial, and wastewater treatment. We serve clients from offices in Atlanta and Columbus, Georgia; Birmingham, Alabama; Dallas, Texas; Jacksonville and Orlando, Florida; Nashville, Tennessee; and Raleigh, North Carolina. Brasfield & Gorrie has approximately 2,400 employees, and its 2011 revenues were $1.7 billion. Engineering News-Record ranks Brasfield & Gorrie 32nd among the nation's "Top 400 Contractors" for 2012.
Gresham, Smith and Partners provides design and consulting solutions for the built environment that contribute to the success of national and international clients. For more than 45 years, GS&P has focused on enhancing quality of life and sustainability within communities. GS&P consists of industry-leading professionals practicing architecture and engineering design as well as scientists and highly specialized planning and strategic consultants in Aviation, Corporate and Urban Design, Environmental Services, Federal, Healthcare, Industrial, Land Planning, Transportation and Water Services. GS&P consistently ranks among the top architecture and engineering firms in the United States. For more information regarding GS&P, visit www.greshamsmith.com.
KLMK Group, Inc. (KLMK) is a leading provider of innovative solutions focused on the continuous improvement of the healthcare facility development process. The firm provides independent, objective and professional advice to owners involved in the planning, launch, management, and activation of new facilities and capital projects. With offices in Richmond, VA; Atlanta, GA; Birmingham, AL; St. Louis, MO; Houston and Dallas, TX; KLMK challenges clients and industry partners to embrace new models of care delivery that provide efficient and flexible alternatives for future growth. For more information on KLMK Group, visit www.klmkgroup.com.
TLC is one of the largest MEP and structural engineering firms in the country. Since 1955, our clients have counted on us to provide what is needed, when it is needed. Our approach is simple:  we understand our clients' needs, listen to their concerns, and work within their budgets. With corporate headquarters in Orlando, TLC also has offices in Cocoa, Dallas, Miami, Ft. Myers, Deerfield Beach, Tampa, Tallahassee, Jacksonville, Nashville and Chattanooga. Our 300+ person staff includes 84 PE's, 22 EI's, 93 LEED Accredited Professionals, 35 ACG Registered Commissioning Authorities, four Building Energy Modeling Professionals, five Healthcare Facility Design Professionals, and one Certified Indoor Air Qualified Professional. We also employ 11 Certified Plumbing Designers, eight RCDD's, two CPTED-certified professionals, five certified technology specialists, two certified energy managers, two lighting-certified engineers and specialists in Direct Digital Controls and BACNET Building Energy Management. We've provided engineering services for buildings in 46 states including Alaska and Hawaii, plus several foreign countries.