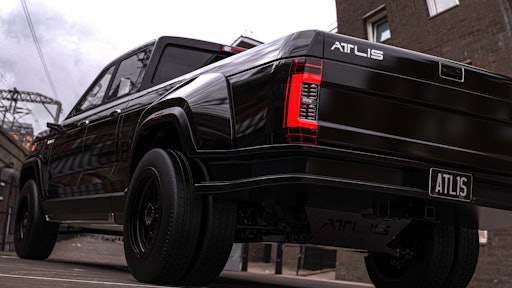 ATLIS
ATLIS Motor Vehicles, a mobility startup in Mesa, AZ, is developing an electric work truck and charging ecosystem to transform the Class 2B to Class 6 work truck market. It's first product offering will target ¾-ton diesel and gas trucks in the agriculture, service, utility and construction industries. The goal of the XT truck is to offer a 500-mile range battery that can be recharged in less than 15 minutes while accommodating upfits.
"We plan to completely change the work truck market to create an EV and charging infrastructure to compete with three-quarter-ton diesel trucks," says Mark Hanchett, CEO and founder, ATLIS Motor Vehicles. The XT pickup will feature four-wheel drive with independent traction motors at each wheel and regenerative braking with dynamic load control. The truck will ride on four-wheel independent suspension. Pricing is anticipated to start at $45,000.
"Those are hard requirements, hard specs that we are going to target," says Hanchett. In order to be successful, the performance has to exceed products that are currently available. "I'm a big believer that a new solution has to make a leap forward. We have to surpass the 3/4-ton diesel in terms of capability and experience. If you're talking about range, if you're talking about payload capability, if you're talking about towing capability, we have to meet that bar and exceed that bar. Our plan is still to be able to do that."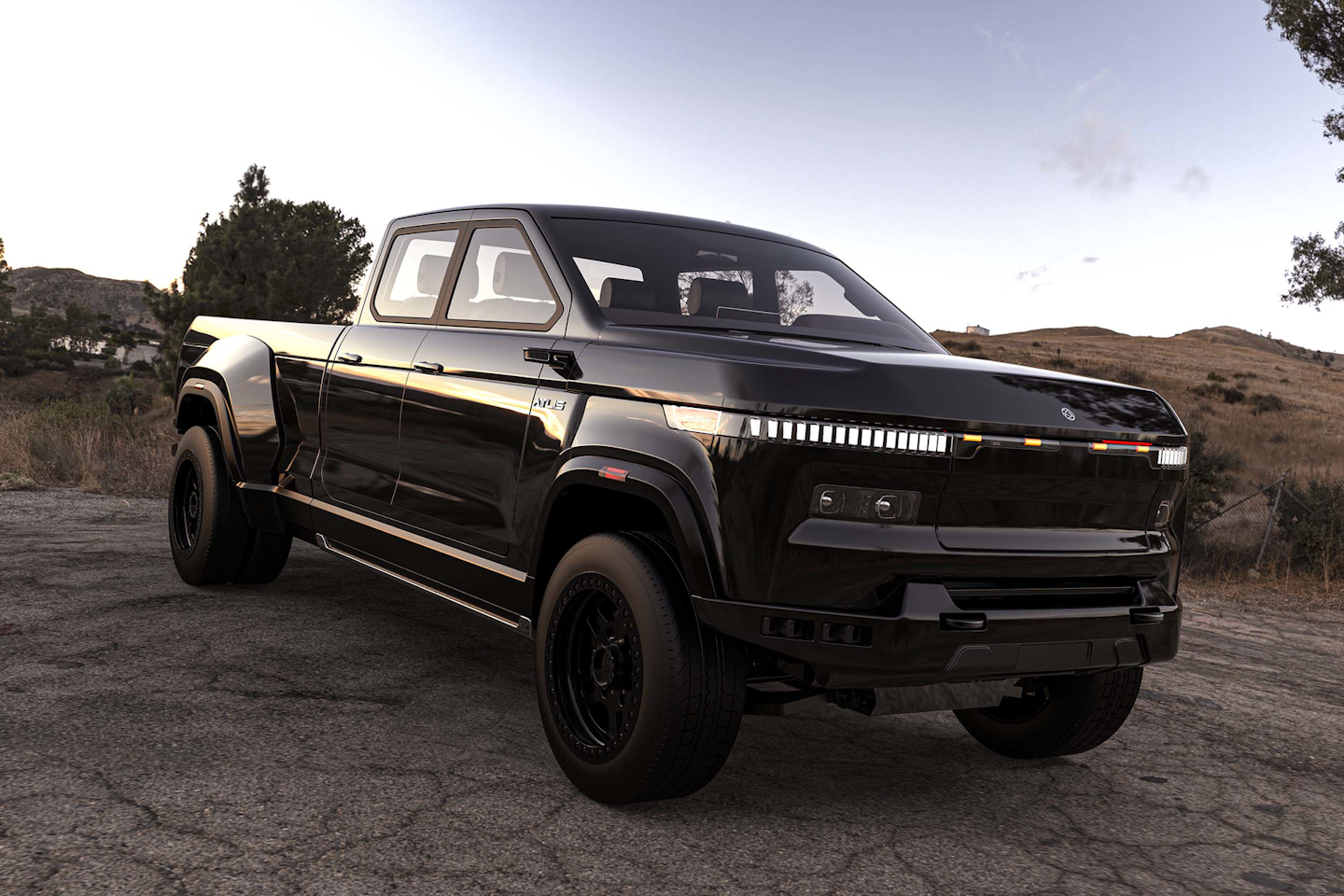 ATLIS Motor Vehicles plans to surpass the 3/4-ton diesel in terms of capability and experience with its XT truck.ATLIS
While several companies have announced plans to electrify ½-ton pickups, Atlis is really trying to stay, at least initially, in that 2B to a Class 6 in terms of capability. "We'll start with 2B to a Class 3 and then a Class 4," says Hanchett. "Think of your three-quarter ton and up. That's where we're focused." Right now there is no one claiming this space. "There are hybrid applications out there, but hybrid is a very complex, very expensive step forward versus making that big leap."
The demands on these heavy-duty trucks are much different that the Class 1 and Class2A markets represented by the ½-ton pickups. Heavy-duty trucks are often upfitted with specialized bodies and pressed into more severe applications. "The platform is being engineered for the upfit market. Initially, we'll start with that 2B to Class 3 market space. Then we'll expand that to that 4, 5 and 6 in the medium duty market after that."
Currently, the company is working on initial prototypes. "We have working prototypes of various different aspects of the vehicle," notes Hanchett. "The platform is working. Battery technology is working." The company is targeting the end of Q2 to have a prototype of the completed truck.
To meet the towing and payload capabilities of legacy-powered vehicles, ATLIS Motor Vehicle is developing proprietary battery technology and a modular system architecture capable of scaling to meet the specific needs of the all-electric vehicle. The design will utilize a skateboard-type chassis similar to that proposed by manufacturers developing Class 1 and 2A electric vehicles.
The key benefit will be commonality of components. "The drive module that's going to go in the lowest end vehicle to the highest end vehicle will be identical," adds Hanchett. This contrasts to a conventional truck where you need to select a different engine, transmission and gear ratios as you go up in size. With the electric work vehicle, the battery capacity will determine the performance.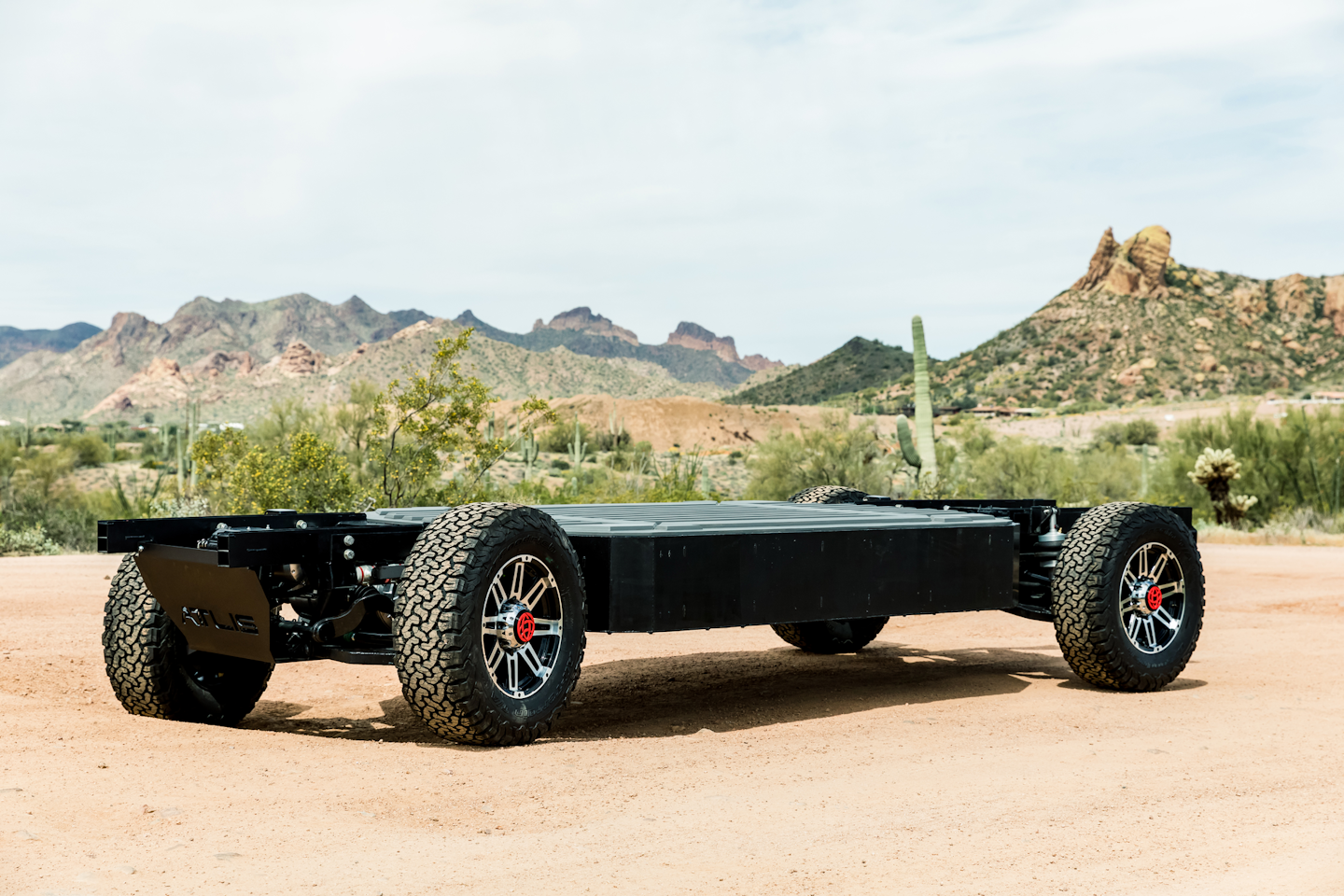 The design will utilize a skateboard-type chassis similar to that proposed by manufacturers developing Class 1 and 2A electric vehicles.ATLIS
The proprietary battery technology that can rapidly charge in 15 minutes is viewed as a key to success. "You can deliver something that competes with your diesel or big gas trucks today, but if it takes two hours to charge, it's a non-starter," says Hanchett.
"We have successfully designed, developed and tested prototype battery cells and packs that meet all necessary specifications," says Hanchett. "The next step is to move to small-scale production at our Arizona facilities." If the prototype lines meet ATLIS' performance and quality goals, the company will work with Greartech, its partner for comprehensive battery pack production, to explore development of high-volume lines designed to produce millions of cells and hundreds of packs per month.
More Than Trucks
ATLIS Motors views itself as more than a truck company. "Right now we are very focused on the truck itself and getting that to market," explains Hanchett. "But we're much bigger than that." The company is also focused on the charging ecosystem, the maintenance ecosystem and serviceability.
"A lot of people think of us as a sort of truck company," says Hanchett. "We're very much so a technology ecosystem company." The truck is a tangible that you can touch. "But the bigger picture is what we're doing with subscription ownership, what we're doing with the future of this ecosystem and how it applies to that end user."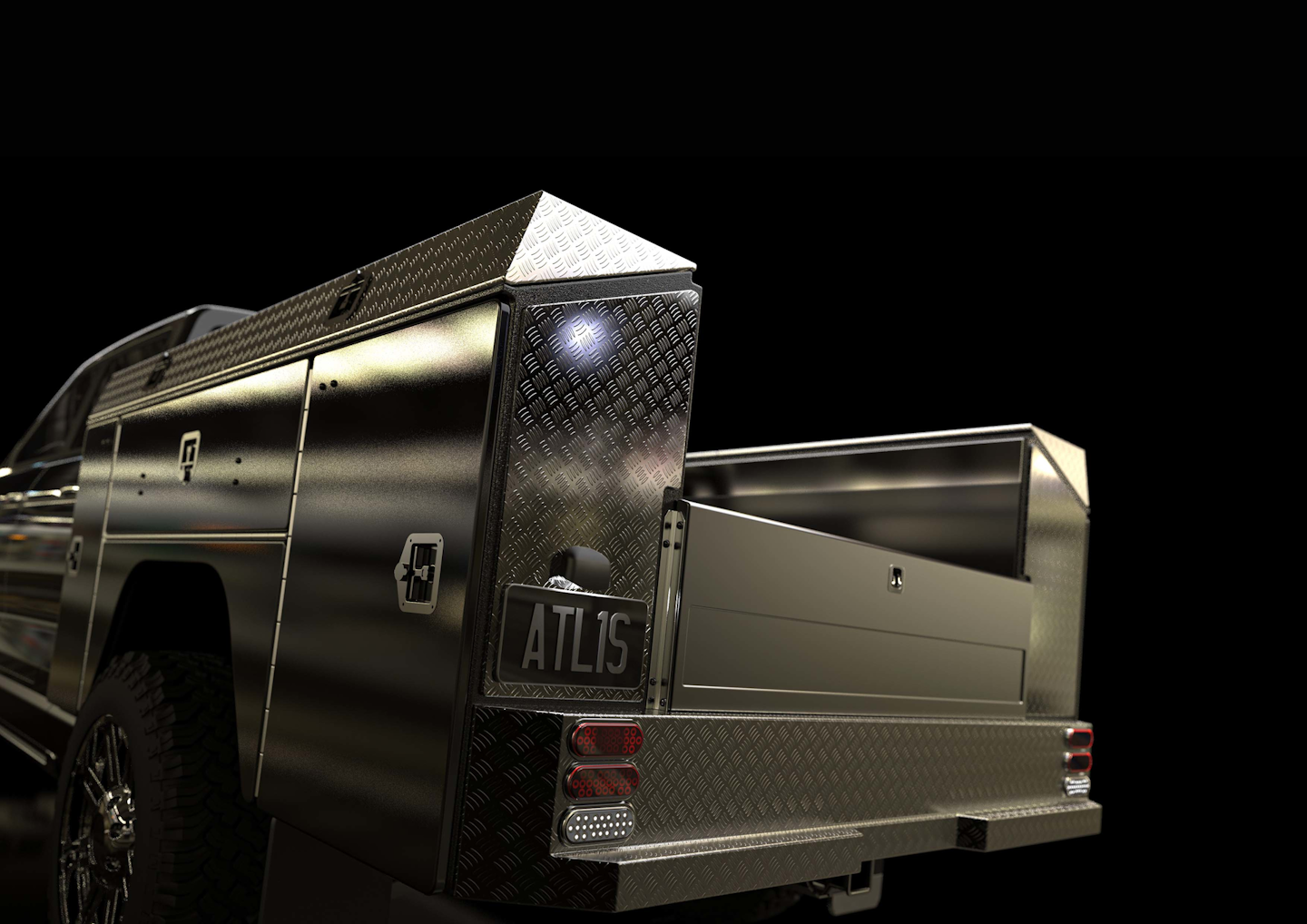 ATLIS has designed its electric trucks with upfit in mind.ATLIS
In 2020, ATLIS expanded its workforce to more than 50 people, and the company anticipates doubling it by the end of 2021. The first step is always proving the technology." Let's build the concept. Let's build that prototype. That's what we're focused on right now," explains Hanchett. "This year though is going to be a growth phase into next year and the following year. We're targeting towards the end of this year having production prototypes." In 2022 the company will start to ramp production. "We're hoping to grow to 300 plus by the middle of next year. Then it grows significantly after that, with a large emphasis on the technical roles up front versus the administration side of things."
As the company scales up, it plans to look for manufacturing space. "We are Arizona based our intention is to start here. We are looking at locations in Virginia as well as some of the northern states," he adds.
This is one company the you may want to keep an eye on. For more information, check out the ATLIS Motor Vehicles website.