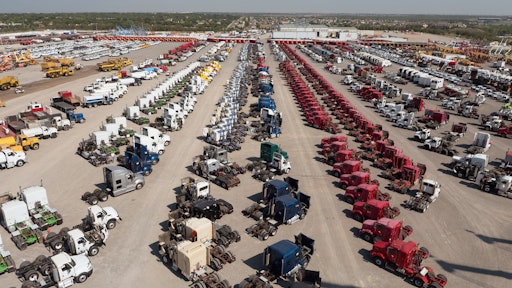 Ritchie Bros.
The supply chain issues and chip shortage that has gripped the auto industry has affected the equipment industry too. The OEMs (original equipment manufacturers) are experiencing headwinds in producing their products and meeting global demand. There are many factors causing these production blockages, but primary is the difficulty in procuring raw materials due to shipping bottlenecks, plus the well-known global microchip shortage.
This lack of new equipment supply has also caused reverberations in the used equipment marketplace.
"We are seeing a tight supply environment caused by low inventory levels and continued supply chain issues hampering OEMs production levels," says Kari Taylor, Chief Revenue Officer, Ritchie Bros. "Supply chain disruption is out of our control. What's in our control is productivity of our folks and then driving incredible outcomes for our customers."
Over the last 18 months Ritchie Bros. have driven unprecedented demand and strong pricing. Their most recent Fort Worth auction in July attracted 11,250+ bidders from 64 countries, which is up 4% from last year and 116% from July 2019.
Tight supply also affects pricing
Equipment scarcity has also affected equipment pricing. Ritchie Bros. monthly market trends report is showing prices increases in all major categories in 2021. The latest report, for example, is showing a 30% price increase for skid steer loaders. The July report also showed a 30% price increase for truck tractors. Aerial equipment, earth moving, and vocational trucks also saw big price jumps in the previous three months.
This unique supply environment presents a compelling question for those holding underutilized assets – is now a good time to sell? What are your assets currently worth in this market environment?