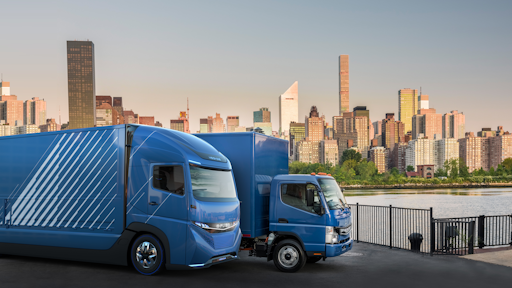 Mitsubishi Fuso Truck and Bus Corporation announces it will electrify its complete range of trucks and buses in upcoming years. At the Tokyo Motor Show, MFTBC launched its new product brand E-FUSO being the first OEM to launch a brand dedicated to electric mobility of trucks and buses. As proof, MFTBC showcased a concept all-electric heavy-duty truck with a range of up to 350 kilometers. The truck named E-FUSO Vision ONE - marks the top end of the electrification process the company will move towards in upcoming years. Substantial investments as well as access to the Daimler Network of battery and charging technology will back this strategy, and make E-FUSO the frontrunner in electric trucks.
The E-FUSO Vision ONE all-electric heavy-duty truck has a Gross Vehicle Weight (GVW) of 23.26 tons and a payload of 11.11 tons, which is only 1.8 tons less than its diesel counterpart. It can operate within a range of up to 350 km on a single charge.While the electrification of long-haul trucks will still need substantial time to become technically feasible, the potential application for the Vision ONE heavy-duty truck is regional intra-city distribution.
By developing the eCanter - from extensive design, development, testing and now through production, MFTBC gained valuable insights, which will help to bring an electric heavy-duty truck onto the streets within the next four to five years.
In addition to the E-FUSO Vision ONE, MFTBC also showcased its eCanter, the first series-produced all-electric light-duty truck, which was recently launched in New York City.
The eCanter has a GVW of 7.5 tons and a range of 100-120 km on a single charge. The first small series of the eCanter has been handed over to customers including: the convenience-store giant, Seven-Eleven, and Japan's largest delivery logistics provider Yamato. And in the United States, to United Parcel Service (UPS), and several NGOs, including Habitat for Humanity, Wildlife Conservation Society, and The New York Botanical Garden, who have also purchased the eCanter. It is, therefore, in operation in two of the world's largest megacities, New York City and Tokyo, demonstrating FUSO's concrete steps towards reducing air and noise pollution in urban areas, and its vision to help shape sustainable urban environments.