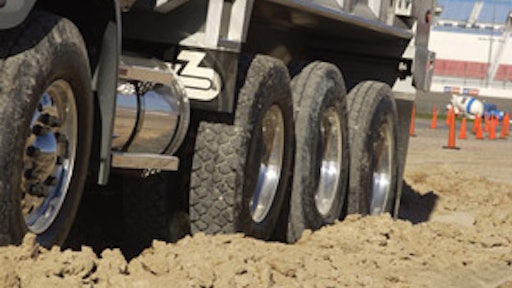 Class 8 truck suspensions serve multiple functions. It is important to understand the trade-offs inherent with all of the available choices since these suspensions directly influence the overall productivity, comfort and cost of ownership of the truck.
"It is the intermediary between the ground and the truck chassis," says Gerry Remus, vocational market segment manager, Hendrickson Truck Suspension Systems. "It helps control the axle in order to give you good ride quality, stability and off-road mobility."
Traction and roll stiffness vary between the different offerings. "The truck suspension plays an essential role in vehicle support, stability and mobility," says Al Zwicky, senior applications engineer, Peterbilt. "It is also an important consideration in determining vehicle weight and payload capacity."
In addition, the suspension isolates the shock loads. "It protects the driver, the body and the payload from damage going over different types of road surfaces," says Steve Ginter, vocational product manager, Mack Trucks.
Each type of suspension offers particular strengths and weaknesses. "Since each type of suspension provides a mix of different operating characteristics, it should be carefully matched to a customer's application and business requirements," Zwicky advises.
The weight of the suspension system will influence the overall payload capacity, and therefore deserves close examination. "In most cases, payload capacity continues to drive spec'ing decisions," says Zwicky. "The lighter the suspension, the more payload capacity the vehicle has and the more potential for productivity and profitability. There is also the potential for fuel economy advantages in lighter-weight vehicles, which can be an important consideration as customers look to lower operating expenses during times of elevated diesel fuel prices."
Durability and weight not related
"Durability is most critical in severe applications where heavy loads are carried over aggressive terrain," says Shawn Waterman, Construction Segment Manager for Sterling Truck Corp. "In such circumstances, it is important that the suspension and related chassis components be equipped to handle the job. This ultimately entails the use of heavy-duty crossmembers, suspension liners, additional springs and reinforced mounting connections. All of these factors certainly add weight to the vehicle. But with today's designs and materials, the weight increases are held to a minimum."
In many cases, weight has actually been reduced. "With the newer, advanced designs, there does not necessarily need to be a trade-off between weight and durability," says Zwicky. "The more efficient designs concentrate the suspension's mass at high stress points rather than an overall bulky design, optimizing strength where it is needed most."
Ginter adds, "Improved durability can be achieved without weight penalty by improving the design and optimum choice of materials. But you do add cost because some of the materials that provide weight savings are more expensive."
Balance ride quality with mobility
Ride quality really differentiates vocational suspensions. "Most suspensions will ride good loaded," says Remus. But unladen ride quality varies.
"It is pretty safe to say most vocational trucks are loaded half of the time and unloaded the other half," says Remus. "So what you really need is a suspension that gives you a good unloaded ride. Typically, when you get complaints about ride, it is when the trucks are unloaded."
The trick is to find a suspension system that offers the best mix of stability, traction and articulation with the best ride quality.
In off-road applications with rough terrain, this mix is skewed toward maximum articulation. "There is a balancing of the different characteristics, and articulation is most important because it provides equalization of the ground loads to each of the drive wheels," says Ginter. "If you encounter a road terrain where you have to exceed the articulation built into the suspension, then one of your wheel ends is going to be free. You probably will get stuck. There is a possibility you would overload the wheel end that is on the ground."
Keeping tires in contact with the ground at all times is the primary goal. "Really, what it comes down to with articulation is it allows the truck to maintain tire contact with the ground," Remus states. This reduces the potential for getting stuck off road and improves the truck's ability to traverse tough terrain.
Mobility is enhanced if the wheel ends can continuously transmit torque to the ground without slippage. "Articulation helps increase stability and improve mobility/traction by helping keep the tires in constant contact with the ground, even in the most adverse conditions," says Zwicky.
Walking beams excel at articulation
Many companies have a long history with walking beam suspensions. "Walking beam suspensions have been a proven suspension over the years - they provide optimal stability, especially with loads that have a high center of gravity," says Waterman. "Some of the new mechanical designs also provide superior stability, but also have improved ride characteristics."
However, the walking beam does distribute the load equally to each wheel end. "It provides the best load equalization during cross articulation," says Ginter. "You load that suspension and you will have virtually equal weight at the end of each walking beam. That will improve the mobility."
This load equalization is due to the articulation inherent to the walking beam design. "The advantage, first and foremost, is the articulation," says Remus. "Because it moves on a pivot point, you get outstanding articulation. You are able to go on- or off-road and conquer some of the toughest jobsites."
Traditional walking beam suspensions often sacrifice ride quality for articulation. "If there is a drawback to the walking beam, it would be that it doesn't provide as much cushioning," says Ginter. "Without spring elements or anything to isolate road inputs, it can be a harder ride. But from a durability and load equalization point of view, it is a robust suspension."
Hendrickson offers a couple variations of the walking beam suspension. This includes the traditional RT product and the Haulmaax, which incorporates a variable-rate rubber spring system.
The Haulmaax is designed to provide improved articulation, roll stiffness and ride quality compared to a traditional design. "There is a design feature in the spring system that gives you additional roll stiffness when you are loaded," says Remus. "When you leave the road with a load on, you have very good stability. But when you unload, the variable-rate spring system adjusts to provide a great ride."
Zwicky adds, "Rubber springs have played an important role in improving ride quality with these types of suspensions."
Rubber springs, or blocks, generally offer variable stiffness. "At low loads, the rubber spring has more flexibility," says Ginter. "Then at higher loads, the motion of the block becomes limited by the weight and the suspension stiffness increases."
Mechanical suspensions still popular
Mechanical spring suspensions have been around for a long time and are still a popular choice.
Ginter reports that over half of the Mack vocational trucks rolling off the line are equipped with the company's Camelback mechanical spring suspension. "It has obviously been doing the job and customers select it to accomplish the task," he states. "If you have the truck loaded and you have the proper mechanical suspension, you are going to have a fantastic suspension."
While mechanical suspensions generally offer very good articulation and reasonable unladen ride quality, the more complex designs may increase maintenance costs.
"When you get to a multi-rod or six-rod type of suspension, they have a lot more maintenance due to the fact that they have a lot more bushings and end rod connections, as well as leaf springs," says Remus.
Air cushions unladen ride
It is hard to beat an air-ride suspension for overall comfort. "Air-ride suspensions generally provide improved ride quality for greater operator comfort and reduced fatigue, as well as less wear and tear on the truck and body," says Zwicky.
"The biggest advantage with air-ride suspension is it improves the ride quality of an unladen, empty vehicle," says Ginter. "When you have a better ride when empty, that will help with durability of the body."
Waterman points out, "The obvious advantages of an air-ride suspension are comfort, the cushioned ride it provides and its light weight." Air-ride suspensions typically consist of few parts, leading to lower tare weights and reduced maintenance and related costs.
However, he adds, "Air-ride suspensions are designed for loads that require rear axle ratings of 46,000 lbs. and under. Thus, they are not ideal for heavy applications that have more robust requirements."
Ground clearance can also become an issue. "Air suspensions tend to have lower ground clearance than mechanical suspensions. That is sometimes a trade-off," says Ginter.
In addition, air suspensions have traditionally offered limited articulation. "In the past, air-ride suspensions used on vocational trucks were pretty much carryovers from on-highway vehicles, with bigger air bags, bigger cross support members and beefier components to dress them up like a vocational product," says Remus.
The results were mixed. "In the late 1990s into the 2000s, we saw a real pick-up in air-ride suspensions in vocational applications," says Remus. "Right around 2003 or 2004, it started to dip a little bit. What we heard was some of the customers who had tried air ride were not necessarily happy with the articulation."
But there are now products on the market that address this concern.
"Articulation and stability were two of the big obstacles that we have addressed with the Primaax suspension," says Remus. This is a heavy-duty air suspension designed specifically for off-highway vocational applications. It comes close to traditional walking beam suspensions in articulation, claims Remus.
The benefits of air ride go beyond driver comfort. "Any time you reduce the amount of road inputs and vibration coming up through the chassis, it is definitely a benefit," says Remus. "When you look at the cost of vehicle ownership, having air ride can do nothing but improve your situation."
An informed choice
"All of today's suspensions are designed to be durable, but there are some trade-offs. The customer must determine what is the most important factor in their operation," says Waterman. "Today's suspensions are designed specifically for certain applications, requirements and terrain. The customer must review required payload, terrain, stability, ride quality and maintenance to make an informed suspension choice."
Often, other end users working in a similar application or conditions can help. "Talk to other people operating in a similar application and find out what has worked well for them," says Remus. Then determine what criteria are important to you, whether it is cost, ride, stability or articulation. "Usually that will pair it down to one or two choices."
Bear in mind that different regions require different suspensions. "Look at the application within your region," says Ginter. "Look at what has been successful depending upon what business pursuit you are in. Use the information that is available to you and the salespeople at the dealership."