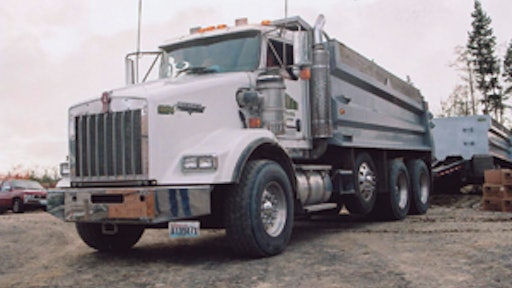 Traditionally, Class 8 trucks used in construction have been spec'd for a particular application and then purchased. But leasing is emerging as an attractive alternative. It keeps the vehicles off your balance sheet, freeing up capital for other expenses or investment opportunities. It also can reduce the need for service technicians, and allow the use of newer, more efficient trucks that are covered by a preventive maintenance program and warranty.
Consider the case of Lake Stevens, WA-based Rockman LLC. The company integrates quarry, aggregate hauling, site clearing, earthmoving and utility installation operations, serving as a one-stop site development contractor.
"The customer could just make one phone call and the next time they have to talk to anybody is when it is time for the concrete," says Chris Miller, non-managing member of RLF Millery Quarry, LLC (DBA Cascade Quarries).
"Everything is done, and you did it with one phone call and one vendor." The customer also works with a single management team. "You don't have to go looking for five or six other people or companies to try to figure out what was going on with the project. It makes it easier for us, too. We have control of the project."
This unique business model has resulted in rapid growth. "We have seen a $20 million growth in the company in three years," says Miller. He credits much of this success to careful growth management.
"You see the brass ring and you always think you can do a little more," Miller notes. "The big thing is to be careful to not overextend and get to where you can only do a good job at 80% when you want to do 100%."
This means getting the right people in place and trained before expanding, as well as avoiding over spending on equipment purchases.
Starting with used
Rockman LLC had a humble beginning with its three partners, ­Jerry Perkl, Chris Miller and Scott Miller. "We started our company with nothing," recalls Miller.
At first, the company operated its aggregate hauling business as a truck brokerage company. "As a small company, we were spending over a million a year for trucking services," says Miller. The company eventually re-evaluated its position and purchased a few used trucks and hired a mechanic.
The first used truck the partners purchased was a 1970 model with a 350-hp engine and a broken motor mount. Then they progressed to used models from the 1990s. "They were somebody else's hand-me-downs. [The previous owner] got rid of the trucks because they worked them hard," says Miller. The results were less than ideal. "They were down all of the time," he says.
Then the local Kenworth dealer, Kenworth Northwest PacLease, took the initiative and approached Rockman LLC with a leasing option. "One of their salesmen came to us and said, 'Your truck is in the shop a lot. Have you looked at this lease program?' " recalls Miller. "When we looked at it, my first thought was it is $3,400 a month for a truck and trailer. That is a lot of money." But when he realized he just had a truck in for repairs that cost $4,100 — not including the downtime — a light went on.
Leasing promotes growth
Today, Rockman LLC's fleet consists of a large number of Caterpillar construction equipment, as well as about 24 heavy trucks, including water, lube, dump and service vehicles. Ten of the trucks are under the a PacLease lease program. Eventually the program will encompass 100% of the truck fleet. "Everything goes to the leasing program now as [the trucks] get older and are replaced," says Miller.
The leasing option has provided many benefits. One example is a set monthly payment. As other costs fluctuate, the cost of leasing the trucks remains fixed. "It is off your books, which is kind of nice because you are not carrying that liability," says Miller.
"[The trucks] are new, so you don't have to worry about the warranty," he adds. And Rockman's two mechanics can now focus on the heavy iron since truck maintenance is provided through the lease.
"With the leasing program, if there are any problems with the trucks, you just bring them into the shop," says Miller. "They take care of it. You don't have to worry about it. If you need a loaner truck, they supply it." This eliminates downtime previously experienced with used trucks.
The contractor has changed its replacement strategy as a result of the truck leases. Trucks are leased for four years. "Then we make the decision that they can either stay in our fleet and be the hand-me-down to the newer guys," says Miller, "or we replace them."
There are advantages to purchasing the trucks at the end of the lease. "All of the depreciation has been taken off of the vehicle," Miller notes. "When you finally do decide to buy, it is coming on your balance sheet at a lower price."
You also know exactly what you're getting. "You have the history on it," Miller points out. "You have all of the maintenance records."
Spec'ing trucks is simplified
Prior to the leasing solution, Rockman LLC had a mixed truck fleet. "We had five different brands of trucks and three different motors," says Miller. "It was just a fiasco." Parts could be found for some models and not others. Some mechanics knew how to work on one brand of engine, but not the rest.
Now there is consistency in the fleet. "You try to spec everything the same," says Miller. For instance, all of the engines are Caterpillar. This fits with the Caterpillar equipment the company purchases through NC Machinery, allowing for a second level of support.
And the spec'ing process has been simplified. PacLease helped Rockman LLC to spec trucks to meet its unique requirements.
"We give our specs over to Kenworth and that's the truck we get," says Miller. "On one of our service trucks, we actually threw them a curve. We wanted a combination service truck and lube truck — not just for a lube person, but for a mechanic to drive it, too. So it has a few extra things on it. That wasn't a problem. They put it to our specs and we had it in about six weeks."
Does leasing make sense for you?
According to Miller, you can streamline your lease to what is best for your company. "We stay local within a three-county area. For us to hit any mileage barriers is almost impossible," he explains. "So for us, the biggest thing is keeping the warranties as long as possible on the rigs themselves. Our trucks will actually be covered under warranty until their leases are up."
However, before you investigate leasing options, you need to make sure leasing actually makes sense for your application.
"Leasing is both a financial and an operational decision," says Olen Hunter, PacLease director of sales. "Financially, customers can deploy capital in other parts of their business that will generate a higher return than investing in rolling stock. Rather than taking hard-earned capital and putting it into a depreciating asset, they can reserve that capital to grow into another market or expand their business."
Then you need to look at the operational side of the equation. "From an operational perspective, it also has to make sense" says Hunter. "If the customer feels they are doing a fine job purchasing, selling and maintaining their own equipment, then there is really not a lot we can offer. If they feel they could be doing better in any one of those areas, we need to talk. It goes back to core competencies. Do you want to be in the truck spec'ing, maintenance and sales business, or do you want to be a contractor leasing your trucks as a means to an end?"
Many of the leasing options include a maintenance package. "That is another good example of use of capital," says Hunter. "Does the contractor want to invest in a diesel truck shop and have to hire, train and retain technicians, which can be just as tough as hiring, training and retaining truck drivers? It is becoming a huge issue for staffing maintenance facilities."
Ultimately, the intention of the leasing option is to ease the fleet management process. "Leasing is all about trying to simplify a customer's transportation business," says Hunter. "They can focus on areas of the business that are core to them and get a higher return."
This is making leasing a more attractive option. "We see the vocational market as one of the fastest growing segments in our portfolio," says Hunter.