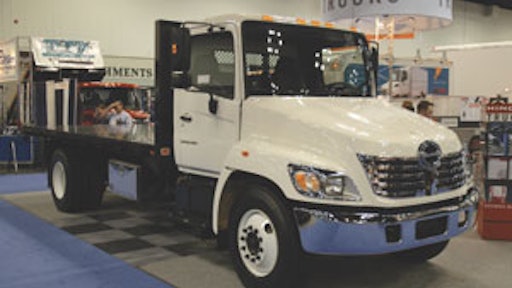 Many new products were unveiled at the annual Work Truck Show. This includes everything from bodies to chassis to components - all designed to transform your work vehicles into more productive tools. The following are some of the products new to the market this year.
Hino trucks
Hino offers a line of trucks with GVWRs from 14,050 to 33,000 lbs. in varying wheelbases. The company builds its own four- and six-cylinder engines, which combine high-pressure common rail fuel injection, variable geometry turbochargers and cooled EGR to produce fuel-efficient, EPA-compliant designs.
A joint venture with Toyota, Hino trucks are built in the United States and use proven U.S.-made driveline components on a 34-in. frame. For example, Hino worked with TRW to develop the steering package. Allison or Eaton transmissions, Dana drive shafts, Hendrickson suspensions, Meritor axles and Accuride wheels are all available.
The trucks use galvanized steel cabs with extra rigidity for ride comfort and noise reduction.
International PowerPack
International Truck and Engine Corp. addresses the needs of customers who require a reliable auxiliary power source when on the jobsite. The International Diamond Logic PowerPack 3 is built right into the truck. This 3,000-watt AC power system is a factory-installed option on medium-duty and severe-service vehicles.
This system virtually eliminates the potential for theft and the high costs of maintaining a gas-powered generator. It turns the truck into an integrated mobile power source.
The PowerPack 3 is a surge-free system that is enclosed within the battery box, not intruding on valuable cargo and compartment space.
Real Power AC generators
Contour Hardening Inc. introduces a fully-integrated AC generator powered off of the transmission of a light-, medium- or heavy-duty truck. The Real Power chassis-integrated generator system includes a PTO gear designed to offer an exact fit for Ford and General Motors manual and automatic transmissions, as well as Dodge manual transmissions.
The lightweight, low-maintenance and low-profile generator mounts under the floor pan of the truck, between the vehicle's frame rails. There is no lost ground clearance, and no modification to the floor pan or the chassis is required.
The generator is capable of producing a continuous 12,000- or 15,000-watt stream of power. Electrical power flows to both 120- and 240-volt outlets located in a weather-tight panel in the bed of the truck.
AmeriDeck SuperDeck lift
The SuperDeck by AmeriDeck quickly and easily loads cargo from ground level into any full-size pickup in less than one minute at the touch of a button. All loading and securing of cargo is done at ground level, reducing the chance for damage and personal injury.
The cargo deck measures 57" x 96" and has a 2,000-lb. load capacity. An optional aluminum deck has a 1,500-lb. load capacity. Standard units weigh in at 720 lbs., with the aluminum unit weighing 620 lbs.
The SuperDeck is powered by a 12-volt power pack, and comes with a hand controller with an 8-ft. lanyard. It installs in approximately 2 hours and requires no vehicle modifications. There is also no interference with trailer hitches.
Rostra Precision Controls
rear view camera
Rostra Precision Controls unveils the RearSight rear view camera and monitor kits, which are designed to reduce backing accidents. These kits are made for any vehicles with reduced visibility or equipment that extends from the rear.
RearSight sees and displays objects that the mirrors cannot reach. The camera is powered on when the vehicle is placed in reverse gear.
With a low LUX rating, the system will work well at night and in the poorest weather conditions, such as fog, rain or snow.
Crysteel ProMax Super Dump
The ProMax Super Dump from Crysteel features an air-suspension trailing axle from Silent Drive. This increases capacity and stability. The tailing axle raises and lowers with a standard PTO, and it does not interfere with dumping operations.
A patented high-lift hydraulic tailgate allows up to a 6-ft. clearance when dumping. The body is available in either elliptical or square styles.
An exclusive sloped front design accommodates the hydraulic cabinet, reservoir and hoist, virtually eliminating the doghouse. All hydraulics are housed in this aluminum cabinet for easy access and protection.
Vforce Power Lifter
The Vforce Power Lifter from Littlestar Products turns your pickup into a heavy cargo hauler in less than five minutes. It simply attaches to your Class IV trailer hitch.
The unit uses a hydraulic system powered by the truck's electrical system. It can handle up to 1,000 lbs. Fully enclosed hydraulics eliminate hoses, fittings and pinch points commonly found on hydraulic lift systems.
A hand-held remote allows the operator to keep a safe distance from the load. Installation and removal is a one-man operation and requires no tools. You can leave the Vforce on the truck without interfering with normal truck operations. The lifting arm is designed to store and rest securely out of the way atop the truck bed side rail. You can also tow trailers with the Vforce attached.
Raven under-hood generator
Raven Technology has developed an under-hood mobile power system that produces 120-volt, pure sine, 60-Hz AC power regardless of engine speed. The Blackbird provides a full 5 kW while allowing the vehicle prime mover to stay dedicated to its primary task. It eliminates the need for an additional engine to power a generator.
There are no hydraulic fluids, hoses or valves, as well as no inverters or converters. The Blackbird is driven with a clutched belt drive.
Raven provides a complete installation package along with the generator. Popular platforms are supported, including the Ford 6.0L and 7.3L Powerstroke and 5.4L Triton V8, Caterpillar 3126 and International DT466M/DT530/DT570. Kits for the Chevy Vortec 5.3L and Duramax diesel engines will be available soon. PTO drive and 110/220-volt AC models are also under development.
Stellar 6628 crane
Stellar Industries introduces the 6628 telescopic crane, which offers 28 ft. of hydraulic reach with a maximum lifting capacity of 6,000 lbs. at 6 ft. The crane has a 38,000-ft.-lb. capacity. It can lift 1,350 lbs. at the full 28-ft. reach from the centerline of the crane. Winch speed is rated at 60 fpm.
The crane utilizes a hexboom design, which provides a stronger cross section than square tubing. This design eliminates boom flex and side-to-side movement.
Heil Scissor Hoist
The 1614 Scissor Hoist from Heil Environmental lifts dump bodies on vehicles with a GVWR of 20,000 lbs. and up. The hoist uses a 6-in. cylinder with a 14-in. stroke and a body/payload capacity of more than 25 tons.
The 1614 Scissor hoist is fabricated of high-tensile steel for maximum strength without unnecessary weight. Grease fittings at all pivot points and simplified installation make maintenance easier and increase the hoist's useful life. High-pressure hydraulics give an extra boost to the cylinder's lifting capacity. In addition, operators have complete positive control at all times through the hoist's power-up and power-down double action, preventing kick-back.
Maintainer Signature Series
Maintainer Corp. of Iowa offers the Signature Series 1 service body. the pictured truck features a 6000 Series tall tower crane that features a hexagonal boom design with 24-ft. reach and a 6,350-lb. maximum capacity.
The 11-ft. servicee body is made of 12-gauge galvannealed A 60. Other features include 3/16-in. single-piece aluminum doors, a pressurized storage system, a 26-in. workbench heavy-duty-bumper with vise mount, interior strip and exterior flood lighting and a Line-X protective spray covering.
The closed center, load-sensing hydraulic system allows for one pump with multi-function operation.