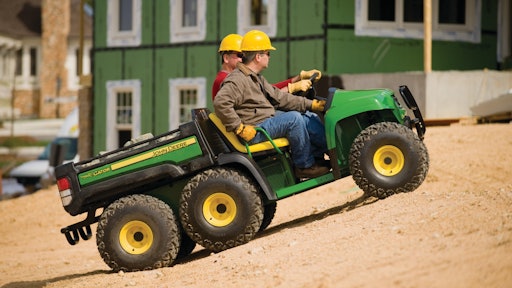 When navigating a large jobsite, a conventional truck may not always provide the best solution. Soft underfoot conditions, confined spaces or rough terrain may favor an alternative form of moving people and tools or supplies.
A utility vehicle (UTV) can serve as an excellent compact alternative, saving wear and tear on your pickup fleet. With a price tag around a third of a typical 1/4-ton pickup, the UTV offers low ground pressure and go-anywhere capability to haul people and materials safely and efficiently.
Payload capacities for these vehicles can range from as little as 500 lbs. to several thousand pounds. "Our diesel RTV900XT, RTV1140CPX and RTV1100 feature ½-ton cargo carrying capacity," notes Dan Muramoto, Kubota product manager. "The RTV400ci and RTV500 models feature 440 lbs. of cargo carrying capacity."
John Deere and Cushman both offer payload capacities ranging from 800 to 1,600 lbs. In addition, some beds provide hydraulic or electric lift for the dump bed to help handle these loads.
"Whatever the hauling or transport need on a jobsite, a UTV can be a great alternative to a pickup truck or other transporter," says Kevin Lund, product marketing manager, utility vehicles, John Deere. The UTV can deliver excellent capability in rough terrain, while maintaining operator comfort and safety.
"There are often places that an operator doesn't want to take a pickup truck due to the risk of damage to the vehicle or very difficult terrain," Lund comments. "A UTV can also provide better fuel economy for short hauls and transport. And as a smaller vehicle, UTVs can often fit in places where a pickup truck won't."
Know What You're Doing
According to Darryl Heffline, vice president, commercial for Cushman, several types of construction jobsites are well suited for UTVs:
those with close quarters or limited access that require vehicles to navigate narrow paths or turn around in confined spaces;
those with imposed CO2 limitations where electric or even gas-powered UTVs offer lower emissions than trucks;
those with specific work needs such as mobile welding stations where the UTVs can be easily customized;
pedestrian environments where walkways are narrow and have limited vehicle access.
"Customized vehicles provide a range of solutions for the specific needs of a jobsite, including mobile welding stations, integrated parts bins, and vehicles with ladder racks and specialized cargo management systems for materials such as lumber, pipes and conduit and rebar," Heffline points out.
UTVs are also easy to use. "They are easy to get into and out of, and if the job is picking up trash, short hauling or just moving around, a UTV can be both more efficient and more convenient," says Lund. "Once you bring a UTV on a jobsite, you'll realize that it quickly becomes the most frequently used piece of equipment."
But you need to understand your application to choose the correct UTV. "In general, a purchaser who hasn't owned a vehicle before will have three to five things that really drive their consideration," says Lund. "Based on terrain requirements, speed requirements and payload capability, the vehicle selection is generally not difficult for the limited uses that are driving the purchase."
Before you make a purchase decision, consider the versatility you might need for future jobs. "Are there areas where you might use the vehicle that are difficult to traverse? Might you need to carry more people? Will there be times when you really want to have maximum payload capability?" Lund asks. "It's generally less to get the vehicle you need the first time than to buy one and have to trade after a year because it doesn't have the capability you need."
Fuel efficiency is an important consideration. "The Kubota RTVs, with their economical, efficient Kubota diesel engines, are much more efficient than pickup trucks," asserts Muramoto. "In fact, a state penitentiary which uses RTVs for perimeter patrol claims that the comparative fuel savings for one year pays for the RTV's purchase price. Additionally, the RTVs are much easier for the operator to get in and out, so they are ideal for quick, repetitive transport requirements."
Various Choices to Put Power to the Ground
While most UTVs are gasoline powered, several diesel engine models are available. Powerplants typically range from about 300cc to more than 800cc. This translates to between 20 to 40 hp, but there are models that reach up to 70 hp. Electric-powered variants are available for customers looking for a low-emissions option, but they are heavier, cost more and require recharging time.
"Heavy construction sites are mostly dominated by diesel products, and fuel communization is important," says Heffline. "Cushman offers UTVs with electric, gasoline, diesel and hybrid options."
John Deere offers both gas and diesel vehicles, as well as an electric model. "Advantages of diesel include fuel economy, torque and the convenience of having common fuel with other equipment," says Lund. "Diesels are generally more expensive, so careful consideration should be given to the necessity for diesel on the jobsite."
There are many drive axle variants, including 2x4, 4x4, 6x4 and 6x6. From personal experience, the two-wheel-drive variants are sufficient for most terrain. And all UTVs offer variants with an automatic transmission.
The choice of drive system depends on how the vehicle will be used. "Most 2WD vehicles can handle mud with the differential lock engaged. But they also tend to have lower under-frame clearance, which means they will bottom out sooner," says Lund. "Most people choose 4WD because they never know what they might want to get through, and those configurations give them the most terrain capability."
Yet, there are applications where 4WD is not needed and can even be detrimental. According to Lund, these are primarily turf applications, such as ball fields or commercial property sites.
"The 4WD is not always necessary," Heffline agrees, adding, "Some jobsites may only require 2WD, and with options like a limited-slip differential and manually locking differential, a 2WD vehicle can navigate a difficult worksite nearly as well as a 4WD machine at lower cost."
Before you decide on a 2WD vehicle, however, make sure you consider the full range of potential uses for the UTV on your jobsite, Lund cautions.
While some UTVs can travel up to 50+ mph, the speed can also be restricted to meet government or jobsite requirements. "In the Gator line-up at John Deere, we have low-speed work vehicles (25 mph and below), as well as higher speed vehicles up to 53 mph," says Lund. "Some higher speed vehicles are capable of being converted to lower speed vehicles with electronic controllers. We also have the ability to customize the speed for multiple speed settings, based on the customer needs."
Features to Customize Your "Mini-pickup"
Most UTVs can be configured like "mini-pickups," with many offering power outlets for charging electronics, and features such as electronic powering steering for low-effort control and electronic fuel injection (EFI) to ensure easy starts and efficient running regardless of the weather or altitude.
"To keep operators and passengers comfortable in all weather conditions, we offer a number of optional amenities, including hard and soft cabs, heater, fans, weather enclosures, wind screens, vehicle roofs and canopies and removable doors," says Heffline.
UTV suppliers typically offer a laundry list of options. "The most popular accessories for jobsite applications include metal canopies (FOPS rated for the RTV900XT), front and rear work lights, beacon/strobe lights, backup alarms, extended oil dipstick (allows oil level checking without raising the cargo box," says Muramoto. Kubota also offers air conditioned cabs.
"John Deere offers more than 250 accessories for its UTV line-up, and the selection will depend on the job to be done, the environment and the flexibility that is needed," says Lund. "For heavy hauling jobs, a contractor might consider a power dump box, side extensions, a spray-in liner and brush and fender guards." Multiple light kits, protection packages, winches, pull-behind trailers, full glass cabs, heaters, front blades and other options are available.
"Durability, reliability and safety are the three key requirements that contractors should consider when shopping for a utility vehicle," says Muramoto. "While there are many utility vehicle brands that claim their products are designed for work, close examination of the robustness of the suspension and frames, as well as overall fit , finish and a choice of materials will indicate whether or not a utility vehicle is purpose built for 'contractor grade' jobsite applications."
Gain Access with Crawler Carriers
Further up the food chain is the crawler carrier. "Applications for the crawler carrier are very broad," says Mick Heibert, crawler carrier specialist, IHI Compact Excavator Sales. "They are built to take on terrain where you would not take a chassis truck due to the working angles or grade, ground conditions or sensitive environmental areas."
The standard crawler carrier typically comes with a dump bed. Bed sizes range from 1.5- up to 10-cu.-yd. capacity, with maximum payload capacities ranging from 5,000 to 33,000 lbs.
A steel or rubber track undercarriage provides low ground pressure for working in soft underfoot and environmentally sensitive areas. Rubber-tracked versions add to the versatility because they don't tear up the ground or road surface like steel track models.
"IHI has four models of crawler carriers with the highest fully loaded ground pressure measurement at just under 8 psi," says Heibert. "This allows traveling in very wet or environmental areas without a large impact due to rutting or 'pumping' of the ground. Jobsite ground damage is a huge factor in today's construction methods. The less you damage, the less you have to repair."
Terrain-ability follows very closely to ground pressures. "Our crawler carriers have 30 degree gradeability on a track frame with floating 'bogey' style lower rollers and steel-belted solid rubber tracks," says Heibert. "The floating rollers keep the track on the ground, while the rubber tracks give you the best traction on all terrains and ground conditions whether it is mountainous terrain or sugar sand."
The ability to customize crawler carriers to specific applications, with flatbeds, cranes, drill rigs, etc., makes them a versatile addition to the fleet. They can be adapted to become mulching machines, mat carriers, hydroseeders, welding units on tracks, water tank carriers, off-road service vehicles – or anything else you can dream up where the advantages of a low-ground-pressure vehicle can be utilized.
"We customize for every application individually," says Heibert. "If the crawler carrier is being used to move aggregate, we can offer a variety of different beds or tailgates for emptying materials." Then there are different utility applications. "We can customize everything from electrical power sources, to hydraulic pump attachments, to frame adjustments to fit the attachment you want to install. Basically any attachment that you would add to a chassis on tires can be added to a tracked chassis."
Companies in this article