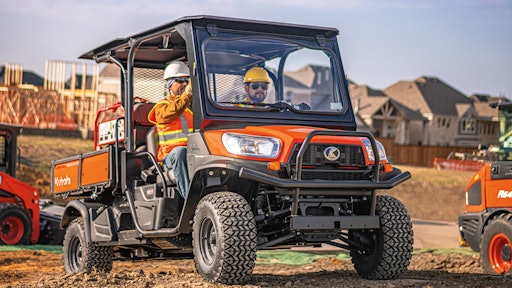 Kubota
Crews running across the construction jobsite in a full-size pickup is a common site. But with the cost of these trucks often exceeding $65,000, is this the best use of this critical asset? The off-road terrain can accelerate wear and tear, while the heavy trucks can also be hard on the jobsite terrain. There are better alternatives for transport on sensitive terrain or unimproved surfaces.
The modern UTV exerts much less ground pressure, is designed to live in the harshest jobsite conditions and costs substantially less to replace than a pickup truck. "A major benefit of UTVs is that they are capable of traveling on a variety of terrains, including mud, sand, dirt and rocky surfaces while transporting a variety of cargo," says Maureen McCormack, go-to-market manager, John Deere Gator Utility Vehicles. "Work UTVs are specifically designed to carry heavy cargo at slower speeds while minimizing damage to the terrain." They can also be used to tow up to about 2,000 lbs., depending upon the specific model.
UTVs continue to prove their value by solving customer problems. For instance, smaller vehicles can navigate tight spaces better. They can also be used to tow up to about 2,000 lbs., depending upon the specific model.Polaris Commercial
While the average UTV's payload is about 800 lbs., the largest models can carry almost a ton. This allows them to handle tasks that once required a pickup truck. The higher ground clearance of many UTVs also makes these units able to navigate over obstacles that would hang up many pickup trucks. Skid plates on UTVs protect the more vulnerable components and the vehicles typically burn less fuel. There are even electric UTVs for applications where you want to eliminate emissions.
Technology upgrades and an expanding options list over the last 10 to 15 years have helped drive the market. "As a result of this increased capability, more construction customers are using the 'right-sized' vehicles to replace their full-size trucks and vans as UTVs are purpose-designed for off-road terrain," says Nick Snidarich, product manager, Polaris Commercial.
According to Snidarich, utility vehicles designed for the jobsite are compact, purpose-built machines to move people and equipment over off-road, over the curb or hard pack terrain where other vehicles are not designed to operate. A work utility vehicle provides cost benefits to buy, operate and maintain over pickup trucks.
"Most automobiles are designed for the experience on the road, and those built for off-roading are performance driven," says Jacob Mandoza, RTV senior product manager, Kubota. UTVs are uniquely tailored to jobsite demands.
The benefits of UTVs are driving industry demand. "These are getting a lot more popular on jobsites," says James Crouch, UTV product manager, Bobcat. "They are gaining popularity and I don't see that stopping anytime soon. If you look at the industry numbers, this year we're probably going to be close to 700,000 UTVs sold in the U.S. It's a huge market."
The UTV is no longer a well-kept secret. "I believe that acceptance will continue to grow as awareness of the product grows," says Mandoza. "Once folks are able to see the benefits utility vehicles provide to the jobsite, demand will increase for the product."
Adoption Increases Efficiency
"UTV usage on construction jobsites is becoming increasingly popular as contractors recognize that these units are reliable and durable, and that their crews can complete tasks faster and more efficiently," says McCormack. "Additionally, UTVs with climate-controlled cabs can offer both operator and passenger additional comfort in varying weather conditions, which can be a key factor for employee retention."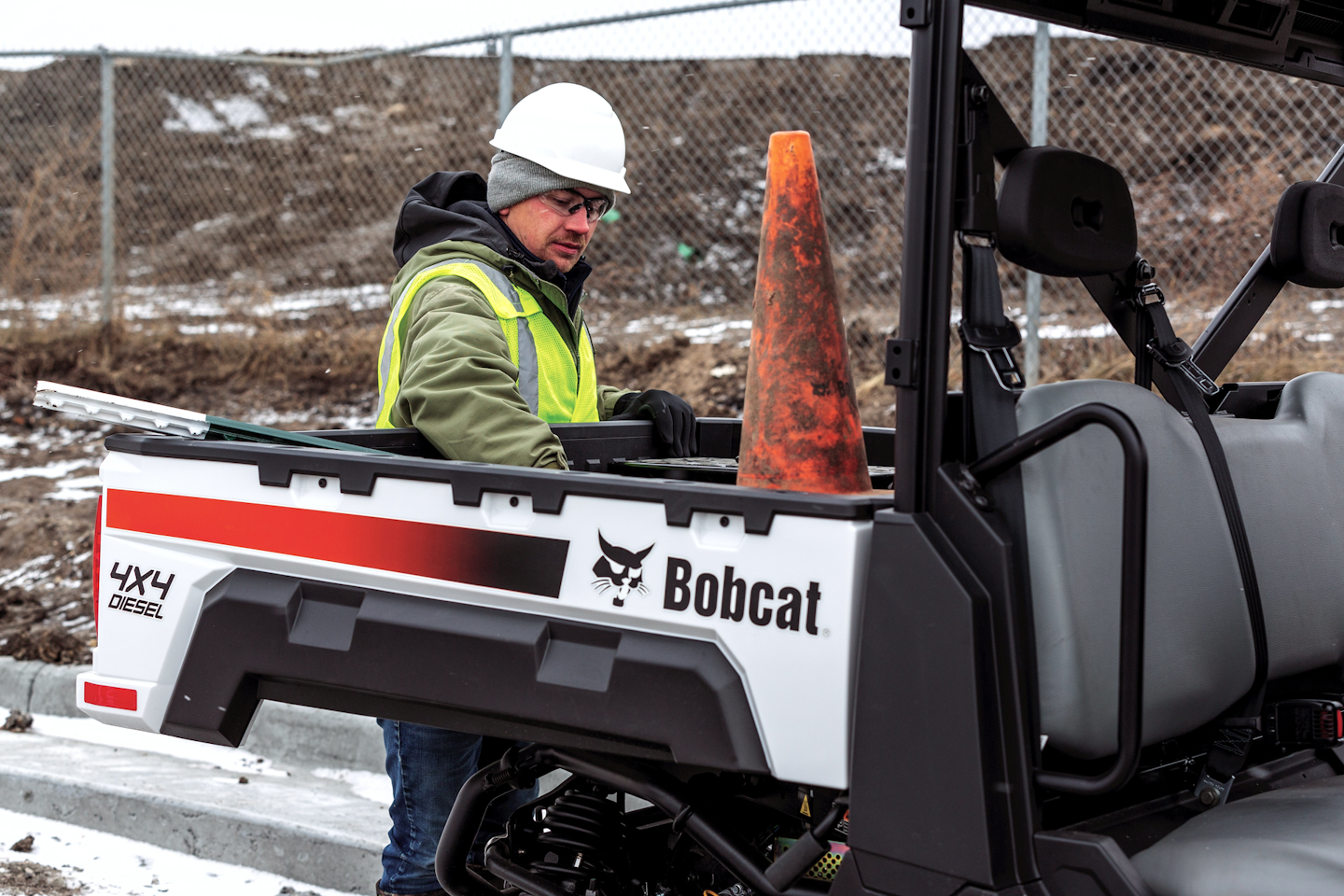 It really boils down to total cost of ownership. "Numbers don't lie," says Crouch. "At the end of the day, pickup trucks are expensive. They are expensive to maintain. They are large. They are not emissions friendly. UTVs are lower cost. They are extremely versatile machines and they do exactly what a pickup truck will do at a smaller capacity. The economics of it are leaning toward a UTV."
"It's all about having the right equipment for the job, and no one knows that better than a construction foreman," says Snidarich. "Every tool — including vehicles and equipment — needs to add value or they won't be accepted on the jobsite." Commercial-focused models have become top sellers for the manufacturers. "We see that trend continuing because of the customer problems they solve and the overall benefits UTVs provide. Not to mention if something does go wrong, they are much less expensive to repair and maintain."
Like many support tools on the jobsite, versatility is king. "They are so versatile," says Crouch. "It is like the compact tractor, which is another one of our products. They are Swiss Army knives. You can turn them into anything you want. We sell sprayer attachments, snow blades, etc. You name it and you can probably do it with a UTV."
Effortlessly Transport Crews and Material
"One of the most prominent applications of a UTV on a construction jobsite is the ability to transport people and haul cargo with a vehicle that is more compact and nimble than a pickup truck," says McCormack. "Alongside maneuverability, the versatility of UTVs is enhanced by the amount of attachment options available for customers. Whether you're in need of a tool rack, snowplow or spreader, there are hundreds of attachments available that can make an immediate impact on a construction business."
Mandoza adds, "Primarily, UTVs are used for hauling materials, equipment and people, especially on large jobsites. When UTVs are fitted with implements and accessories, they can also be used to clean up the jobsite; for inspections; and to get the right tools to the people where they are needed."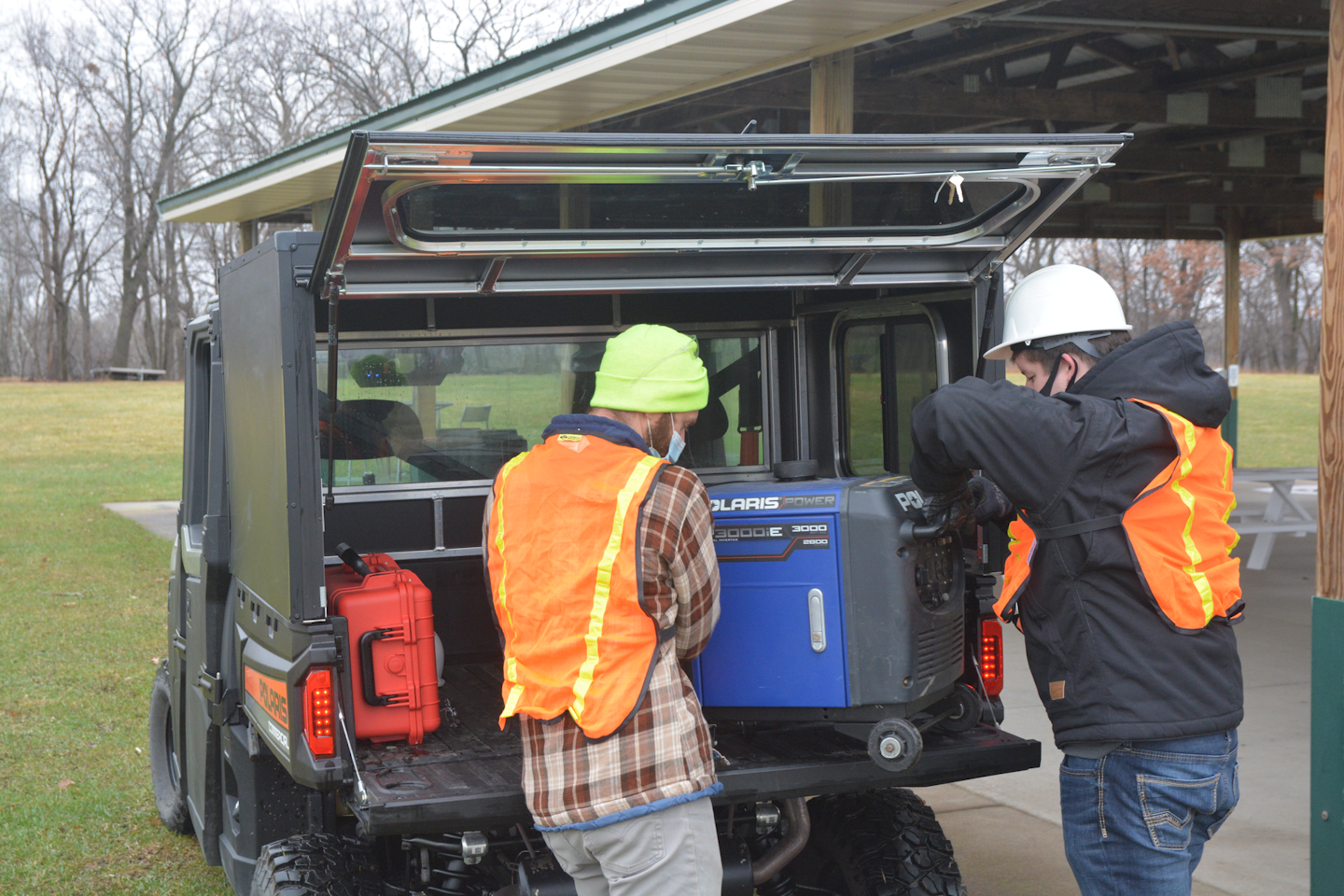 Accessories are often added to utility vehicles for commercial applications, like cabs, keyless start, straight shift, telematics, work lights, strobe beacons, RAC systems for the cargo box and sweepers.Polaris Commercial
A smaller wheelbase provides more access. "For years, construction customers have prioritized safety, durability and serviceability above everything else, but there are other advantages to using UTVs," says Snidarich. "Smaller vehicles can navigate tight spaces better, offering more protection to the structure and terrain." 
Some machines can be tailored to the specific needs of the terrain. For instance, the Polaris Pro XD has multiple drive modes and turf mode is specifically designed to minimize the impact the vehicle will have on the terrain.
There are many reasons contractors are investing in UTVs. "The maneuverability has a lot to do with it," says Crouch. "It is just a perfect storm for growth in that market. If you start to look at emissions regulations, these are very low-emissions machines. They don't take a lot of fuel. They are quiet when it comes to the noise levels that are being restricted in a lot of places. They are very friendly on the surface. So, there's a lot of things moving in the favor of a UTV on the jobsite."
This includes being great people movers. "We have seen a trend in the way of the crew model, which is a six seater or four seater. People are just using them to transport personnel from one side of a place to another," notes Crouch. Some modern jobsites, like distribution centers and server centers, are massive. "To try and go from side to side efficiently, it takes forever if you are trying to walk and pickup trucks are just too big and expensive."
Contractors gravitate to UTVs that can carry larger crews. "We tend to sell more four-seat than two-seat UTVs for construction," says Snidarich. "Our Pro XD crew maintains its cargo bed size in both models, which increases the overall length of the vehicle to preserve valuable cargo capacity."
The low cost of entry favors the larger crew cab models. "The six-person [model] is not that much more expensive," says Crouch. "We see a good many of those." 
The acceptance of cabs is also increasing dramatically. "The take rate for cabs is approaching 30%. It is much more popular than we expected, because it is not a cheap option," Crouch notes. This includes full-door units with roll-up windows. "Those cab doors are really well built. You can take them off any time you want so it really does allow some flexibility for the machine."
The cost benefits can add up. "With UTVs, you can pick one up for $15,000 and it will move six people and hand tools or anything you can put in the box. You can run it for years and either toss it when it's done or try to sell it. It's a little more efficient, more economical solution for moving people on the jobsite," says Crouch. "And it's smaller. It's so much lighter than a pickup truck. If you get a rainy season, it is nothing to sink a pickup truck on a jobsite." But UTVs are made for this environment.
However, as with pickup trucks, there are currently availability challenges. "If you go to a dealership right now and ask for a UTV, they're going to tell you it's going to be probably four months before you can see one," says Crouch. "There are no UTVs to be had out there right now. The market is completely evacuated for inventory." The field inventory is low across the entire industry.
Choose Wisely
When purchasing a UTV, you should consider price, functionality and the intended purpose of the machine. "I caution buyers not to focus on specs only," says Mandoza. "It's easy to see one machine has more horsepower than the other, but does that customer need more horsepower? Try to go beyond the spec and get behind the wheel yourself to feel how the machine performs."
He adds, "Using the horsepower example, there's a misconception that more horsepower means you can get from Point A to Point B faster. But other factors also play an important role in maneuverability. How does the competition stack up in real-world applications? I also recommend looking at the variety of attachments (implements, accessories) that are offered for the product as these allow you to customize the machine for specific work/applications."
One size does not fit all. "There are a variety of UTV options available for customers today," says McCormack. "A customer should know how many people they want to transport, how much/what type of material they want to haul, and what kind of terrain they want to drive through. Knowing these three basic things, a customer can narrow down their choices."
There is no substitute for a test drive. "It is highly recommended to work with a local dealer, test drive a vehicle and even demo it on a jobsite if possible. Customers should look for a UTV that they feel comfortable operating," says McCormack. "John Deere Gator utility vehicles include automotive-like features for easier operation and improved operator control. Recent product line updates include improved transmission controls, enhanced digital displays, easier gear shifting and refined power steering. The updated units also provide instant engagement of four-wheel drive and differential lock through a simple flip of a switch."
In addition, there are gasoline, diesel and electric models, dozens of cab configurations and an impressive array of accessories that allow you to customize a UTV to best fit your specific application.
Fuel compatibility with other equipment on site can simplify use. "We have a gasoline and a diesel option," says Crouch. About a third of the UTVs sold by Bobcat are diesel variants. "It is actually starting to trend up as we start to break through with a few of these national accounts. The people like the diesel units because it is a common power source on the jobsite. If you have 70 pieces of equipment that are burning diesel fuel, you don't want one that requires gas. 
"We are seeing an increase in the take rate of diesel units just for that common platform, that common power," he adds.
Recreation vs. Work
There are pretty significant differences between UTVs built for recreation, which can reach speeds up to 85 mph, and commercial units that are often governed to 26 mph or less for jobsite compliance. Vehicles built for work are slower, but their suspension systems are designed to carry loads.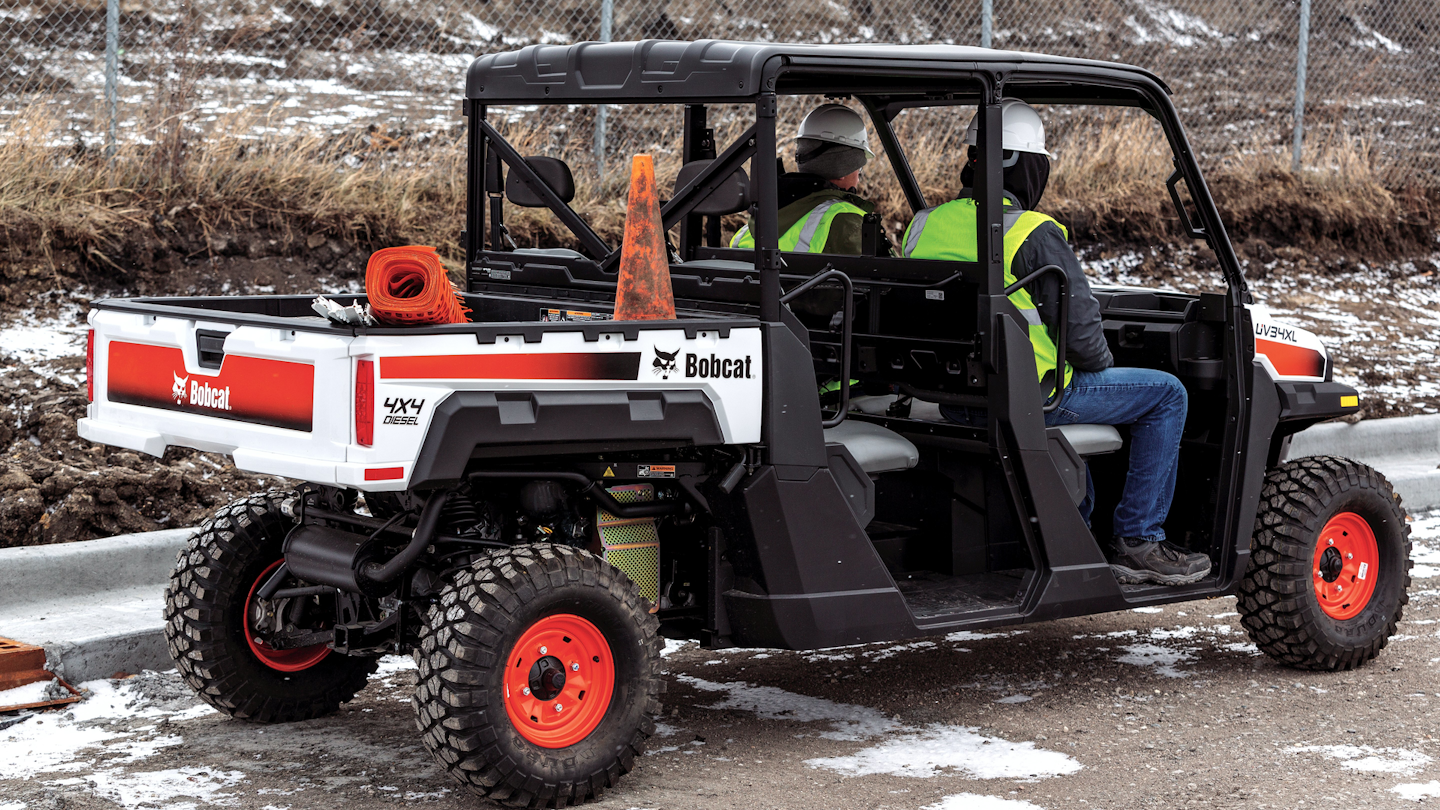 At the end of the day, pickup trucks are expensive. They are expensive to maintain. They are large. They are not emissions friendly. UTVs are lower cost. They are extremely versatile machines and they do exactly what a pickup truck will do at a smaller capacity.Bobcat
"The primary differences are recreational UTVs are designed for speed, handling and agility with performance suspension. On the other hand, commercial applications demand quality, reliability, easy operation, functionality, versatility and safety," Mandoza explains. "Additionally, accessories are often added to utility vehicles for commercial applications, like cabs, keyless start, straight shift, telematics, work lights, strobe beacons, RAC systems for the cargo box and sweepers."
"UTVs for commercial applications are designed to operate at slower speeds and offer a cargo box, while recreational UTVs may not have a cargo box and typically provide higher speeds," says McCormack. "Cross-over UTVs typically provide the best of both worlds with higher operating speeds and a cargo box. For a construction crew, John Deere offers multiple UTV accessories that add additional storage to a unit, such as toolboxes and cargo box side extensions that will allow operators to haul big and bulky material. Additionally, John Deere offers a cargo box power lift kit for XUV models that makes dumping heavy material even easier by lifting up to 1,000 lbs. of cargo."
Make sure the unit you chose is a good fit for your operation. "At Bobcat Company, we stand behind the fact that we are a construction company," says Crouch. "We sell UTVs but they are not recreational UTVs and we don't intend to occupy that market — that's just not who Bobcat is. The market is big enough for us to get our share and hit our numbers without having to sell 100,000 units. So, our machines are custom fit for the jobsite. We always say internally that it is a tool and not a toy."
Being able to set the desired top speed is an important consideration for many jobsites. "Polaris provides speed calibration in a few different ways," says Snidarich. "All our gas UTVs will limit the speed to 15 mph if the driver isn't buckled. Our Pro XD work UTV takes it a step further. The vehicle's speed is limited to 26 mph for jobsite compliance, with additional speed limiting capabilities down to 15 mph for slower jobsite requirements driven by safety critical operations. The speed can also be calibrated for a limit of up to 40 mph in Pro XD gas models for use on unrestricted jobsites."
 The top speed of Bobcat machines is approximately 35 mph. "It's plenty fast enough to go safely from jobsite to jobsite or from one side of a jobsite to the other side without being a safety factor," says Crouch.