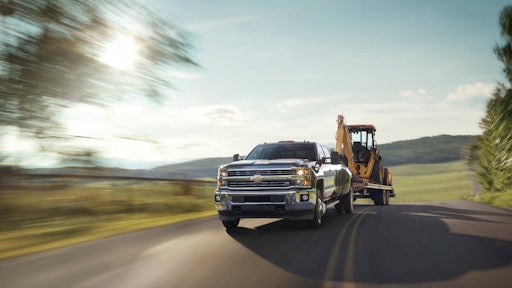 For 2015 the Chevrolet Silverado and GMC Sierra HD pickups have been updated with new exterior styling, an integrated cruise control, Auto Grade Braking and Diesel Exhaust Braking on diesel models, standard Stabilitrak Trailer Sway Control, 6.5- and 8-ft. boxes with standard CornerStep bumpers, EZ Lift and Lower tailgates and new cabs and interiors.
The new exterior enhances aerodynamics for improved efficiency and reduced wind noise. It also improves cooling for more consistent power under tough conditions. Inlaid doors fit into recesses in the body side to help reduce noise for a quieter cab. The roof and tailgate spoiler were tuned in a wind tunnel to smooth airflow over the truck for reduced noise and improve aerodynamic efficiency. Particular attention was paid to airflow for both the engine cooling and engine air intakes.
Towing capability increased
Towing was also a top design goal. GM made refinements to the cruise control, Auto Grade Braking and Diesel Exhaust Brake to inspire a new level of confidence. The Auto Grade Braking is activated by pressing and holding the tow/haul button for three seconds. The transmission then automatically downshifts when needed to help slow the vehicle. When using the Duramax diesel the driver can engage the Diesel Exhaust Brake, which uses the variable vanes in the turbocharger to create additional backpressure in the engine to help slow the vehicle.
The combination of the exhaust brake and the automatic transmission downshifts help the driver maintain the desired speed, even on long, steep highway downgrades. Stabilitrak with Sway Control is now standard on all Chevrolet Silverado and GMC Sierra models. Including the 3500HD dually.
Payload and towing capabilities on the 2015 heavy duty models have been increased from 2014 models. Maximum available payload is now 7,374 lbs., maximum available conventional towing is 19,600 lbs. and maximum available fifth wheel towing is 23,200 lbs.
Bi-fuel option available
A bi-fuel version of the 6.0L V-8, with special hardened valves and valve seats to enable operation on gasoline or compressed natural gas, will be available in all three models of the new Silverado HD – regular-cab, crew-cab and double-cab. Chevrolet will continue to work with a second-stage manufacturer to offer a single-source option for its CNG vehicles. The bi-fuel trucks are built with the specially designed engine, the fuel system is installed by GM's Tier One supplier, and the completed vehicle is delivered directly to the customer. This process makes ordering the bi-fuel option as seamless as ordering a truck powered by gas or diesel, and ensures the highest level of durability, reliability and safety.