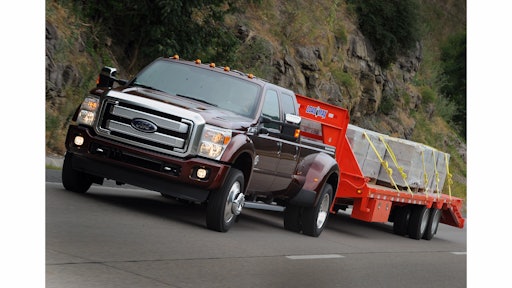 The latest generation of heavy-duty diesel pickup trucks has moved the towing goal posts.
Over the last decade the published maximum towing capabilities of the 350/3500 (the one tons) and larger diesel pickups has increased anywhere from 38% to 83%, depending on the truck model.
It's now possible to move equipment with a pickup truck that you previously would need a medium-duty or Class 8 heavy truck to tow.
How much capacity are we talking about? The largest pickup available, the 2015 Ford F-450, gained 7,000 lb. in gross combined weight (GCW) rating to reach 40,000 lb.; half the capacity of a typical Class 8 truck. It offers a maximum fifth wheel/gooseneck towing capacity of 31,200 lb., measured using the Society of Automotive Engineers J2807 standard. Maximum conventional towing capacity is 19,000 lb.
The 2015 F-350 increases maximum fifth-wheel/gooseneck towing capacity as well, to 26,700 lb., from 23,200 lb., and the GCW rating goes up 4,500 lb., to 35,000 lb. The conventional hitch rating is 19,000 lb. 
In 2005 the 6.0-liter diesel F-350 with dual rear wheels had maximum fifth-wheel towing capacity of 16,600 lb. That is a whopping increase of 10,100 lb., or 60.8%, in towing capability.
Of course the vehicle's GVW is going to fluctuate with the various options and cab styles, which will impact available payload and the towing capacity. Payload has a significant impact on the actual towing capability since you cannot exceed the GCW under any circumstances. The axle ratio and whether the pickup is a single-rear wheel or dual-rear wheel configuration also change towing capability.
One of the enabling factors for increased towing capability is the tremendous torque transmitted to the ground through the current generation of diesel engines. For instance,the Ford Super-Duty pickups are powered by a second-generation 6.7-liter Power Stroke V8 turbodiesel engine that pumps out 440 hp and 860 lb.-ft. of torque. This compares to 400 hp and 800 lb. ft. of torque for the first-generation Power Stroke. A key upgrade that made this possible is a larger turbocharger for increased airflow and more power.
"The improvements we've made essentially give Super Duty customers an engine that is also designed for our larger F-650 and F-750 medium-duty trucks," says Robert Fascetti, Ford vice president, Powertrain Engineering.
The chassis was also modified to haul more. A high-capacity towing package that includes new front springs and a wide-track axle boost the 6.7-liter Power Stroke F-350's standard 31,900-lb. GCW rating to 35,000 lb.
Improvements to the F-450 that allow it to tow more include commercial-grade 19.5-in. wheels and tires, upgraded rear U-joints and suspension components with new leaf springs, front and rear stabilizer bars and shocks. The steering system has stronger gears and linkages and the fifth-wheel is beefed up. The brakes, shared with Super Duty chassis cab models, are larger and feature new antilock calibration for enhanced performance.
Changing the rules
Manufacturers can make many claims regarding towing capability, but there are standards available to ensure that the trucks will perform to expectations while pulling these loads.
For instance, Ram Trucks has adopted SAE J2807 standardized tow-rating practices across all three full size pickup truck segments, including the ½-ton Ram 1500, ¾-ton Ram 2500 Heavy Duty and one-ton Ram 3500 Heavy Duty. "Ram Truck has been preparing for integration of the SAE towing standard over the past few years and adding heavier ¾- and 1-ton trucks to the criteria gives it more teeth," said Mike Cairns, director of Ram Truck Engineering at the Chrysler Group. "For too long, an uneven playing field existed and towing capacities went unchecked."
The SAE J2807 towing standard outlines dynamic and performance criteria as it relates to a given vehicle. Examples within the standard include a number of tests while towing: 0-60 MPH time allowance, tackling the notorious Davis Dam Grade while maintaining no less than 40 MPH for single-rear-wheel trucks and 35 MPH for dual-rear-wheel trucks, a constant radius understeer test while increasing speed and a sway maneuver using aggressive steering input. The purpose is to put all trucks through the schedule of tests in which operators will likely see in the real world.
While testing to the SAE J2807 standards, Ram Trucks was able to dramatically increase its published tow ratings for 2015 with both gasoline and diesel engines. The Ram 2500 with a 6.7-liter Cummins diesel now offers a maximum towing capacity of 17,970 lb. The Ram 3500 with a 6.7-liter Cummins diesel has an impressive 30,000-lb. maximum tow rating.
In 2005 the Dodge Ram 3500 offered a maximum towing capacity of around 16,350 lb. That is about 13,650 lb., or 83.5% less than the maximum towing capacity of the current Ram 3500! Also consider that the 2005 Dodge Ram Heavy Duty used a Cummins 600 V6 turbo diesel engine producing 600 lb.-ft. of torque at 1,600 rpm and 325 hp at 2,900 rpm. The 2015 Ram 3500 offers a substantial power increase with an available 6.7-liter Cummins High-Output Turbo Diesel that produces 385 hp at 2,800 rpm and 865 lb.-ft. of torque.
Beefing up the frames
The Chevrolet Silverado and GMC Sierra HD pickups have also pushed towing limits for 2015, but the company emphasizes that real-world towing confidence is about more than the spec sheets.
The foundation of the 2015 Silverado HD lineup is a family of fully boxed frames, which use large cross sections, hydroforming and high-strength steels in key areas. The stiffness of the frames contributes to improved handling and ride comfort, while the strength of the frames enhances payload and towing capability.
The Silverado HDs employ an independent front suspension specifically engineered for HD pickup use. Torsion bars tailored to the weight ratings of the trucks, allow easier trim height adjustment to account for the weight of snowplows or other accessories. In the rear, asymmetrical leaf springs balance ride and load carrying, and improve control of axle hop.
The sturdy chassis and heavy-duty suspensions contribute to greater payload and towing capabilities compared to previous models.
Maximum available payload is 7,374 lb., up from 7,222 lb. Maximum available conventional towing is 19,600 lb. with the available factory hitch – up from 18,000 lb. Maximum available fifth-wheel towing is 23,200 lb., up from 22,500 lb.
In 2005 the maximum fifth wheel/gooseneck towing capacity for the Chevrolet Silverado 3500 was 16,700 lb. That is a difference of 5,800 lb., or 38.9%, from the current capacity. The 2005 Silverado pickups were then powered by a Duramax 6600 diesel that produced 310 hp and 605 lb. ft. of torque. The current Durmax 6.6-liter turbo diesel is rated at 397 hp and 765 lb.-ft. of torque.
Putting it in perspective
Assume you have a gooseneck equipment trailer rated at 30,000-lb. GVW. If that trailer weighs 9,900 lb. empty, you can haul a net payload of 20,100 lb. A Caterpillar 308E2 CR mini-excavator weighs in at 18,519 lb., a John Deere 310K 4WD backhoe loader with extendable hoe weighs in at 14,352, a John Deere 344K wheel loader weighs in at 18,408 lb. and a Volvo SD 75 soil compactor weighs in at 16,561 lb.
While some of the machines are at the upper limits of what you would realistically want to tow with a pickup, you can see the possibilities. The increased capacities of today's heavy-duty pickups have grown to the point where it is now possible to move many machines from jobsite to jobsite without having to tie up your lowboy truck. What today's heavy-duty trucks are rated to haul is truly remarkable compared to even ten years ago.
In addition, there have been many improvements such as integrated trailer brakes, engine exhaust brakes and more refined tow/haul modes that provide an additional level of confidence when towing heavy loads.