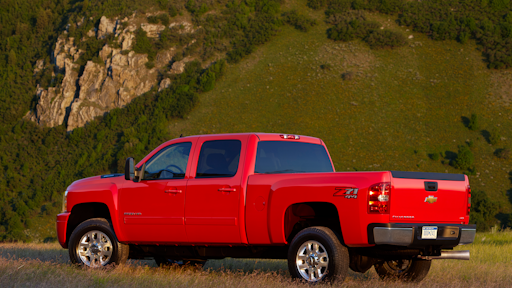 The number of problems experienced by new-vehicle owners increased 3% from the J.D. Power 2013 U.S. Initial Quality Study (IQS) to the 2014 IQS, as automakers continued to be challenged when introducing sophisticated technologies in new vehicles.
The study, now in its 28th year, examines problems experienced by vehicle owners during the first 90 days of ownership. Initial quality is determined by the number of problems experienced per 100 vehicles (PP100), with a lower score reflecting higher quality.
The 2014 Chevrolet Silverado HD won top honors in the heavy-duty pickup truck category of the J.D. Power 2014 U.S. IQS, followed closely by the GMC Sierra HD. Ford's 2014 F-150 placed first in initial quality among light-duty pickups. 
The study finds that overall initial quality averages 116 PP100, a 3% increase in problems from 113 PP100 in 2013. This year's increase in problems follows a similar increase found in the J.D. Power U.S. 2014 Vehicle Dependability Study (VDS) released in February, which measures problems experienced after three years of ownership.
The study identifies two primary causes of the increased problem levels in 2014. First, newly launched vehicles (those that are completely new to the market or have undergone major redesigns) continue to be more problematic than carryover vehicles (those that did not undergo any significant changes). On average, newly launched vehicles experience 128 PP100, compared with 113 PP100 for carryover vehicles. The increase in problems among all-new vehicles is found mainly in the areas of voice recognition, Bluetooth pairing and audio systems.
"Automakers are trying to give consumers the new features and technology they want without introducing additional quality problems into their vehicles," said David Sargent, vice president of global automotive at J.D. Power. "However, almost all automakers are struggling to do this flawlessly with some consumers indicating that the technology is hard to understand, difficult to use, or simply does not always work as designed."
Some regions experienced increases in problem types associated with harsh weather. Consumers in the South and West regions of the country report the same level of problems as in 2013 (114 PP100). In contrast, consumers in the Northeast and Midwest regions report 117 PP100 in 2014, compared with 112 PP100 in 2013. Most of this increase is found in the heating/ventilation/air conditioning, exterior and engine/transmission categories, three areas in which harsh weather conditions have an adverse effect on vehicles.
"Automakers test vehicles in extreme conditions to ensure they function properly," said Sargent. "However, it is impossible to completely negate the effects of severe weather. Heating and ventilation systems have more work to do, engines and transmissions aren't as smooth when cold, and exterior moldings and paint all take some punishment. Consumers generally understand this but still report problems when their vehicle does not wholly live up to their expectations."
For a second consecutive year, Porsche ranks highest in initial quality among all nameplates, with a score of 74 PP100. Following Porsche in the rankings are Jaguar (87 PP100), Lexus (92 PP100) and Hyundai (94 PP100).
General Motors Company receives six segment awards—more than any other automaker for a second consecutive year—for the Buick Encore (tie); Chevrolet Malibu; Chevrolet Silverado HD; Chevrolet Suburban (tie); GMC Terrain; and GMC Yukon (tie). Hyundai Motor Company receives five awards for the Hyundai Accent; Hyundai Elantra; Hyundai Genesis; Kia Cadenza; and Kia Sportage (tie). Other corporations with multiple award recipients are Ford Motor Company (Ford Edge, Ford F-150 LD and Lincoln MKX); Nissan Motor Company (Infiniti QX50, Infiniti QX80 and Nissan JUKE [tie]); Volkswagen AG (Porsche 911, Porsche Boxster and Porsche Panamera); Fiat Chrysler Automobiles (Chrysler Town & Country and Dodge Challenger); and Mazda (Mazda MAZDA5 and Mazda MX-5 Miata). Other models receiving awards are the Honda Ridgeline and Lexus ES.