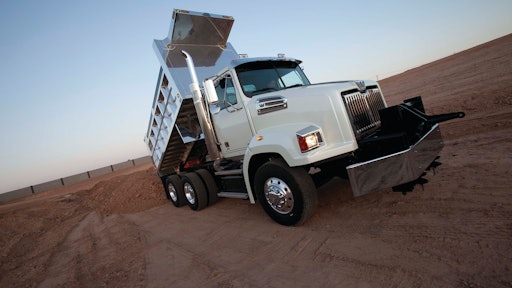 Spec'ing a medium- or heavy-duty truck for a vocational application is not a simple task. Once you choose the best powertrain for the application, there is still a laundry list of options and features that influence productivity.
But be careful before you start checking off the boxes on the options list. It is easy to add incidental weight and cost to your trucks that negatively impact ROI.
"Maximizing payload is an important part of the spec'ing process," says Mary Aufdemberg, director of product marketing, Freightliner Trucks. "It is important to consider all potential weight savings vs. the up-front cost and durability expectations."
She cites several items to consider as lightweight options, depending upon the application: aluminum air tanks, aluminum wheels, lightweight brake drums, non-corrosive aluminum cab reinforced with e-coated steel, aluminum fuel tanks, lightweight bumpers where applicable, in-cab battery box and optimized fuel tank and DEF tank sizes. "A thorough evaluation of your spec will ensure you are building a lightweight and durable truck," she states.
Wheel choice has a significant impact on weight. "For applications that require the lightest truck possible to maximize payload, we offer aluminum wheels," says Dave Schmitz, Caterpillar vocational truck product manager. "Aluminum is one third the weight of steel. With 10 wheels on a 6x4, the weight savings can add up quickly. This is an effective way to increase payload while looking great. We also offer aluminum wheel hubs to further reduce weight."
Alan Fennimore, vocational marketing manager, Kenworth, suggests asking yourself a few questions before selecting any option. Do you really need inserted rails? Which pusher do you really need? "Are you running a 13.5k pusher because you have always used one, or will a 10K pusher meet your requirements? That would save 175 lbs.," he notes. "Do you need a 135-gal. fuel tank if you are coming back to the base every night? That is potentially another 100 lbs. of fuel that you are carrying around. There are a lot of little things you need to ask yourself if you really need."
Also ask yourself whether the options are making you money, says Fennimore. If not, you can save both weight and capital expense on the truck purchase.
Surviving Off Road
Off-road operation poses its own unique challenges. "When spec'ing a vocational truck for off-road conditions, a number of key items must be considered," says Schmitz. "For starters, proper ground clearance should always be a consideration. When checking ground clearance, make sure you select the correct tire size. We offer a wide range of tires designed for off-road traction and puncture resistance. We also offer single drive tires to help with flotation."
Protecting the truck from impacts is also a consideration. "Operating trucks in rugged vocational environments does require special options," says Aufdemberg. "With a focus on durability, the Freightliner SD line of trucks has several bumper options to match the application, including bridge law front bumpers." Other options are lower radiator rock guards, oil pan guards, one-piece skid plates, heavy-duty front bumpers and cab guards and LED headlights with polycarbonate lens.
By choosing the right options, you can reduce downtime. "Uptime is critical to a company's success," says Peter Schimunek, marketing segment manager, Western Star. "Any measures, big or small, that help to prevent a truck's downtime should be considered. Western Star trucks can be specified with an optional steel front bumper as well as tow devices for added strength and durability. And a two-piece gasket-mounted windshield is available for easy, low-cost windshield replacements."
There are often several bumper choices when you order a truck. "Mack construction bumpers are available in all different configurations and finishes, from steel to aluminum, painted to bright finish," says Stu Russoli, construction product manager, Mack Trucks. "We offer swept back and extended bumpers with center tow pins or frame-mounted tow hooks. We also have a steel radiator guard available that mounts directly off the front of the bumper."
There are differing opinions on the type of bumper you should use, but all recommend a tow pin for off-road applications. "For vocational applications, I only recommend a one-piece steel or aluminum bumper," says Fennimore. "They are available in multiple finishes including chromed steel and polished aluminum. We offer a three-piece aero bumper for the T800, but that has been discontinued for our brand new T880 product. A three-piece aero bumper is not going to have the ground clearance that a tapered steel or tapered aluminum bumper is going to have for vocational use. We also have HD box bumpers for severe applications like oil field servicing."
On the other side, Caterpillar offers a three-piece stainless steel bumper and grille surround. "This allows customers to only replace the piece that is damaged," says Schmitz.
The headlamps and windshield are both exposed to rocks and airborne debris on the jobsite. Investigate options to minimize downtime.
"Our headlamps have a plastic cap for protection from stones and spray and can be accessed in the wheel well," says Russoli. "For windshields, we offer either a single-piece or two-piece windshield, both of which are roped for a quick change in the field — no waiting for a bond to set. The single-piece windshield provides improved visibility in applications where cracks are not a major concern, and the two-piece allows for lower cost repairs where cracks have a higher incidence of occurrence."
Many manufacturers offer the choice of a one- or two-piece windshield. "The two-piece windshield is good for applications that take a lot of rock hits," says Schmitz.
"We offer both flat glass and curved glass options in our vocational products depending upon where you are operating," says Fennimore. For example, Canadian customers like the functionality of the two-piece windshield with flat glass. "It is very inexpensive to replace, but you sacrifice some visibility."
Even the addition of a bug deflector can prove beneficial. "Windshields should be sloped and a bug deflector will deflect stones," says Martin White, director of vocational sales for Navistar. The design of the headlamps can also impact replacement costs. "The International Workstar has individual replaceable headlamp units, whereas other models have sealed one-piece units."
Evaluate Air Filter Options
In the off-road environment, dust protection for diesel engines is critical.
"Dusting of engines in vocational applications can be very costly and negatively impact uptime," says Aufdemberg. "Air filtration is critical for vocational trucks working in extreme environments. Freightliner Trucks designs air filtration systems to maximize productivity, reduce downtime and minimize maintenance costs by extending maintenance intervals and reducing opportunities for dirt to enter the engine. One of our important design criteria is to reduce the amount of piping connections in the air filtration system. The fewer connections reduce the risk of dirt entering the engine unfiltered. "
This is accomplished by using the hood plenum system with a single high-capacity air filter under the hood; plenum precleaners are also available. "Freightliner offers precleaners for all of our vocational SD products. These precleaners help extend the maintenance interval for the air filter," says Aufdemberg.
An air restriction light in the dash lets the driver know when the filtration system is reaching maximum restriction. "This helps in the overall maintenance and total cost of ownership because you only need to replace the filter when the restriction reaches the max level," says Aufdemberg. "It is much more efficient to remove the filter only when it is time to replace it, not to inspect it. Every time the intake system is taken apart, there is risk of dirt entering the engine."
A precleaner is a must for extending service intervals. "A variety of precleaners are offered at Western Star. A precleaner will extend the life of the air filter and lower the operating cost," says Schimunek.
Visibility is a consideration when comparing air filtration options. "The CT660 comes standard with the air cleaner under the hood," says Schmitz. "This is to increase driver visibility and reduce aerodynamic drag. An optional in-line precleaner is available which spins the intake air and throws the larger, heavier particles into a separate evacuation chamber. This prolongs the life of the main filter."
"Mack offers an inside/outside air option, which allows driver control if the air intake draws from outside the hood or inside the hood," says Russoli. "The Granite model's 11-in. underhood air cleaner provides adequate filtration in most applications."
Minimizing the number of times the air filter needs to be serviced reduces the risk of introducing dust into the engine intake. "For really dusty applications, with our current product, we run dual 13-in. or 15-in. canister air filters," says Fennimore. "It gives you fantastic filtration and you have a long service interval. There is so much surface area that there is no drop in performance. The disadvantage to this system is it does add weight.
"We do offer an engine-mounted [air filter] as the standard option and we have a brand new hood-mounted precleaner option on the T880 that will actually give you the same filtration performance as the dual 13-in. filters," says Fennimore.
Comfort Aids Productivity
Driver expectations on comfort have evolved. "The driver pool has changed," says Fennimore. "The expectations of what is inside a truck are completely different. A guy that has been driving trucks for years has a different expectation than the guy who just started driving and just got out of his brand new Ford F-150 or Chevrolet Silverado. So we have modernized our vehicle and still made it functional for a truck driver."
Driver comfort directly impacts productivity. "A key but often overlooked feature is cab space and comfort," says Schimunek. "For many drivers, a cab serves as their office. A roomy, plush cab translates to a more comfortable work environment and, consequently, a more productive truck driver."
There are several options that enhance comfort. "A good driver's seat and fresh air are critical factors for driver productivity," says White.
Because clean air is as important for the operator as it is for the engine, many of the current trucks come with optional cab filtration systems. "We offer serviceable cab filters to keep the dirt and dust out of the cab," says Aufdemberg.
Premium cabs increase operator comfort. There are many cab options, including extended day cabs, designed to keep the operator productive.
"The CT660 comes standard with a premium cab. That means every driver benefits from a quiet cab and exceptional ride with our vocational tuned cab suspension," says Schmitz. "The dash is constructed from a GRU material that resists buzz, squeaks and rattles. The HVAC system has extra capacity to maintain the right temperature and to keep the windows defrosted. These features help prevent operator fatigue and increase productivity."
Caterpillar also offers standard backlit heated mirrors and optional stability control for safety and impact avoidance. "The less time the truck spends in the shop, the more money it makes the owner," says Schmitz.
Even lighting options can increase productivity in the right circumstances. For instance, Mack offers step-mounted work lights with an inside control switch that can be reached from the ground. "This illuminates to the rear from the front of the cab steps for working around the truck in dark conditions," says Russoli.