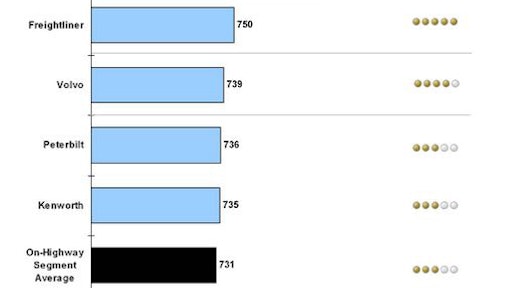 Diesel engines that meet EPA regulations are once again taking a toll on heavy-duty truck quality and customer satisfaction, as customers are reporting more problems with their truck engines, according to the J.D. Power and Associates 2012 U.S. Heavy-Duty Truck Customer Satisfaction Study.
Overall customer satisfaction with heavy-duty trucks declined to 737 index points (on a 1,000-point scale) in 2012, compared with 751 in 2011, primarily due to an increase in the number of problems experienced. The study finds that quality of Class 8 trucks that are one model year old has decreased, with problem levels rising 9 percent to 223 problems per 100 trucks (PP100) in 2012, up from 204 PP100 2011.
Overall quality is determined by the level of problems experienced per 100 trucks, with a lower score reflecting higher quality. Much of the overall quality decline is attributed to a higher rate of engine- and fuel-related problems, which have increased by 14 percent from 2011 (81 PP100 vs. 71 PP100, respectively). 
The most problematic engine and fuel problems are driven by technology designed to reduce emissions from heavy-duty truck engines. 
"Following the revised EPA regulations in 2007, there was an increase in problems and a decline in customer satisfaction, and we anticipated the same thing would happen with the introduction of 2010 EPA-compliant engines," said Brent Gruber, director of the commercial vehicle practice at J.D. Power and Associates. "Emission-related technology results in a high rate of problems, particularly with ECM calibration, exhaust gas recirculation (EGR) valves and engine sensors. The new, more complex engines are resulting in more problems and downtime."
Vocational truck customers experience an average of 2.2 unscheduled maintenance procedures per year, resulting in an average of 7 days of downtime, while on-highway owners report an average of 2.9 unscheduled maintenance procedures, or an average of 7.7 days of downtime. 
"Engine reliability has the greatest impact on overall product satisfaction, so it's vital that truck and engine manufacturers work quickly to reduce the number of problems related to the emission technologies," said Gruber. "The truck brands of European companies have fewer problems, specifically, those related to the technology required to meet the emission standards, because they have been using the technology for years in other markets."
Gruber explains that since 2008, Europe has had emission standards similar to those enacted in the U.S. market in 2010, so manufacturers that build heavy-duty trucks for that market have the advantage of applying technology proven in Europe in its U.S. models. As a result, brands such as Freightliner (owned by Mercedes) and Volvo earn above-average satisfaction for engine reliability and dependability, as well as fewer engine- and fuel-related problems than industry average. On average, truck brands owned by U.S. companies experience 22 percent more engine- and fuel-related problems than their competitors owned by European companies (89 PP100 vs. 73 PP100, respectively).
The study measures the satisfaction of primary maintainers of Class 8 heavy-duty trucks that are one model year old in two product segments, on highway and vocational. In each segment, satisfaction is determined by examining six key factors: cab/body; cost of operation; engine; ride/handling/braking; transmission; and warranty.
Freightliner ranks highest in heavy-duty truck customer satisfaction in both the on-highway and vocational segments. 
In the on-highway segment, which evaluates long- and short-haul trucks, Freightliner ranks highest with an index score of 750 and performs particularly well in all six factors. Volvo ranks second (739), while Peterbilt ranks third (736).
In the vocational segment, Freightliner ranks highest with an index score of 789. International ranks second (766) and Peterbilt ranks third (753).
The study also measures satisfaction with service received from authorized truck dealers by examining six factors: service advisor; service delivery; service facility; service initiation; service price; and service quality.
Kenworth ranks highest in Class 8 customer satisfaction with dealer service for a second consecutive year. Kenworth, with an index score of 804, performs particularly well across all factors. Following Kenworth in the rankings are Freightliner (802) and Volvo (784).
The 2012 U.S. Heavy-Duty Truck Customer Satisfaction Study is based on responses from 1,725 primary maintainers of one-model-year-old Class 8 heavy-duty trucks. The study was fielded in April and May 2012.
Companies in this article